Tar sands oil imports: EU accused of putting commerce before the environment over plans to abandon 'highly polluting' label
The proposed move means refiners would be freer to import large quantities of the fossil fuel from Canada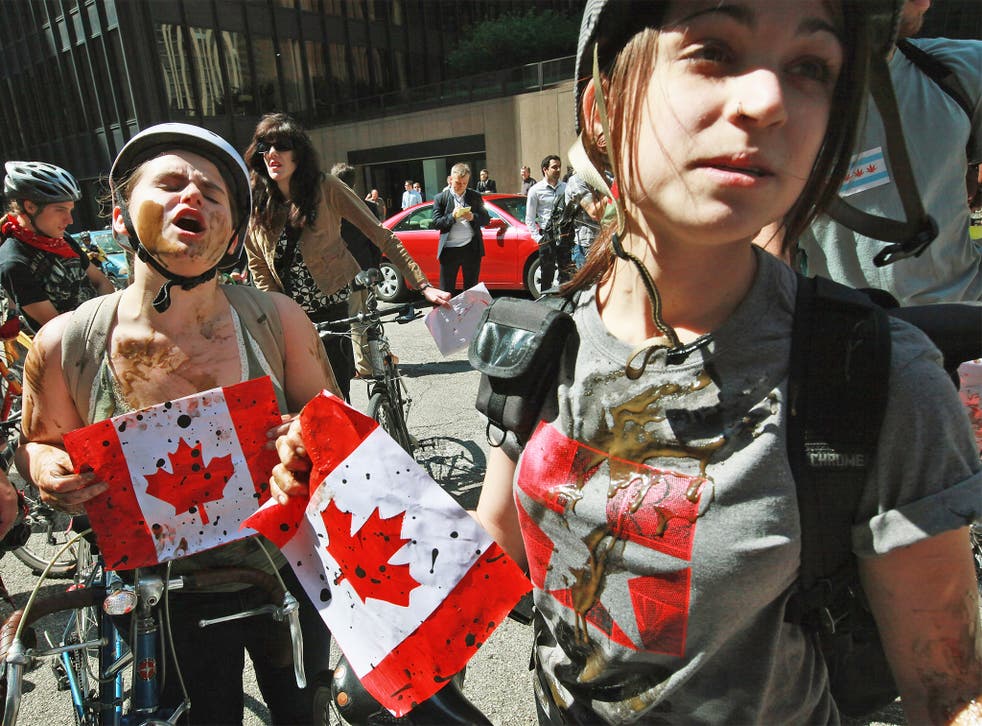 Shipments of oil sands – one of the most damaging forms of fossil fuel – into Britain and Europe are set to rocket after plans to have them labelled as "highly polluting" were abandoned.
Campaigners accused the EU of caving into oil producers and putting commerce before the environment, after it appeared to water down proposals to restrict imports of oil sands as part of ongoing trade talks with America and Canada.
The new plans mean that oil suppliers within the EU will be able to count fuel derived from oil sands in the same category as conventional oil under a law requiring member states to cut greenhouse gases caused by transport by 6 per cent by 2020.
Under the original proposal, imported oil sands would have been designated as 20 per cent more polluting than other oil. Its abandonment means refiners will be freer to import large quantities of oil sands from Canada.
A study in January said that, without the controls, imports of tar sands, which are dug in open pit mines or blasted with steam underground to turn it into crude oil, would increase from 4,000 barrels per day to 700,000 barrels per day by 2020.
Campaigners said the resulting emissions would be equivalent to adding six million cars to Europe's roads.
The Green MP Caroline Lucas told The Independent: "The proposal is scandalous – it completely defies reason, enormous public opposition and paves the way for big business to profit from gross exploitation of the earth's resources. Tar sand oil is one of the dirtiest, most polluting fuels. David Cameron must make clear that such dirty fuels have no place in the UK or Europe."
Canada, which announced that it is going to badly overshoot its greenhouse gas emissions targets for 2020, in part because of its failure to regulate its booming oil and gas industry, has only recently begun exporting crude to Europe.
Its second shipment of 700,000 barrels arrived in Sardinia today.
Canada, whose oil fields are being exploited by companies including BP and Shell, claims that increasing imports of the fuel will help the EU to reduce its reliance on Russia for oil and gas. But greens claimed Europe had caved in to pressure from North America as part of the ongoing negotiations for a transatlantic free trade agreement. Britain and the Netherlands were among the countries that had sought to amend the original proposals.
Franziska Achterberg, energy and transport policy director for Greenpeace EU, said: "This measure will do nothing to stop climate-wrecking fuels like tar sands from entering the EU market. It will fail to meet the objective of cleaning up Europe's transport fuels."
The Fuel Quality Directive, drawn up five years ago, aims to reduce greenhouse gas emissions from transport by 6 per cent by 2020.
In 2011, the European Commission decided that tar sands should count as emitting a fifth more carbon than other oils, but under the new proposal suppliers will be allowed to average out the emissions across all fuel types rather than singling out crude derived from oil sands.
The Commission said that its new proposals, still to be approved, would require suppliers to report separately the origins of their stocks, so increases in oil sand imports can be monitored.
Connie Hedegaard, the EU Climate Commissioner, said: "It is no secret that our initial proposal could not go through due to resistance faced in some member states. However, the Commission is today giving this another push to try and ensure that in the future there will be... an incentive to choose less polluting fuels over more polluting ones."
Join our new commenting forum
Join thought-provoking conversations, follow other Independent readers and see their replies