Healthy Tasmanian Devils found in major breakthrough for mission to save species from extinction
Isolated population scavenging whales and seals along island's south-western shore show no sign of disease that had killed four out of five of the species
Alex Matthews-King
Saturday 28 April 2018 16:26 Comments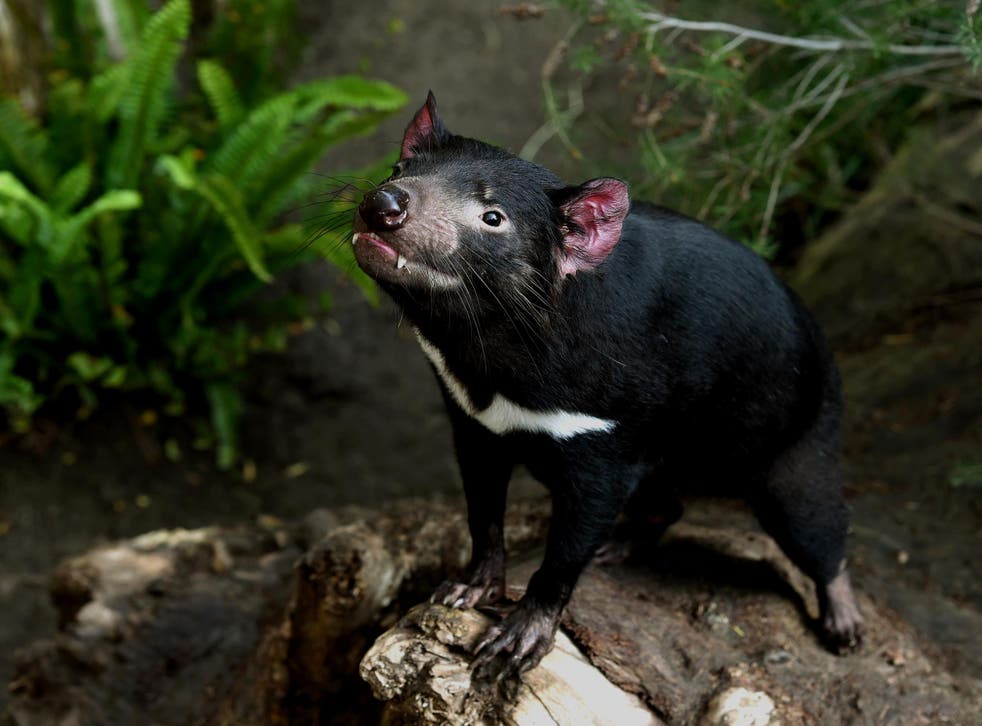 Scientists have discovered a small population of Tasmanian devils living apparently untouched by a cancer-causing disease that has forced the iconic marsupial to the brink of extinction.
The discovery, on Tasmania's south-western shoreline, of at least 14 devils with no signs of Devil Facial Tumour Disease (DFTD) is a major breakthrough in the effort to preserve the iconic species.
Populations of wild devils have fallen 80 per cent since the disease was first discovered, and bids to bolster numbers by reintroducing vaccinated members of the species have been hampered as many are killed on the road.
The isolation of the new population has helped them survive, as they forage along the coastline and are less likely to encounter infected individuals or passing cars.
Researchers said it was particularly encouraging that they trapped devils ranging from 18 months to five years old.
"[This] is a good sign to show disease is not present as we just don't trap devils as old as these in areas of the State where DFTD is found," said Dr Sam Fox, team leader of the Save the Tasmanian Devil Programme, and a biologist with Toledo Zoo.
The most incredible nature moments ever caught on camera

Show all 6
"All [14 devils] were in good condition and importantly, there were no signs of disease."
Monitoring the population in the future will give a better indication its size - if they catch new individuals on subsequent trips - and will allow them to act fast if any signs of DFTD are observed.
The major problem for conservationists is preserving the genetic diversity in the remaining population to ensure future generations can stay healthy and re-establish themselves.
STDP manager Dr David Pemberton said the devils were scavenging for carrion along the coast.
"The preferred areas had food sources for the devils such as pademelons and they also provided the right habitat for denning. The devils spend their time moving between these small pockets of appropriate habitat," he said.
"They also scavenge along the coastline, looking for other protein such as washed-up fish, or even something bigger like a whale or seal."
These scavenging instincts have been part of the devils' undoing. In 2015, four vaccinated animals were released into captivity at a cost of $25,000 (AUD) each, and all four were killed by cars within weeks as they crossed or dined on road-kill.
The first strain of DFTD was identified in 1996 and has spread to take over the whole island, while a second strain was identified in 2014 but is so far confined to the south-east of the island.
It is thought the disease spreads by cancer cells passed on from the bites of an infected individual, and tumours often destroy the bones of the jaw and cover the eyes making hunting difficult. Death usually takes six months.
Scientists recently said there were hopes that human cancer drugs could be used to assist the conservation effort.
Register for free to continue reading
Registration is a free and easy way to support our truly independent journalism
By registering, you will also enjoy limited access to Premium articles, exclusive newsletters, commenting, and virtual events with our leading journalists
Already have an account? sign in
Join our new commenting forum
Join thought-provoking conversations, follow other Independent readers and see their replies