Hibernating lizards and snakes halt construction at Tesla 'gigafactory' in Berlin
Environment groups warn relocation of European protected species cannot be done quickly
Harry Cockburn
Wednesday 09 December 2020 11:46 Comments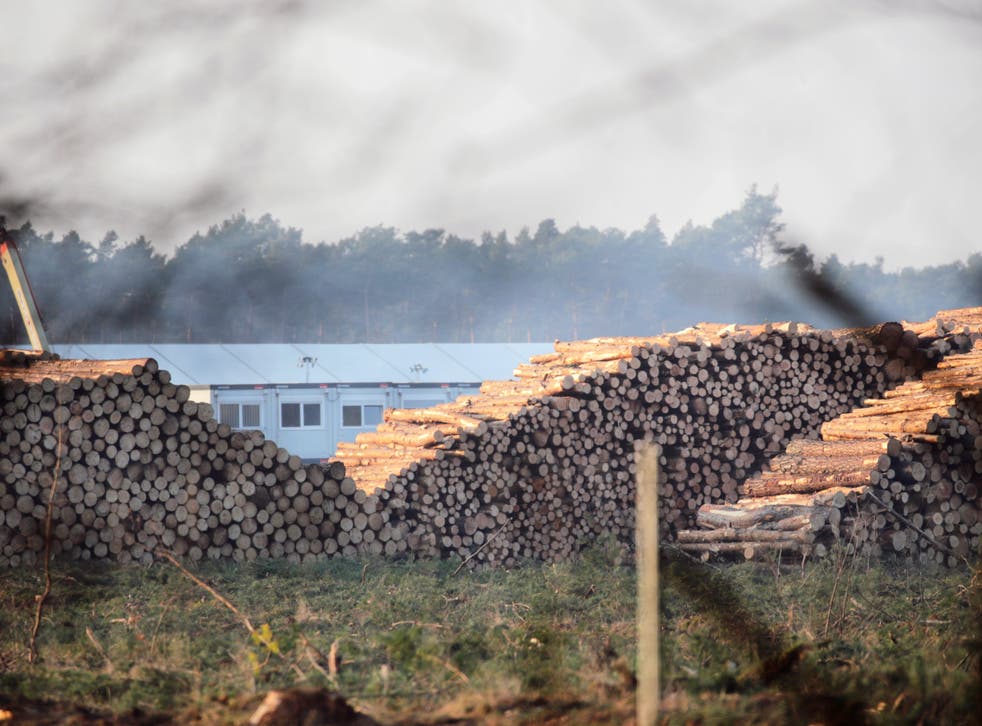 Hibernating snakes and lizards have seen electric car manufacturer Tesla's construction work on a huge new "gigafactory" outside Berlin brought to a halt after a German court ordered forest clearance work to stop as it could endanger the animals.
Environmental groups launched an urgent court action against the felling of more than 200 acres of pine trees at the site in Gruenheide, south of the capital.
The bright green sand lizard, which is rare in western Europe, is a protected European species, and numbers are declining due to habitat destruction and fragmentation.
Smooth snakes are also a European protected species and hibernate from around late October until April.
The administrative court in Frankfurt an der Oder issued an interim injunction on Monday "imposing a temporary halt to clearing" to allow for an examination of the case "in view of the rapid progress of the clearing work", according to AFP.
The car manufacturer has already been made to relocate endangered western barbastelle bats, ant colonies and put up 400 nest boxes in the trees which aren't being cut down.
And in January authorities defused seven Second World War bombs found at the site.
The latest delay puts chief executive Elon Musk's plans for the first cars to roll off the production line in July 2021 at risk.
"Even Tesla cannot and must not be above the law," Heinz Herwig Mascher, chairman of environmental group the Green League in Brandenburg, said in a statement.
"The Tesla application must be checked as carefully as it is the case with any other applicant."
He added: "At the speed required by Tesla, this is only possible with enormous staff commitment in the authorities and on the basis of solid planning."
Christiane Schröder, managing director of the Nabu Brandenburg, a conservation organisation, said: "The best possible protection for strictly protected animal species would have been solid planning.
"When all experts know that even after two years of intensive catching, it can hardly be ruled out that sand lizards and smooth snakes will be killed during such a construction project, it is claimed here that after only two months [Tesla are] sure they will have caught all the animals.
"That is completely impossible."
The enormous factory has been of major concern to environment groups since its outset, due to the huge impact on the woodland and biodiversity.
Mr Musk has pledged to reforest an area three times the size of its building site to make up for the loss during construction, however conservationists have warned quantity over quality is not enough.
Back in February, a court temporarily halted the deforestation of the woodland due to the alleged impact on wildlife, as well as concerns the construction work could contaminate the drinking water supply.
The car company has said the land needs to be cleared to allow for storage and Mr Musk has also said he is hoping to build the world's largest battery factory at the same site.
Register for free to continue reading
Registration is a free and easy way to support our truly independent journalism
By registering, you will also enjoy limited access to Premium articles, exclusive newsletters, commenting, and virtual events with our leading journalists
Already have an account? sign in
Join our new commenting forum
Join thought-provoking conversations, follow other Independent readers and see their replies