Thai company boss 'caught poaching black panther' plans to build road through forest home of tigers and leopards
Scheme in Myanmar would be disastrous for Asian species at risk of extinction such as big cats, elephants and primates, say conservationists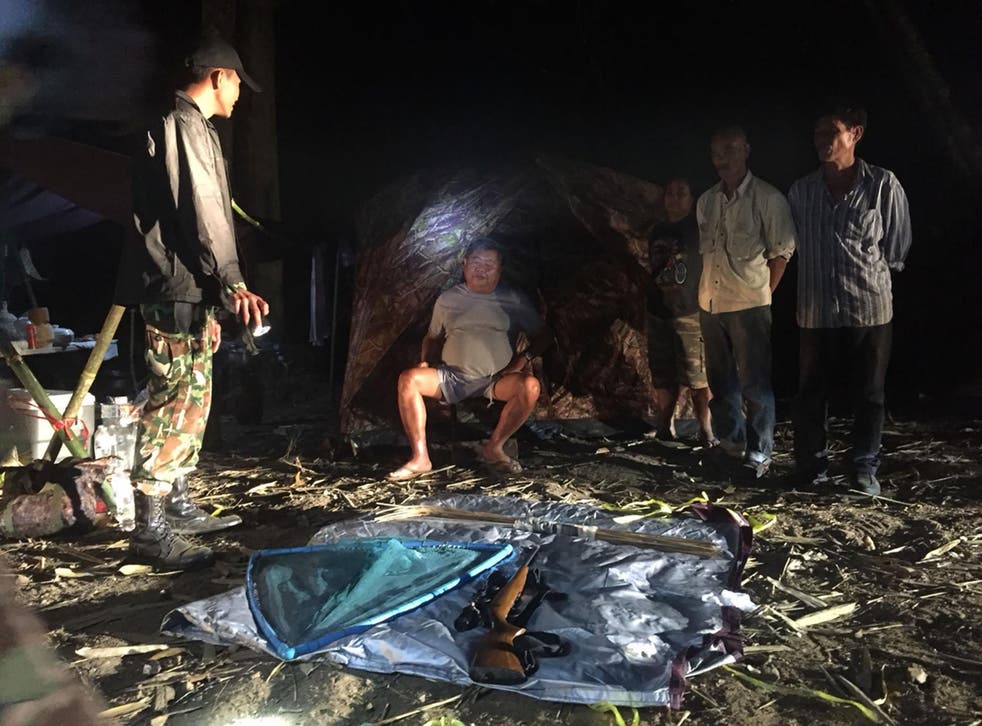 A business magnate caught allegedly poaching protected animals including a rare black panther plans to build a road through a forest that is home to a host of threatened wildlife including leopards, tigers, elephants and primates.
Opponents say the two-lane road would be "disastrous" and would threaten the survival of precious species in south-east Asia.
There have been calls for the construction chief to step down from his role.
​Premchai Karnasuta, the president of Italian-Thai Development, one of Thailand's biggest construction firms, was arrested with three other suspects at a World Heritage site wildlife sanctuary last month, when rangers found them with animal carcasses.
Mr Premchai and the other three men were reported to have been caught camping in the Thungyai Naresuan wildlife sanctuary and had with them the skin of a rare black female Indochinese leopard, a muntjac deer, a pheasant – all protected species - and soup made from the leopard's tail.
They face charges of illegal hunting, illegal possession of carcasses of protected animals and gun-related charges. Police seized rifles and ammunition.
They later said four tusks found at Mr Premchai's house were from African elephants and had therefore been traded illegally.
Thai people have been outraged by the poaching case, and on Sunday demonstrators staged protests in central Bangkok, demanding justice. Mr Premchai was granted bail after being detained for two days, local media reported.
Conservationists, residents and an armed ethnic group oppose the plans for the new highway, which would run from the Thai border to a planned economic zone in Myanmar. The 93-mile road, due to be built by Mr Premchai's Bangkok-based construction giant, would cut through the Tanintharyi forest of southern Myanmar, which is also home to marbled cats and gibbons.
Lee Poston, of WWF, said: "The road in its current form will be disastrous for many of the rare, endemic species in this wilderness.
"It will cut through the Dawna Tenasserim wilderness, which supports globally important populations of Asia's most iconic wildlife including tiger, Asian elephant, gaur and banteng [cattle]. Other rare mammals in the landscape include Fea's muntjac, the Malayan tapir that now survives in protected areas as scattered populations, slow loris, the elusive clouded leopard, sun bear and binturong [the bearcat].
"While we don't know exact numbers of leopards living within the area, we do know that the Dawna Tenasserim landscape which the road cuts through contains the largest population remaining in mainland south-east Asia."
Mr Poston said without any major redesign the road would be "devastating" and would have a major impact on tigers, leopards and elephants, restricting their migration, increasing deforestation and allowing poachers to enter the forest more easily.
It would also increase numbers of animal collisions with vehicles, mudslides and soil runoff into the river, he said.
The forest has the biggest population of wild tigers outside India and Nepal.
Tigers are on the brink of extinction in the wild, and the forests of southern Tanintharyi are one of the last refuges for the species in the country. The big cats are already under threat there from forests being turned into palm oil plantations, the wildlife trade and hunting.
The new highway could act as a barrier between the forest and another tiger zone further south.
"We're really worried about the practice of Premchai. He's not following the law even in his own country - how he will follow the law in Myanmar?" Thant Zin, head of the Dawei Development Association in Myanmar told ABC. Mr Thant said an access road built by the company had already caused environmental damage.
After Mr Premchai's arrest, an editorial in the Bangkok Post said he was a liability to his own company and called on him to quit. It said: "Mr Premchai should realise that he needs to take the right step to save the company's reputation and its future by stepping down as president of ITD as soon as possible and possibly return if and when his name is cleared."
Deforestation has been increasing in the Tanintharyi, with the area reportedly losing 6 per cent of its tree cover in 14 years to development, new mines and new roads.
Conservationists are working on plans they will put forward to help reduce wildlife deaths, including crossings at migration paths, elevating part of the road to create an elephant crossing, barriers for light and noise, and bridges made of trees for gibbons that cannot cross a road on the ground.
WWF has developed alternative road designs that minimise the impact on biodiversity, with wildlife bridges and underpasses, a small toll that would go into a conservation offset fund, and wildlife crossings, but none of the ideas have been agreed yet. "Ideally we would prefer the road not be built but if it must then the only viable option is a 'better road', an example of safe, socially responsible and environmentally sustainable infrastructure development," said Mr Poston.
"The alleged actions of Mr Premchai in this wildlife poaching case leave us extremely concerned about how the company he heads, Italian-Thai Development, will approach the road."
Italian-Thai Development started the "special economic zone" (SEZ) project in Myanmar in 2008. After four years, the company reported financial difficulties and the two governments had to intervene. The plan for the road, together with a town plan, a small port and the SEZ in Dawei were given the go-ahead in 2015.
World news in pictures

Show all 50
US-based EarthRights International severely criticised the Environmental Impact Assessments in the SEZ plan, saying they were highly flawed.
The Independent has contacted Italian-Thai Development for a comment but has not yet received a response.
Join our new commenting forum
Join thought-provoking conversations, follow other Independent readers and see their replies