The betrayal of John Kahekwa: how Britain let down an inspirational conservationist from Congo
Five years ago our Environment Editor travelled to Bukavu to meet a man who has dedicated his life to lowland gorillas. What happened after is a tragic farce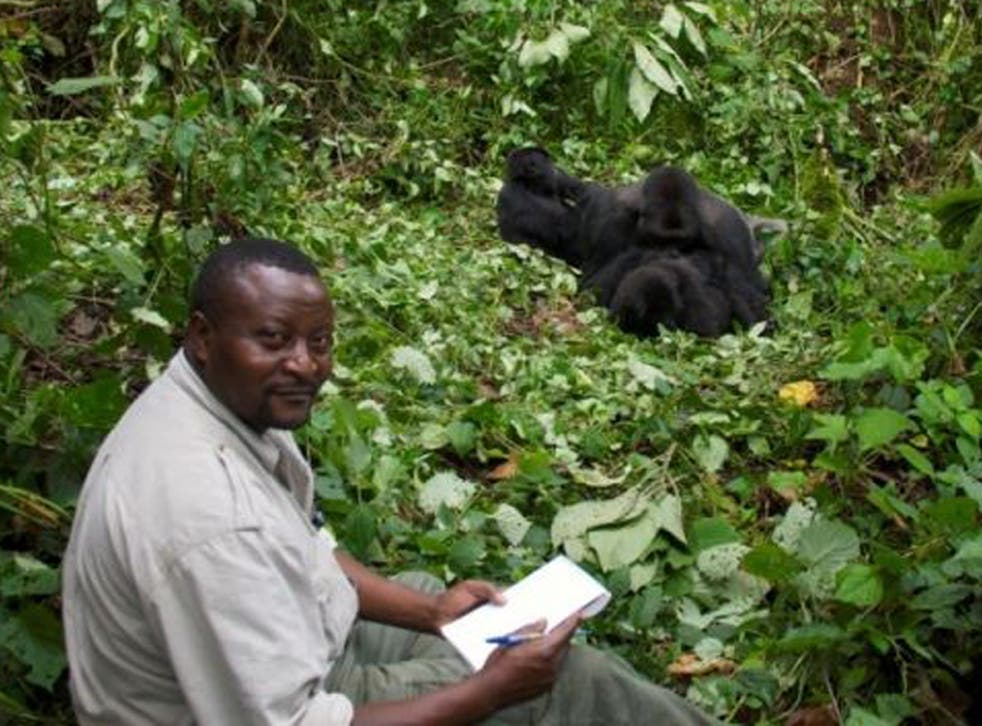 There really are some God-awful places in the world in terms of human suffering, but one of the God-awfullest is the eastern half of the Democratic Republic of Congo, which for most of the past 20 years has been ravaged by war. The provinces of North and South Kivu, in particular, which adjoin the border with Rwanda, have been devastated by fighting that spilled over from the Rwandan genocide of 1994. More than five million people are thought to have died in a conflict sometimes called "Africa's World War", as nine African nations and up to 20 armed groups became involved.
It's a war whose brutality is staggering. For example, when a notorious warlord, Laurent Nkunda, captured Bukavu, the capital of South Kivu, in 2004, an estimated 16,000 women were raped in a single weekend (Nkunda is now in a Rwandan jail). The eastern DRC is as dangerous and difficult to live in as anywhere – people struggle daily with poverty and disease, never mind the conflict – and, under the circumstances, you might think nobody would give a minute's thought to anything like wildlife conservation; but you would be wrong.
Devotion
John Kahekwa, who comes from the Bukavu region, has spent his whole life trying to look after the eastern lowland gorillas – one of Africa's most spectacular species – in one of the continent's most magnificent protected areas, Kahuzi-Biega National Park. But as with many African parks, the protection is nominal rather than absolute, and much of the wildlife has been hit by poaching, This climaxed when the park's and the DRC's most famous gorilla was killed. He was the silverback, or adult male Maheshe, known throughout the country because he appeared on the Congolese 5,000-franc banknote.
Mr Kahekwa spent years combating poachers (he rose to become the park's chief ranger) but eventually realised that because much of the poaching had its origins in poverty, the only way to keep the wildlife safe was to get the local community involved in protecting it. So he set up the Pole-Pole Foundation, devoted to bringing the interests of local people and the national park together in a whole series of ways (for example, 47 of the most active poachers were re-trained as wood-carvers).
Five years ago I went to Bukavu and met Mr Kahekwa (and I went with him to Kahuzi-Biega and saw the gorillas, which was unforgettable). I thought the work he was doing with Pole-Pole was exceptional and I wrote about it. But now he has recognition greater than a mere newspaper article. In the celebrated Department of War Studies at King's College, London, is the Marjan Centre for the Study of Conservation and Conflict, which looks at just how on Earth people like John can do what they are doing with war going on around them. This year they have given him their Marsh Award, which honours and rewards such individuals.
Anger
So far, so appropriate; but John was not present at the awards ceremony in London on Monday, as he was due to be, because the British embassy in the DRC's capital, Kinshasa, fouled up his visa application: they lost his fingerprints. This was despite him travelling the 950 miles from Bukavu to Kinshasa, and staying there for a week, at considerable expense, in late July – three months in advance of his journey.
Mr Kakekwa's disappointment, and the anger of King's College staff, are both extreme. Richard Milburn, of the Marjan Centre says that at the ceremony, where the noted primate conservationist Ian Redmond accepted the award on John's behalf, "people felt it was truly shameful to deny access to someone like John, who is an incredible person and a real unsung hero".
Personally, I think the incompetence of the Foreign Office and UK Border Agency staff in the case is disgraceful; they should indeed hang their heads in shame.
Join our new commenting forum
Join thought-provoking conversations, follow other Independent readers and see their replies