The good wood guide: Eco-friendly options for furnishing your home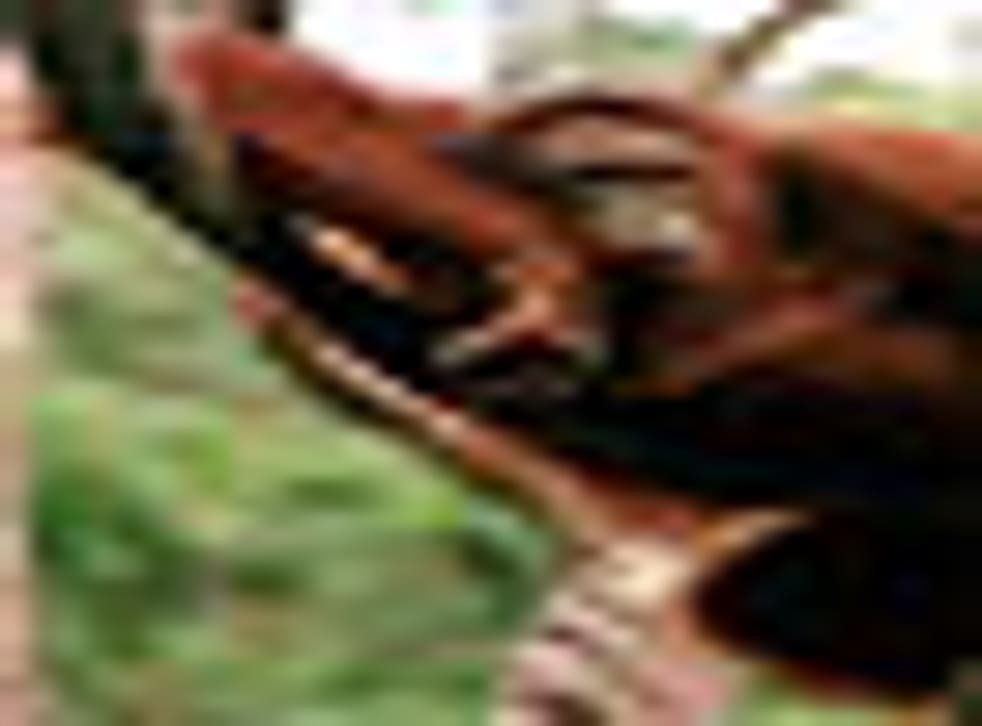 It is difficult to imagine the earth before the frenzied development of the 20th and 21st centuries got going. Most of the planet would have been cloaked in a birthday suit of dense, green forest and home to an incredibly complex biodiversity, some of which has been lost forever. What remains of these forests today is home to two thirds of all existing animal and plant species on land. Millions of people across the globe also depend on them for survival. An astonishing 80 per cent of these forests have already been destroyed or degraded, and half of this has taken place in the last 30 years.
The problems of Burma and the Brazilian Amazon may seem a long way from your shiny mahogany flooring and teak garden furniture. But buying unprotected timber, in addition to destroying primary forests, may have financed groups guilty of human rights abuses, encouraged the hunting of endangered species, threatened the survival of indigenous tribes and deprived animals of a place to call home. Teak and mahogony are two of the world's most endangered wood species.
Amazingly, just 8 per cent of the world's remaining forest is currently protected from further destruction. The timber industry is big business and our insatiable demand for wood is fed largely with unsustainable, destructive and illegal logging practices in many countries. If you hope to achieve anything close to an eco-friendly home it's imperative you check that any wood you buy or use for construction comes from legal and sustainable sources.
"It's not quite as straightforward as just avoiding certain woods," says Belinda Fletcher, one of Greenpeace's forest campaigners."The key thing is to look out for the FSC [Forestry Stewardship Council] logo. Some species are problematic but you can get them FSC certified."
Where you buy wood from is often more crucial than the type of wood itself. For example, in Malaysia the production exceeds the amount of timber available. As a result, some areas of the country have run out of raw materials and many logs are smuggled into the country illegally from Indonesia. "Don't go near anything from Burma," warns Fletcher, "As you would be supporting the military junta."
"Bamboo is a little more complicated," says Fletcher, dispelling the myth that bamboo is a 100 per cent environmentally sound alternative to wood. "You can't get FSC certified bamboo, but depending on where you get it from it can be okay."
BAMBOO
ORIGIN: Found in all climates across Asia, sub-Saharan Africa, northern Australia and the Americas
USES: Treated bamboo makes an incredibly light and tough building material and can be used for scaffolding, fences, bridges, furniture, flooring and bricks. It is so strong that it is used in the tropics in place of steel reinforcement rods in concrete
SUSTAINABILITY: There are around 1500 species of bamboo, hence its versatility, and it can be harvested in just 3-5 years compared with 10-20 years for most softwoods. It is crucial you source bamboo very carefully as one billion people depend on it for income or housing. If it is harvested at the wrong time they might have to go without – along with the giant pandas and west African mountain gorillas, whose preferred bamboo is already endangered. Check out the International Network for Bamboo and Rattan; (www.inbar.int)
ALTERNATIVES: Technically a woody plant rather than a wood itself, bamboo is less threatened than any timber – look into using it as a substitute whenever you need to use wood
ASH
ORIGIN: UK, Europe and North America
USES: Widely used for light-coloured furniture and panelling such as wardrobe doors. Tool handles are often made of ash
SUSTAINABILITY: Most of Europe's ancient forests have already been destroyed so your ash should come from plantations, but watch out for ash from Romania and Bulgaria where illegal logging is rife. A decade ago much of the far east of Russia was covered with ash trees, but today nearly all these trees have been felled and exported to China
ALTERNATIVES: FSC ash; reclaimed ash is available – try www. salvo. co.uk
BEECH
ORIGIN: UK, Europe and North America
USES: All types of furniture and flooring, as well as marine and heavy construction
SUSTAINABILITY: Much of the beech used in Britain is imported from France whose industry certification, the PEFC, is very weak compared to the FSC. Beech from Romania and Poland may have come from ancient forests. Beech is one of Armenia's most popular exports, to furniture-producing countries such as the United Arab Emirates and Italy, even though it has already lost most of its forest cover and loses around 1 million cubic metres of trees annually from illegal logging
ALTERNATIVES: FSC beech; reclaimed beech is widely available as wood strip and woodblock flooring
PINE
ORIGIN: UK, Europe and North America
USES: All types of general utility work – furniture, joinery and so on
SUSTAINABILITY: The good news is that most pine on sale in the UK is FSC certified. The bad news is that most pine comes from sustainable plantations because we have already razed most of the primary pine forests to the ground. Watch out for pine from Finland and parts of Norway that carries a PEFC certificate, as it may have come from ancient forests. Other pine may have come from illegal logging in Latvia and Estonia. Also, Chinese pine products are very risky: ancient Korean pines are logged in Siberia and exported to China
ALTERNATIVES: FSC pine; reclaimed pine is widely available as beams, floorboards, woodstrip and woodblock flooring
OAK
ORIGIN: UK, Europe, US and Australia
USES: Joinery, furniture, all types of flooring
SUSTAINABILITY: Be on your guard when buying oak as imports from Poland, Russia and the Ukraine are often linked with the destruction of ancient forests and illegal logging. Oak from Estonia may well be illegal and French oak isn't well regulated. Cork oak forests cover much of southern Europe and north Africa. In Spain and Portugal these forests are home to the Iberian lynx, the world's most endangered big cat, and the Spanish imperial eagle, of which there are only 150 pairs the world. These forests need improved management
ALTERNATIVES: FSC oak; reclaimed beams and flooring widely available
DOUGLAS-FIR
ORIGIN: Europe and North America
USES: Construction, panelling and furniture
SUSTAINABILITY: Douglas-Fir from Europe should come from managed plantations but if it comes from North America it will no doubt be the product of destructive logging practices in the coastal temperate rainforests – some of the largest intact rainforests in the world – or the Great Bear Rainforest in Canada. If you buy from Canada, check that the supplier is working with environmental groups to improve local practices. See www.savethegreat bear.org
ALTERNATIVES: FSC; Douglas-Fir
LARCH
ORIGIN: Europe and North America
USES: All types of construction, panelling, furniture and fencing
SUSTAINABILITY: There are safe larch plantations across Europe but watch out for Siberian or Canadian larch, which will often come from ancient forests. Bad and illegal logging practices in Russia have put the Siberian tiger and Far Eastern Leopard at high risk
ALTERNATIVES: FSC; larch
MAHOGANY
ORIGIN: Brazil, Asia and Africa
USES: Construction and furniture, especially garden furniture There are more than 70 species of Asian mahogany, and more than half of these are endangered or critically endangered. In Indonesia, for example, although 50 million indigenous people and orangutans depend on its forests, conservative estimates predict the ancient lowland forests of Sumatra will be destroyed by 2010. Brazilian mahogany is a vulnerable wood and five types of African mahogany are now endangered or vulnerable
ALTERNATIVES: There are no direct alternatives to Asian mahoganies, but FSC Mahogany, Andiroba and Jatoba are good matches for the African and Brazilian species
TEAK
ORIGIN: Burma and Africa
USES: Construction and furniture
SUSTAINABILITY: Environmentally sound teak is hard to come by. Burma is the only country that still exports teak from natural forests, mostly illegally. Buying anything from Burma provides its brutal military dictatorship with foreign currency. African teak is at risk of becoming endangered
ALTERNATIVES: For Burmese teak try FSC teak, or Jatoba in some cases. Good substitutes for African teak are FSC Favinha, Guariuba and Tatajuba
WALNUT
ORIGIN: Africa
USES: Furniture, panelling
SUSTAINABILITY: Considered vulnerable. The rainforests of west and central Africa are critical to the survival of gorillas and chimpanzees and millions of hectares have been lost in the last 30 years. Many African woods are part of the trade in "conflict timber" and sold by groups or governments who use the money to fund conflicts. Logging operations are spreading into the Congo Basin, home to 12 million people
ALTERNATIVES: FSC; Andiroba
MERBAU
ORIGIN: The island of New Guinea. Stocks in south-east Asia, Oceania and east Africa have entirely disappeared
SUSTAINABILITY: This golden wood is a very fashionable choice for flooring Greenpeace estimates that if levels of legal logging continue, merbau will disappear within 35 years. Demand for the wood is ruining New Guinea, until recently one of the world's untouched beauty spots. New roads are ripping up the rainforest to allow for timber transportation. China is the largest exporter of merbau products, but these are knowingly sold on by household names on the British high street
ALTERNATIVES: FSC; Merbau, Kwila and Jatoba
CEDAR
ORIGIN: Brazil and North America
USES: Light and interior construction, panelling and furniture
SUSTAINABILITY: The logging of western red cedar from North America's coastal rainforests is destroying this unique ecosystem and threatening the habitats of grizzly, black and white spirit bears, some bird species and thousands of wild salmon runs. Two species of Brazilian cedar are endangered and another is vulnerable. The Brazilian government believes that up to 90 per cent of the timber coming from the Amazon is being logged illegally, and more than 87 indigenous cultures have been wiped out by deforestation
ALTERNATIVES: FSC; Brazilian cedar. For Western Red try FSC Western Red Cedar, FSC larch and also FSC Red Louro
Register for free to continue reading
Registration is a free and easy way to support our truly independent journalism
By registering, you will also enjoy limited access to Premium articles, exclusive newsletters, commenting, and virtual events with our leading journalists
Already have an account? sign in
Register for free to continue reading
Registration is a free and easy way to support our truly independent journalism
By registering, you will also enjoy limited access to Premium articles, exclusive newsletters, commenting, and virtual events with our leading journalists
Already have an account? sign in
Join our new commenting forum
Join thought-provoking conversations, follow other Independent readers and see their replies