The great animal rights betrayal
Government scraps protection for hens, game birds, pigs, cows, sheep – and circus animals
Saturday 13 November 2010 01:00 GMT
Comments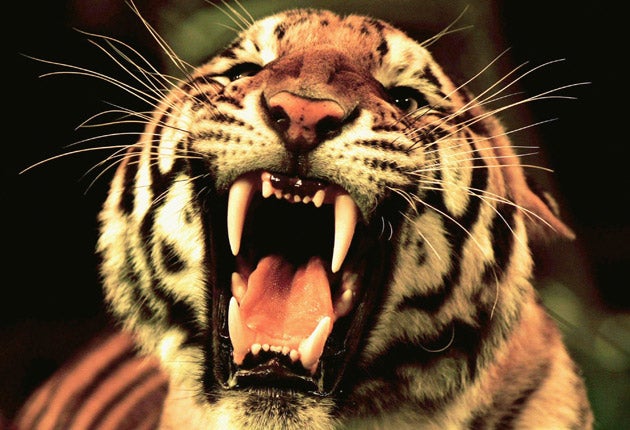 Millions of hens will have their beaks mutilated; game birds will remain in cages; pigs, sheep and cows in abattoirs will lose crucial protection from abuse; badgers will be culled and lions, tigers and other wild animals will continue to perform in the big top.
In a series of little-noticed moves, the Coalition has scrapped or stalled Labour initiatives to improve animal welfare some weeks before they were due to come into force.
The Agriculture minister James Paice, who part-owns a farm in Cambridgeshire, has been behind most of the moves – which have infuriated welfare groups. In the latest of a series of controversial decisions, Mr Paice this week delayed by five years a ban on beak mutilations of laying hens due to come into force in January.
Millions of hens have part of their beaks sliced off to stop them pecking at each other in confined units, but campaigners say there is no need for this if flocks are well managed.
The delay in the beak-trimming ban emerged in a press statement headed "New safeguards for chickens", which hailed the introduction of a limit on overcrowding of meat chickens which will have little impact. The RSPCA said it was "extremely disappointed" by the decision, describing beak trimming as "an insult to hens' welfare".
Another policy reversal, affecting hundreds of thousands of game birds, was taken following lobbying from the Countryside Alliance and other shooting groups. Mr Paice rewrote the new game-bird farming welfare code to remove a ban on keeping them in cages.
In an additional move, the Department of the Environment, Food and Rural Affairs (Defra) halted a series of prosecutions of abattoir operators based on secret footage which caught slaughterhouse workers kicking cattle, pigs and sheep. Tim Smith, head of the Food Standards Agency, which enforces slaughterhouse standards, said of the images: "The cruelty on show is the worst I have seen." Defra said the prosecutions would have failed because the footage had been obtained by trespass. Animal Aid, which shot the film, described the decision as "political".
Furthermore, the Government is reducing the presence of official veterinarians at livestock markets, to the concern of the British Veterinary Association. According to the BVA, Mr Paice has also expressed doubt over plans compulsorily to label kosher and halal meat from animals killed without being stunned.
Defra has been stalling on a ban on the use of wild animals in circuses, which Labour indicated in March it would introduce, keeping 40 tigers, elephants, zebras and other animals performing tricks. Defra says it will announce its plans "later in the autumn".
Mr Paice again pleased farmers and angered welfare groups by overturning Labour's opposition to a badger cull and proposing farmers trap or shoot the protected mammal in order to curb the spread of bovine TB, which can be spread by badgers. He downgraded a research programme into vaccination, an alternative method of controlling the disease that killed 25,000 cattle last year. A cull is likely to provoke widespread protests.
Another Conservative proposal – to hold a free vote on overturning the ban on fox hunting – will be fiercely opposed.
Current concern, however, is greatest about the U-turns on farm animals because of the huge numbers involved. While there are no authoritative figures, the proposed game-bird cage ban would have improved the lives of hundreds of thousands of the 40 million game birds bred annually for shooting. Beak trimming is estimated to take place on 20 million of the UK's 29 million laying flock. Tabling plans to limit the keeping of broiler chickens to 39kg per square metre, a more crowded level than the industry's basic standard of 38kg, Defra revealed it would ban trimming by hot blades but allow the less brutal but still painful infra-red method.
The Government's vets on the Farm Animal Welfare Council had recommended allowing infra-red trimming because of the egg industry's failure to prepare for the ban, which had been scheduled for eight years.
Compassion in World Farming was "deeply disappointed" by the decision. Its chief policy adviser, Peter Stevenson, said: "It is frustrating that the egg industry has not managed to meet the 2011 deadline. At the same time as the British industry has been failing to phase out beak trimming, the Austrian industry has successfully reduced the practice so that now less than 2 per cent of hens are beak trimmed."
Animal Aid's campaign manager Kate Fowler said: "The Coalition Government has wasted no time in removing a raft of popular measures that provided important protection for farmed and wild animals.
"It seems the Lib Dems can't or won't rein in the Tories. The commitment to repealing the Hunting Act is the most high profile part of the Government's anti-animal welfare package. But badgers, animals at markets, game birds and animals in circuses are also under threat. As for slaughterhouse cruelty, if this Government's vets can't or won't take action and the Government won't prosecute, then there is no one to stop slaughterhouses becoming a free-for-all."
Mr Paice said: "These comments are surprising and disappointing. Cutting bureaucracy doesn't equate to poorer welfare for animals – we listen to expert groups and always base decisions on robust scientific evidence, including that of the Farm Animal Welfare Council. As far as bovine TB is concerned, these groups appear to ignore the welfare of cattle."
The Betrayals
Game Birds
Issue: Keeping of game birds such as pheasants in cages.
Number of animals: affected Hundreds of thousands.
Last government policy: In one of its last acts in power, on 15 March 2010, Labour introduced a new Code of Practice for "game bird" production which in effect would have banned the use of battery cages for breeding pheasants within months.
What the Coalition has done: Animal Welfare minister James Paice withdrew the code and replaced it with a new version which allowed "enriched" cages to remain. The decision followed lobbying from shooting organisations, such as the Countryside Alliance and the Game Farmers' Association.
RSPCA comment: "The RSPCA is concerned that the Government has overturned expert recommendations against the use of cages to breed game birds in England. The Society is calling for proper scientific research to establish how to best meet the birds' needs under Section 9 of the Animal Welfare Act. In the meantime, the aim is to persuade the industry to act in accordance with the scientific principles of welfare and avoid using cages."
Circus Animals
Issue: Use of performing wild animals such as tigers and elephants.
How many animals affected: Around 40. Four British circuses use wild animals: the Great British Circus, which has tigers, lions, camels and zebras; Peter Jolly's Circus (camels, zebras, snakes and crocodiles); Circus Mondao (camels and zebras); and Bobby Roberts Circus (camels and elephant).
What was going to happen?: On 25 March 2010, Labour's environment minister, Jim Fitzpatrick, said he was "minded" to ban performing wild animals after research showed that 94 per cent of the public supported a ban.
What the Coalition has done: The Coalition said it was considering whether to proceed and would announce its position "in the autumn". James Paice told the Commons he was sympathetic to a ban but said his colleague Lord Henley was mulling over issues.
RSPCA comment: "The RSPCA believes the circus is no place for a wild animal. It does not believe that wild animals should be subjected to the confinement, constant transportation and abnormal social groups associated with circus life. The UK Government promised three years ago that wild animals in travelling circuses would be banned – yet lions, tigers, elephants and other animals still tour the UK. We want to see the urgent introduction of regulations under the Animal Welfare Act."
Slaughterhouse Cruelty
Issue: Cruelty against pigs, sheep and cattle by abattoir workers.
Number of animals affected: 29 million.
What was going to happen?: Prosecutions had been started against four operators at five abattoirs, and nine workers, following an undercover investigation by an animal welfare charity, Animal Aid. It found poor conditions at six of seven slaughterhouses it investigated between January 2009 and April 2010: footage showed animals being kicked, slapped, stamped, and picked up by fleeces and ears and thrown into stunning pens. Some sheep had their throats cut while not properly stunned.
What the Coalition has done: The Department for Food and Rural Affairs dropped the prosecutions, saying it had become aware of legal precedents where courts had refused to accept "unlawfully obtained video footage". Instead, the Food Standards Agency has asked the 370 slaughterhouses in England and Wales to install CCTV cameras.
RSPCA comment: The RSPCA does not wish to comment on specific court cases.
Badger Cull
Issue: Spread of bovine TB from wild badgers to cattle.
How many animals affected: 6,000 badgers could be killed in the first year.
What was going to happen: In July 2008, the then Environment Secretary, Hilary Benn, ruled out a cull, saying a cull would worsen rates of bovine TB outside of culling areas. Instead he committed £20m more into trials of a vaccination programme for badgers in six areas.
What the Coalition has done: Proposed that farmers in areas of heavy TB infestation cull badgers by cage-trapping and shooting them, or by "free shooting" as animals emerge from their setts. It has scaled back trial vaccinations to one area.
RSPCA comment: "On the basis of the current science, welfare concerns and practicality, any decision for a widespread cull of badgers would be totally unacceptable. Farmers or any non-statutory agency carrying out a cull... would make the welfare issues involved in killing badgers worse. It would be near impossible to police or monitor such a cull and could make enforcement of the Protection of Badgers Act very difficult."
Beak Trimming
Issue: Mutilation of laying hens.
Number of animals affected: 20 million.
What was going to happen?: Labour decided to end beak trimming, which is carried out to prevent laying hens pecking and cannibalising each other in cramped battery cages. A ban enacted eight years ago was due to come into force on 1 January 2011.
What the Coalition has done: After the egg industry said it was not prepared for the end of beak trimming, the Coalition will delay a complete ban by at least five years, until 2016. Instead, the Government banned trimming with hot blades and allowed another technology which still causes pain – infra-red.
RSPCA comment: "The RSPCA is extremely disappointed that no specific date has been set for a ban on beak trimming for laying hens. The mutilation of all livestock is undesirable."
Join our commenting forum
Join thought-provoking conversations, follow other Independent readers and see their replies