The holy grail of British moths is a real bolt from the blue
As a Lepidoptera lover I have longed to see it for years without success
Michael McCarthy
Wednesday 09 October 2013 17:50 Comments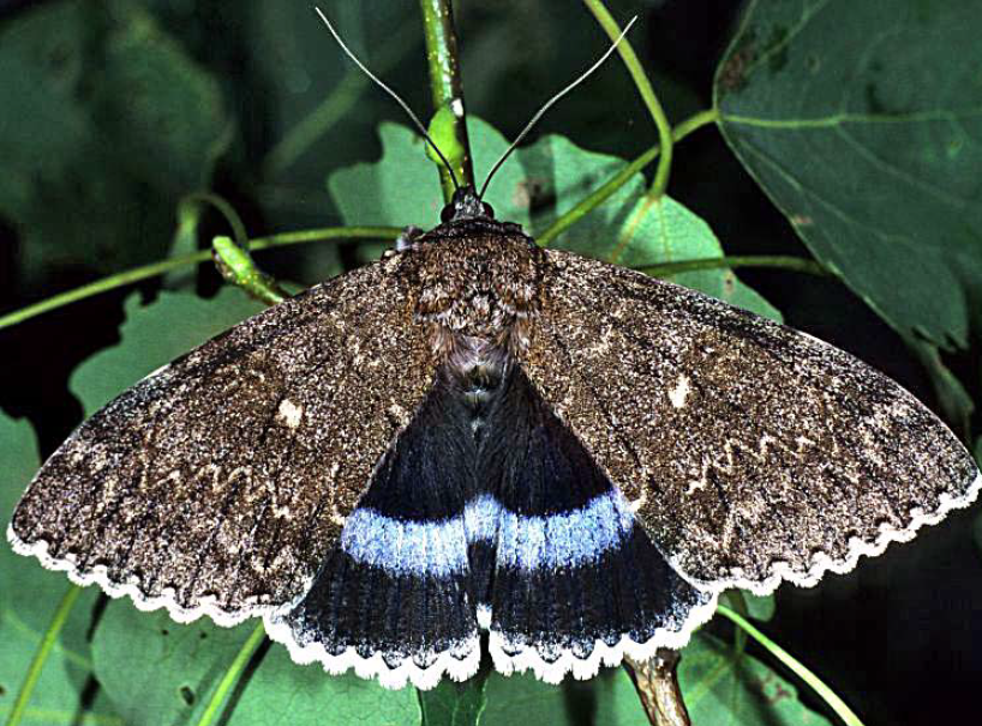 Although all creatures are equal before the Lord, as it were, there is no doubt that to our own, less-than-perfect eyes, some are more equal – and certainly, more charismatic – than others. A very obvious case in point is the Clifden nonpareil, whose name boldly proclaims that it is without equal entirely.
Maybe it is. The Clifden nonpareil is a moth; and it is the most magnificent moth to be found in the British Isles. Not only is it enormous, in moth terms, it has another characteristic that sets it quite apart from our other 867 larger moth species – and that is, blueness. Moths favour browns and greys, and red and yellow and orange and cream, and occasionally green, but apart from the odd fleck, such as in the eyespots of the eyed hawkmoth, blue as a colour is, from the British moth fauna, completely missing.
Yet not from Catocala fraxini. Its other English name is the blue underwing, and when it opens its silver-grey, delicately-patterned forewings it discloses black hindwings, each crossed by broad bands of a stunningly-beautiful smoky lilac.
It's a shock, and that's the point. There are a dozen or so "underwing" moths in Britain and all employ the same use of colour as a defence. The forewings are cryptic, perfectly camouflaged to blend in with a stone wall or the bark of a tree, but if a predator such as a bird does notice the creature, it will suddenly snap its forewings open and display a flash of colour, bright enough to confuse the bird for that extra second to help it get away.
Some of these species, such as the large yellow underwing, are common; but not the Clifden nonpareil. No sir. It is not only exquisite, it is very rare, with only a few sightings each year, and it has been hugely prized by all those interested in Lepidoptera since it was first observed in the 18th century at the Thames-side estate of Cliveden in Berkshire.
It's been a sort of legendary treasure, a sort of holy grail for moth enthusiasts. For myself, as a Lepidoptera-lover I have longed to see it for years and years, without success, but this week, to cut out a long intervening story, I set eyes on it at last. At the weekend the charity Butterfly Conservation (BC) announced there had been an autumn influx of rare moths from the continent, including a spate of Clifden nonpareil sightings, three of them by BC's Les Hill in Dorset, and on Tuesday evening I drove there to see if Les could produce one for me.
When I arrived at dusk he had his moth trap out in his garden, and I was prepared for long vigil, but Les had startling news; his colleague Mark Parsons, BC's head of moth conservation, had actually found a Clifden nonpareil on the wall of his cottage, thirty miles away, half an hour earlier, and caught it. He had it still.
We drove pell-mell to the other side of the county and eventually, in a plastic box in Mark's kitchen, there it was. Asleep. (Do moths go to sleep? Well, torpid then). Motionless but miraculous. For when Mark gently touched the silver-grey forewings, they shot open, and there were the bands of that glorious lilac-blue. I couldn't believe I was seeing it.
It began to stir then, and shortly began to fly slowly around Mark's kitchen. I was open-mouthed. It was as big as a bat – a bat of sensational colours. Eventually it settled on the kitchen wall, and before Mark released it, I persuaded it to climb onto my hand.
I can't tell you what a supreme, wonderful experience it was, to be in such intimate contact with this amazing creature, even in the kitchen of a cottage in west Dorset. It's hard to write about it without hyperbole, but if you've seen dolphins in the wild, and you remember your very first sighting of them, it was of that order; a sort of primal thrill at the riches of the natural world.
All moths are equal before the Lord, of course. But this one – ah, nonpareil is the word.
Twitter: @mjpmccarthy
Register for free to continue reading
Registration is a free and easy way to support our truly independent journalism
By registering, you will also enjoy limited access to Premium articles, exclusive newsletters, commenting, and virtual events with our leading journalists
Already have an account? sign in
Join our new commenting forum
Join thought-provoking conversations, follow other Independent readers and see their replies