Why do we insist on building on flood plains?
Tom Bawden
,
Natasha Clark
Sunday 02 February 2014 01:00 Comments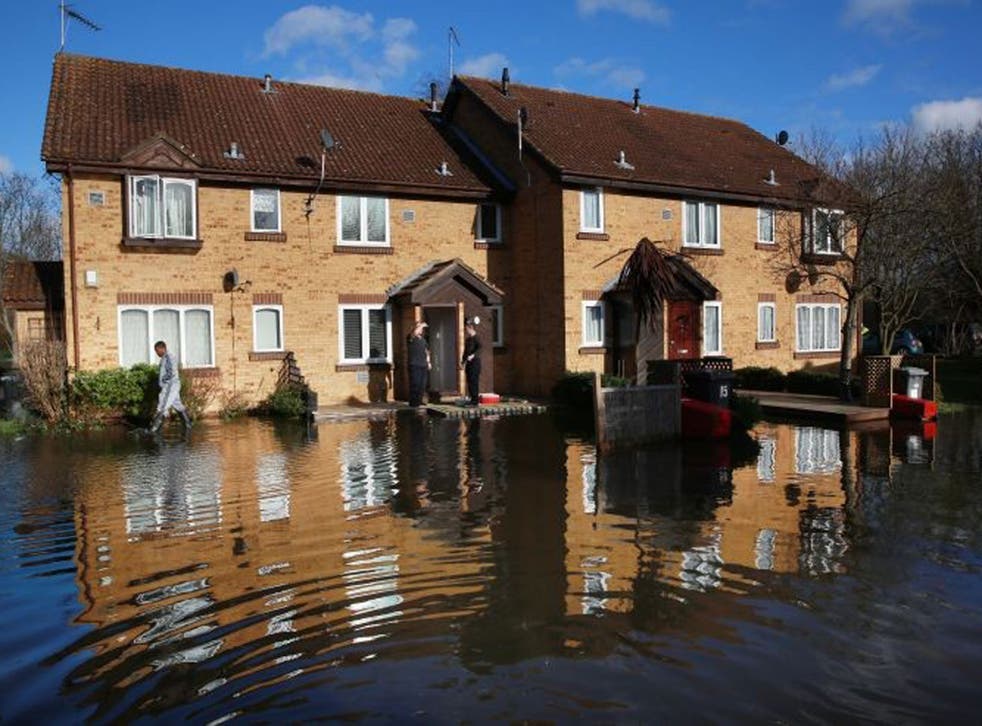 Flooding may have shot up the political agenda but that hasn't stopped local planning authorities driving through housing developments in areas at severe risk of flooding.
From Cornwall to London, to Cardiff, Leeds and Northumberland, local authorities across England and Wales have been ignoring the Environment Agency's (EA) protests and waving through developments on flood-prone land.
As Britain endures another weekend of torrential rain and further flooding, figures obtained by The Independent on Sunday reveal that last year local councils allowed at least 87 planning developments involving 560 homes to proceed in England and Wales in areas at such high risk of flooding that the EA formally opposed them. The biggest development of this kind is the 149-home Goresbrook Village Estate in Dagenham, Essex, expected to be ready for occupation in March 2015.
"Eighty-seven new developments is a ridiculous number and there is no justification for it – it should be zero," said Bob Ward, the director of policy at the London School of Economics' Grantham Institute. "This is exactly the kind of decision-making that has made flooding more of a problem than it should be and that threatens the lives and livelihoods of many people," Mr Ward added, calling on the Government to intervene.
David Leigh, the landscape manager of the Somerset Wildlife Trust, believes the best solution in some cases is simply to move. "A lot of the communities affected in the Somerset Levels and Moors are very old villages and it would be a very big step to start suggesting the whole village move. However, there are some isolated properties that do cause problems when trying to make the local landscape more resilient. Those people will need help."
He advocates allowing some areas of farmland to flood to relieve the pressure on the surrounding land and moving those properties elsewhere.
The numbers of homes being built in the face of the EA's opposition are increasing markedly. That rise appears to be part of a broader trend, with developers seeking to push through more projects on land at high risk of flooding to satisfy demand for new houses. Last year, developers proposed 618 construction projects on land the agency deemed to be particularly high risk, an increase of more than a third on the previous year.
In Pictures: 2014 Winter floods

Show all 60
The agency, while it must be consulted during planning, does not have powers to stop a development – which rest with the local planning authority.
Dr Hannah Choke, a flooding expert from the University of Reading, said the figures were "disturbing". "The real problem with the Somerset Levels is that the people are no longer attuned to the landscape," she says. "In the past, everyone who lived there was attached to the agricultural system and they expected flooding. Now people live there because it's a nice place to live and they have lost touch and been removed from the functions of the landscape, so when flooding happens, it causes problems."
The EA and the Department for Communities and Local Government (DCLG) would not criticise local authorities for ignoring the agency's concerns. However, a DCLG spokesman said: "National planning policy is clear that inappropriate development in areas at risk of flooding should be avoided, and it should not be permitted in areas where it is intended for water to flow or be stored at times of flood. Where development is necessary, it should be made safe without increasing flood risk elsewhere."
A 2012 report by the Government's official climate change adviser – the Climate Change Committee (CCC) – concluded that the planning policy "approval process is not sufficiently transparent or accountable".
The report found that 13 per cent of all new developments were on flood plains. While many flood zone developments are well protected, one in five was in an area "of significant risk under today's climate". It noted that much of Britain is now so densely populated that developments on flood plains are growing much faster than those outside.
Register for free to continue reading
Registration is a free and easy way to support our truly independent journalism
By registering, you will also enjoy limited access to Premium articles, exclusive newsletters, commenting, and virtual events with our leading journalists
Already have an account? sign in
Join our new commenting forum
Join thought-provoking conversations, follow other Independent readers and see their replies