The moth that made mobile phone companies sit up and listen: Insect with sharpest hearing in the world could revolutionise technology
Greater wax moth is capable of hearing sounds 100 times higher than the whiniest human voice
Tom Bawden
Thursday 09 May 2013 11:47 Comments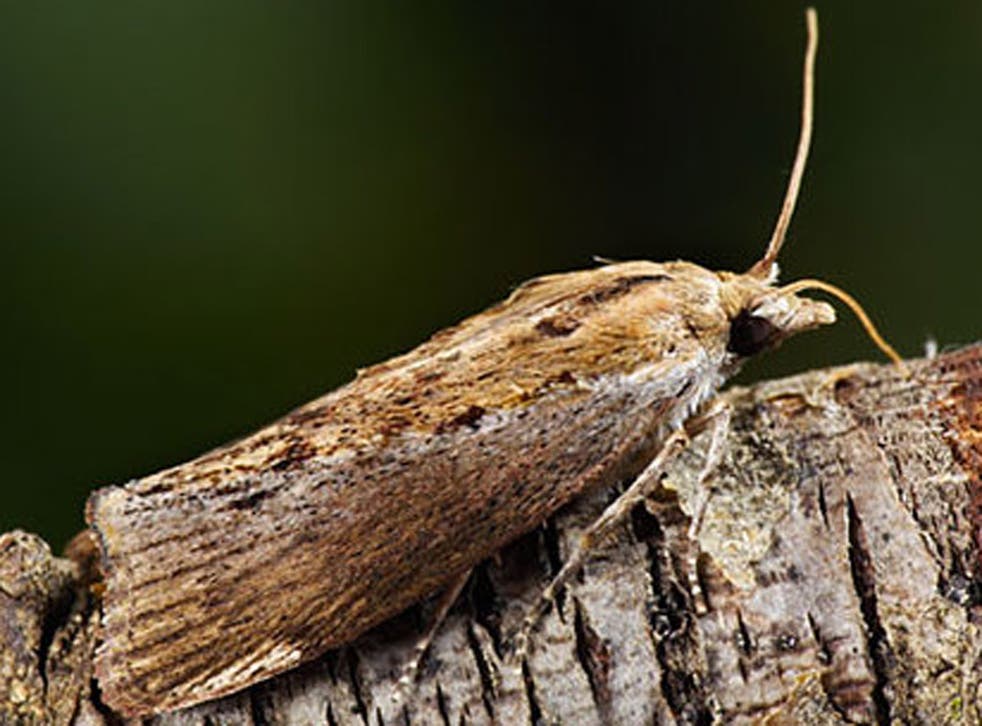 The greater wax moth has the best hearing of any animal in the world – a discovery which has the potential to revolutionise microphone technology in everything from mobile phones to hearing aids.
Researchers at the University of Strathclyde in Glasgow have just discovered that the insect, which is found across the UK, is capable of hearing sound frequencies of up to 300,000 hertz (300kHz) – more than 100 times higher than the whiniest human voice and fifteen times the maximum frequency that can be heard by the sharpest-eared teenagers.
Furthermore, with a lower hearing-register of just 20Hz, the insect – nicknamed the "honeycomb moth" due to its larvae's penchant for the yellow stuff – also has the widest range of any creature in the animal kingdom.
To put this in context, normal human speech is between a few hundred and 3,000Hz. A typical person's hearing peaks at about 20kHz at around 18, dropping to about 10kHz by middle age. Even dolphins, who are known to be comfortable with high pitches, stop hearing at 160kHz.
Dr James Windmill, who led the research project, believes that the moth has evolved to sense such high frequencies as protection from its main predator, the bat.
Bats communicate using similar sounds to moths, with some species able to sense frequencies as high as 212 kHz. "It means the moth can hear the bat a long time before the bat can hear the moth, so the moths can stop calling each other and hide," said Dr Windmill, pointing out that as a nocturnal insect the moth is a prime target for bats.
The discovery of the moth's hearing prowess has potentially huge implications for the development of microphone technology, Dr Windmill added. "I am very interested to see how the moth's ear works generally to help make better, and smaller, microphones." he said. "These could be put in a wide range of devices such as mobile phones and hearing aids,"
Dr Windmill is also working to adapt the moth's "echolocation" technology. This enables the very poor-sighted insect to navigate by bouncing sounds off nearby surfaces and using the reflected noises to determine the distance and direction of objects.
"This could be used to enable robots to communicate and find their way around. You could put them in situations like testing oil platforms and nuclear installations that would be dangerous to humans," Dr Windmill said.
Animal senses: Highest achievers
Sight: The eagle The bird of prey's eyesight is three to four times sharper than humans, and can spot a rabbit several miles away.
Smell: The bear Its brain may be a third the size of a human's, but the part devoted to smell is five times larger. They are also aided by a big nose.
Taste: The catfish A six-inch catfish can have as many as 250,000 taste buds (humans have about 10,000), covering its entire body inside and out – making it literally like a swimming tongue.
Touch: The jewel beetle Using an infra-red sensor under one of its legs, it can detect a fire more than 50 miles away.
Register for free to continue reading
Registration is a free and easy way to support our truly independent journalism
By registering, you will also enjoy limited access to Premium articles, exclusive newsletters, commenting, and virtual events with our leading journalists
Already have an account? sign in
Join our new commenting forum
Join thought-provoking conversations, follow other Independent readers and see their replies