The plant hunters: Adventurers who transformed our gardens would put Indiana Jones to shame
Victoria Summerley digs up their remarkable stories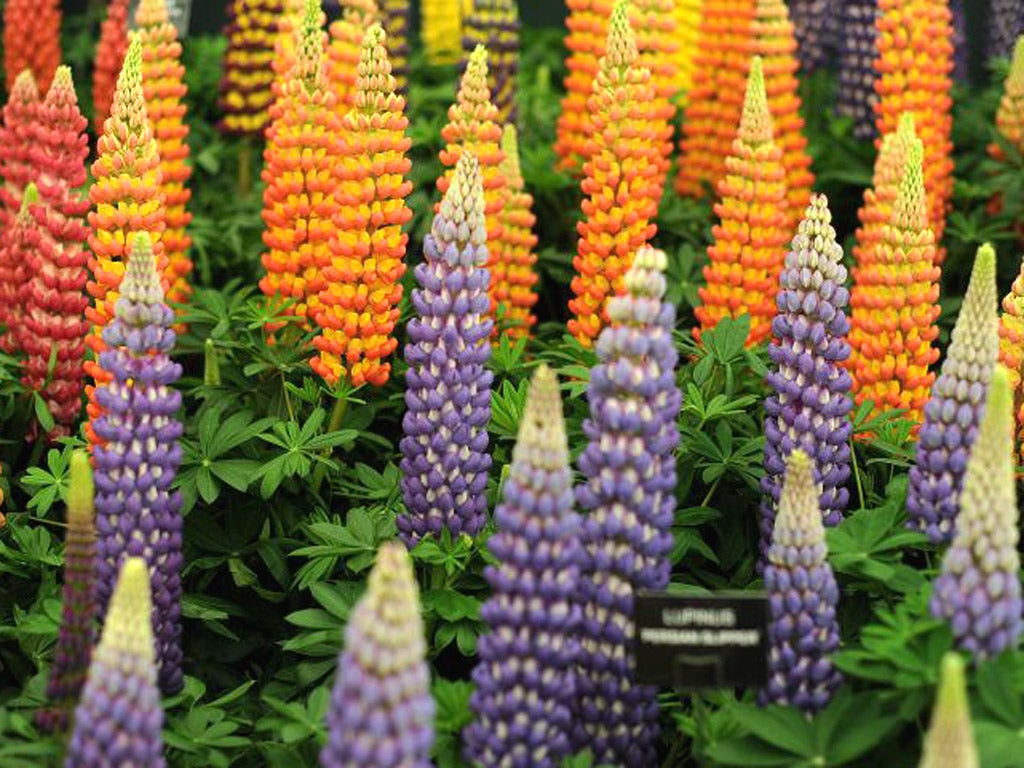 Let's take a walk around a traditional British garden. You see those lilies over there – Lilium regale, with their white trumpets flushed with purple on the outside and a fragrance that hangs in the warm summer air? They were introduced to the UK by Ernest "Chinese" Wilson in 1910. He found them growing in the Min Valley in south-west China and as he was collecting them, he was caught in a landslide and broke his leg in two places. The injury left him with a limp for the rest of his life.
Look, there's the humble flowering currant, Ribes sanguineum, whose rosy-red racemes mark the beginning of spring. This was introduced by David Douglas, as were lupins, California poppies and many of the conifers that are now staples of our arboretums and suburban gardens.
Douglas paid for his discoveries with his life: he was killed in Hawaii at the age of 35 in a pit dug to trap wild bullocks.
Rhododendrons? The greatest collector of all was arguably George Forrest, who died of a heart attack in Yunnan in 1932 after a career that included fighting off xenophobic Tibetan "lamas" and succumbing to malaria. In 1924, Forrest also discovered Camellia saluenensis, which formed the basis of the hardy Williams hybrid camellias, which we grow in gardens all over the UK.
Let's not forget the smaller plants, such as the delicate pink Geranium farreri, discovered by Reginald Farrer in the Minshan mountains of upper Burma in 1914. Six years later, Farrer died there, aged 40, supposedly of diphtheria (though some said it was alcohol poisoning).
The extraordinary stories of these men, who risked their lives to transform our gardens and our knowledge of plants, are being told in a new exhibition at the Garden Museum, in London, in partnership with the Royal Horticultural Society's Lindley Library. So where do you begin, if you want to explore the story of plant hunting? Ever since the Romans brought us plums, walnuts, roses and parsley (among other things), the British have been foraging in all corners of the globe for plants that can be put to use back home. The early American explorers brought back potatoes and tomatoes, and by the 1630s, more than 100 North American species of tree were being grown in England.
The purpose of Captain Bligh's ill-fated voyage aboard HMS Bounty in 1787 was to pick up breadfruit plants from Tahiti and take them to the West Indies, where it was hoped they could be grown as food. Robert Fortune, the Scottish botanist (it's astonishing how many of the 19th-century plant hunters were Scottish), introduced tea from politically volatile China to British-controlled Assam in 1848.
However, the 19th century in particular saw a huge amount of money invested by nurseries and other patrons in the search for plants that might be popular garden varieties. Mary Guyatt, curator of the exhibition, says: "We've looked at the expeditions that were commissioned by the RHS, and we've used the idea of the journey as a way of structuring the exhibition. The first section looks at the voyage ahead – getting ready, the tools that would be need and so on. The next section deals with life in the field – including the botanical illustrations, the journals, the routines of the day and some of the catastrophes. The return-journey section looks at how the plant hunters got their discoveries home – how the plants were packed, for example – and the final section deals with how these plants became a familiar sight in our gardens."
What motivated the plant hunters was not personal gain – very few became rich – or even fame. Their names, commemorated in the plants they bequeathed to us, are only really familiar to keen gardeners. Their driving force was a passion for their subject. Some of the most fascinating items in the Lindley Library are the rough journals, notebooks issued by the RHS to the plant hunters, which had to be kept up to date and submitted within one month of their return. Every event and observation is carefully inscribed.
David Douglas, on his way to east America in 1823, had hardly left London by coach for Liverpool when he is commenting on a plant he has seen by the wayside. Edward Augustus Bowles, travelling with Farrer to the Dolomites just before the First World War, writes: "Met Farrer at Victoria at 10.30am." But then he dismisses most of the journey with the comment: "After Zurich, the flora grows interesting." On arrival at their destination, the two men had "a much-needed wash and a glass of delicious light beer" before immediately heading out for a walk through "dull, cow-bitten pastures" to look for plants.
Reading these pages, with their faded copperplate, is a moving experience. The personalities and the experiences leap off the page. You can almost imagine yourself walking along with Douglas as he comments on the sugar maples, and speculates as to whether the French settlers he encounters brought their pear trees with them. John Potts, sent by the RHS on its first plant-hunting expedition, to China in 1821, describes how he set sail on 23 January and did not see land again until 20 May.
Before – and even after – the days of photography, botanical drawings were an efficient way of recording the appearance of a plant, complete with flowers, seeds and leaves. Today, we think of botanical illustration as art, but these were scientific documents, albeit beautiful objects in their own right. The paintings by Claude Aubriet, for example, thought to have been the first artist to accompany a botanical expedition, will be on show. Aubriet travelled to the Middle East in 1700 with the French botanist Joseph Pitton de Tournefort, and he depicts (among other things) Jasminum arabicum (Arabian coffee) and Punica granatum (pomegranate), in glowing colours.
The Lindley Library holds an enormous collection of books, illustrations, photographs and artefacts, but it has no gallery or exhibition space, so this will be an opportunity to see the originals. Indeed, this is the first exhibition to be based on the RHS collection. The paintings also give a clue to the personalities of the plant hunters. E A Bowles's painstaking watercolours of endless varieties of snowdrop (galanthus) show he is a devoted galanthophile.
Farrer liked to paint plants in situ, perched on a mountain ledge as he sketched a Himalayan poppy. Some of his watercolours show a village in the distance, or a waterfall – partly to give some idea of the plant's favoured habitat and partly, one suspects, to record the emotional moment of discovery. Farrer – a prickly, arrogant character who was cast off by his family after he converted to Buddhism in 1907 – has the greatest sense of his own worth. On a portrait of Meconopsis prattii, he inscribes the sarcastic remark: "No, my dear lady, your Aunt Matilda does not grow this plant in her garden in Balham. It was discovered by me in 1914."
But Farrer was brave. Travelling through northern China with William Purdom in 1914, the party was only a few days ahead of a notorious bandit army. In her book, A Rage for Rock Gardening, Nicola Shulman describes how the retinue consisted of a few servants and a couple of ponies. One of these, "a pot-bellied little porpoise", jumped off a plank bridge high over a river with Farrer still on his back.
Some of Farrer's lantern slides from the lectures he gave when he returned home will be on show at the Garden Museum, and they show temples, monks and flower-covered foothills – scenes that still look remote and exotic.
Today, even in an age of long-haul travel and global communication, there are still plant hunters. Bleddyn and Sue Wynn-Jones, of Crug Farm Nursery in North Wales, have risked landslides, earthquakes, trigger-happy Maoists and armed guards protecting opium fields in Thailand to bring back discoveries from South-east Asia.
Tom Hart-Dyke and Paul Winder were kidnapped by Farc guerillas while hunting for rare orchids on the border between Panama and Colombia in 2000. They were held for nine months and threatened with death, an experience they describe in their book, The Cloud Garden.
As long as there are still undiscovered plants in remote corners of the world, a passion for plant hunting, it seems, is never likely to be extinguished.
'The Plant Seekers' opens at the Garden Museum, Lambeth Palace Rd, London SE1 7LB, on Tuesday 17 July and runs until 21 October. For more details, go to gardenmuseum.org.uk
Join our commenting forum
Join thought-provoking conversations, follow other Independent readers and see their replies