Theresa May gives climate change just one 'cursory' mention during Tory conference speech
Global warming 'got only a fleeting mention in Theresa May's speech, yet it should be central to her industrial strategy and professed fairness agenda,' campaigner says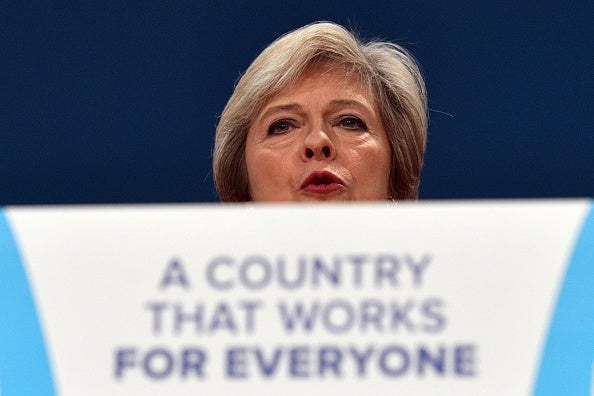 Theresa May has been attacked for giving one of the biggest issues of the age – climate change – a single "cursory" mention in her speech to the Conservative party conference.
Campaigners described the speech as a "worrying" and accused the Prime Minister of "backing the wrong horse" by not doing enough to create a "smart, efficient, renewable energy future" for Britain.
Ms May said her speech, which ran to more than 7,000 words, was designed to answer the question: "What's my vision for Britain? My philosophy? My approach?"
A number of important economic sectors, including financial services, "life sciences, tech, aerospace, car manufacturing, the creative industries and many others", were name-checked in the speech.
The one reference to climate change in the speech came in a list of pledges designed to show the UK would make "a bold, new, confident role for ourselves on the world stage" after its planned departure from the European Union.
The Government would ratify the Paris Agreement on Climate Change, she said, which was no surprise as Britain has already agreed to do so as a member of the EU.
Asad Rehman, a climate campaigner with Friends of the Earth, said: "Britain will ratify the Paris agreement on Climate Change. Great news.
"But that's just the start of the action we need. Which is why Theresa May's cursory mention of climate change in her conference speech is so worrying.
"Climate change is one of the biggest challenges confronting our generation. People across the globe are already facing killer floods and droughts, and extreme weather is threatening homes and livelihoods right here in the UK.
"If Theresa May truly wants a 'society that works for everyone' she must reverse her support for fracking, new runways and other climate wrecking policies and instead invest in renewable energy and new jobs in a green economy, before it is too late."
Dr Doug Parr, chief scientist at Greenpeace UK, noted the G20 group of countries had said climate change was "one of the greatest challenges of our time".
"It got only a fleeting mention in Theresa May's speech, yet it should be central to her industrial strategy and professed fairness agenda," he said.
"As the Paris Agreement comes into force, it is clear that any industrial strategy for the 21st century needs to embrace a low-carbon future.
"The life chances of many countries and peoples will be trashed by a changing climate – the effects of which we're already starting to see in acute flooding in the north of England which have ruined livelihoods."
He criticised the Government decision to go ahead with the Hinkley Point nuclear power station, saying it would increase energy bills.
"Theresa May's Government is backing the wrong horse when a smart, efficient, renewable energy future is the choice the rest of the global economy is making," Dr Parr said.
Theresa May tells public to 'come with me and seize the day'
And Caroline Lucas MP, co-leader of the Green Party, accused the Prime Minister of having "abandoned all pretence of caring for the environment".
"The accelerating climate crisis is the greatest threat to our security today and it is utterly disappointing that our Prime Minister almost entirely ignored it in her final speech to conference," she said.
"Our country and our planet deserve better than the blatant disregard of May's Government."
However Richard Black, director of the Energy & Climate Intelligence Unit, sought to read between the lines, saying "many things she highlighted lead naturally to actions on both climate change and clean energy".
"'A Britain that works for everyone' implies additional resources for flood protection, because the science suggests a greater flood risk ahead in a warmer climate," he said, quoting Ms May's speech.
"'Global Britain' implies strong follow-through on the commitments made in Paris, on both cutting our own emissions and on climate finance, because not doing so would antagonise countries whom, post-Brexit, we're trying to woo.
Climate change protests around the world
Show all 25
"'Making markets work for everyone' suggests moving to an energy market where community generation and demand-response providers, for example, are able to compete on a level playing-field with the big boys, so cutting bills and increasing security of supply, and so on."
He said a consultation on plans announced last year to phase out "unabated coal" by 2025 was now six months late.
But he added: "All the steers I've had are that Theresa May is committed to a science-based line on climate change, although with her style of Government being much less flashy than David Cameron's it's an issue that I think we're unlikely to see in lights."
Join our commenting forum
Join thought-provoking conversations, follow other Independent readers and see their replies