Conservatives and Brexit Party received donations worth £8m from aviation industry
'Politicians cannot be trusted to protect the planet while they're taking money from the biggest polluters,' say climate protesters
Jane Dalton
Sunday 08 December 2019 04:18 Comments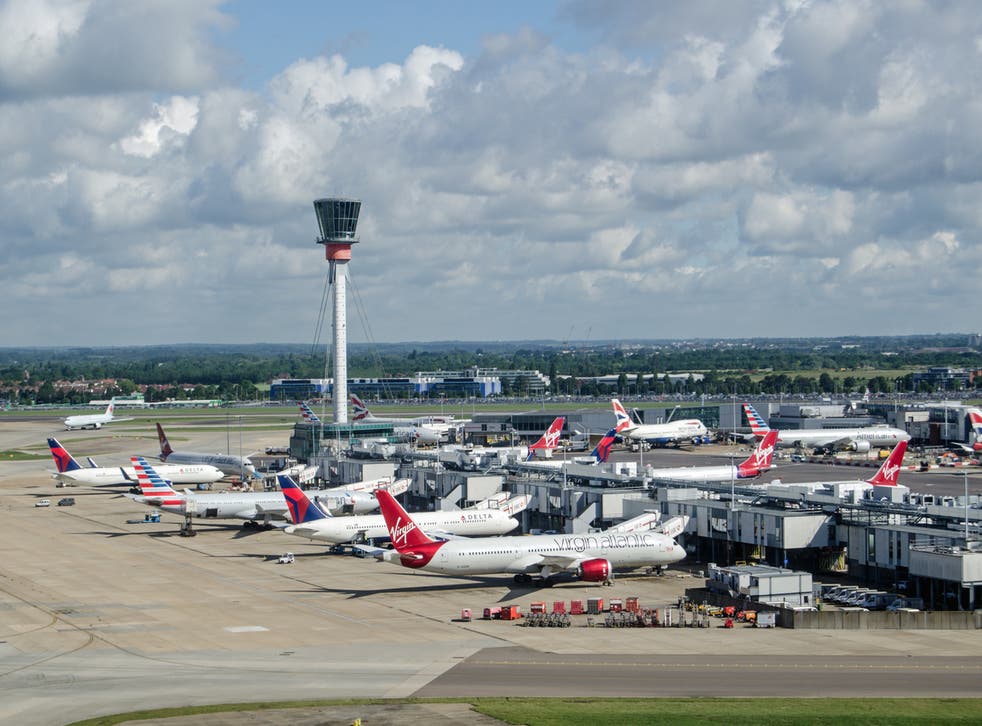 The Brexit Party, the Conservative Party and their MPs have received donations worth £8m from the aviation industry, according to new analysis.
The boss of a jet fuel company who regularly donated to the Tories over a decade has given the Brexit Party £5.2m in the past six months, figures show.
Extinction Rebellion climate campaigners said the donations showed that politicians could not be "trusted to protect the planet while they're taking money from the biggest polluters".
Figures dating back over the past 18 years show that the Conservatives have accepted £2.8m from businesses and individuals linked to airlines.
Political parties and individual politicians have received gifts worth more than £9m in total, the analysis by DeSmog found.
Extinction Rebellion block entrance at City Airport

Show all 51
Airports, airlines and aircraft manufacturers have made hundreds of contributions, either in cash or to cover MPs' travel and airport parking costs, since the Electoral Commission's online political finance database listings begin in 2001.
Of parliamentary candidates who were MPs when the election was called, Liam Fox, former trade secretary, received the most, the figures showed, with £19,000 worth of gifts from Virgin Atlantic and BAA.
Dr Fox, who has previously voted against measures to limit damaging carbon emissions, earlier this year said the government would continue to support the fossil fuel industry.
However, most donations to single MPs were made in 2001, and are understood to have been in the form of free airport parking, which ended that year.
Companies such as Airbus, Heathrow Airport and Virgin Atlantic were among donors, but the £5.2m to the Brexit Party came from Christopher Harborne, chief executive of AML Global, which sells aviation fuel, and of Sherriff Global Group, which deals in private planes.
Between 2001 and this year, he also gave the Tories more than £278,000.
Although Labour and Conservative MPs received gifts of similar sums – £679,000 and £647,000 respectively – when donations to their parties were added, the Tories received £2.85m, more than three times the total given to Labour of £900,000, the website highlighted.
The Liberal Democrats were the fourth-largest recipient party with £162,572 in donations.
Chris Ruane, a Welsh Labour MP, told DeSmog the two donations from BAA and Manchester Airport in 2001 that put him and others in joint fourth place among incumbent politicians related to an offer of free parking to all MPs that no longer exists.
"In common with all MPs at the time, I was given the facility of parking at UK airports, and to ensure I was open and honest, I chose to declare the maximum potential amount that this benefit could be worth. It does not reflect the actual usage of the benefit. This offer ceased in 2001."
Sovereign Business Jets Ltd gave about £275,000 to the Conservatives, while National Express Airport Holdings gave £20,000 to Labour in 2005 and Manchester Airport Group gave £60,000 in 2002.
A Labour spokesperson said: "The next Labour government will lead the world in tackling the climate and environmental emergency with a plan to create a low-carbon economy with well-paid jobs we can be proud of.
"We're investing all we can to forge a pathway to net zero by 2030 working with the scientific community and trade unions, making sure our plans are credible, realistic and don't leave anyone behind.
"Just as the original industrial revolution brought cutting-edge industry and jobs to our towns, Labour's world-leading green industrial revolution will create rewarding, well-paid jobs and whole new industries to revive parts of our country that have been neglected for too long."
A Liberal Democrat spokesperson said: "The Liberal Democrat manifesto sets out an ambitious plan to achieve net zero by 2045, which includes radical policies to reduce the climate impact of flying. Party policy is determined by members via working groups and at party conference."
The Conservatives, Dr Fox's office and the Brexit Party have been contacted for a comment but had not responded at the time of publication.
Register for free to continue reading
Registration is a free and easy way to support our truly independent journalism
By registering, you will also enjoy limited access to Premium articles, exclusive newsletters, commenting, and virtual events with our leading journalists
Already have an account? sign in
Join our new commenting forum
Join thought-provoking conversations, follow other Independent readers and see their replies