'Shocking' failure to cut emissions from biggest-polluting sector in UK as others improve
Concerns lack of progress cutting greenhouse gases from cars will hamper future climate targets even as overall emissions fall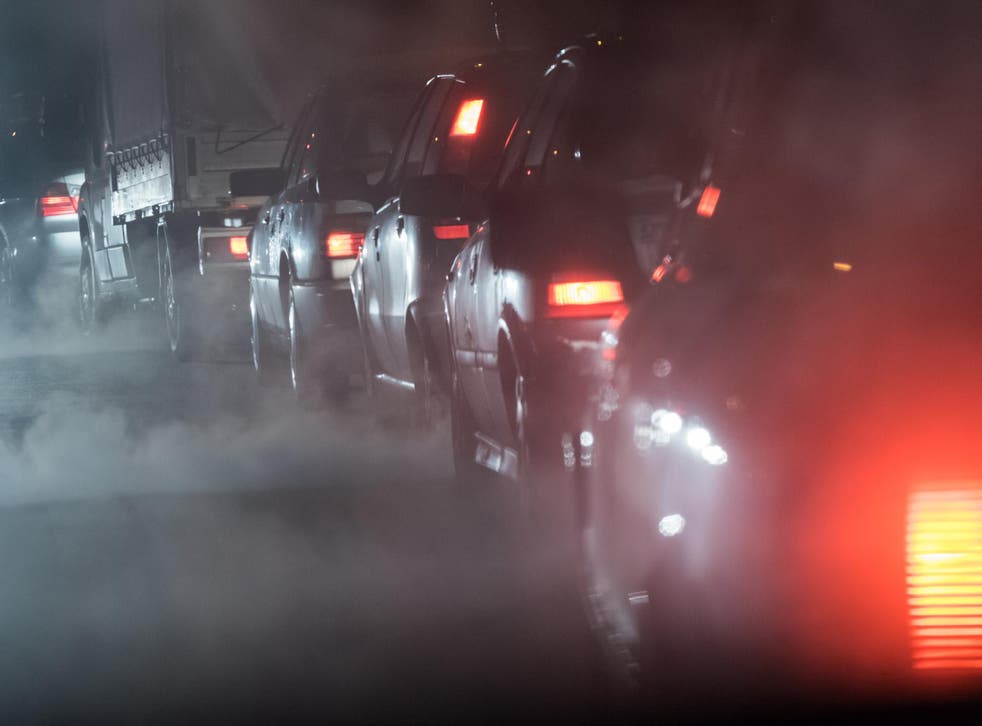 Zero progress has been made in reducing climate-harming emissions from the UK's most polluting sector, according to new government figures.
In 2017 levels of greenhouse gases from cars and other forms of transport did not fall at all.
Campaigners accused the government of ignoring the "elephant in the room" and investing in new roads at the expense of the nation's future climate targets.
With more and more electricity coming from renewable sources, transport is now firmly established as the biggest polluter, responsible for over a quarter of the UK's emissions.
Overall the nation's greenhouse gas emissions have fallen by 42 per cent since 1990, with a 3 per cent drop between 2016 and 2017, the most recent period for which figures are available.
Thousands skip school to attend climate protest

Show all 5
However, while most sectors have seen considerable declines of up to two-thirds in the past three decades, transport pollution has fallen by just 2 per cent.
"We could be starting the kind of decline on transport emissions as we've done with power but instead both the government and the car industry are idling on the issue," said Morten Thaysen, transport campaigner at Greenpeace UK.
A spokesperson from the Department of Transport said it was ensuring all new cars and vans are electric or effectively zero-emission by 2040.
"We also support bus travel through £250m every year, as well as a further £1bn for the free bus pass scheme, paving the way to a more sustainable future," they said.
However, green groups said these strategies lacked ambition, and called for the phase-out date to be brought forward to 2030 in line with other European nations like Norway and the Netherlands.
They also called for improved public transport networks to reduce people's reliance on petrol and diesel cars, which remain the most significant source of pollution.
NFU president Minette Batters outlines UK agriculture industry's ambitions for tackling climate change
"Rather than sinking vast sums into new roads and the white elephant that is HS2 the country could reap so many benefits if investment was made in walking, cycling, new trams, fixing existing railways and providing free bus services," said Mike Childs, head of research at Friends of the Earth.
"It's not that radical, it's sensible policy."
Friends of the Earth said a free bus pass scheme for all under 30s would also help reduce harmful air pollution and noise from traffic, and said councils should consider making bus travel free for everyone.
Green MP Caroline Lucas said the lack of progress on transport was "shocking", also noting the slight increase in emissions from agriculture and waste management.
Mike Hawes, chief executive at the Society of Motor Manufacturers and Traders, said the industry was committed to a low-carbon future and that CO2 emissions from new cars had already declined by a third since 2000.
"We need policies that encourage rather than confuse, which means a consistent approach to incentives and tax, and greater investment in charging infrastructure," he said.
While the latest figures showed the UK had successfully met its legally binding climate targets for the five-year period ending in 2017, experts are concerned the nation is not on track for future targets.
Once electricity generation has been decarbonised, cuts to greenhouse gases must come from industries that have historically proved more difficult such as housing, transport and agriculture.
Last year, government climate advisers warned these sectors must urgently pull their weight "because climate change won't wait".
Join our new commenting forum
Join thought-provoking conversations, follow other Independent readers and see their replies