Trump administration reverses Alaska hunting ban and allows black bear cubs, wolf pups to be killed in dens
The new rule, which reverses a 2015 Obama administration ban, means hunters can kill swimming caribou and lure bears with doughnuts
Louise Boyle
New York
Wednesday 10 June 2020 18:47 Comments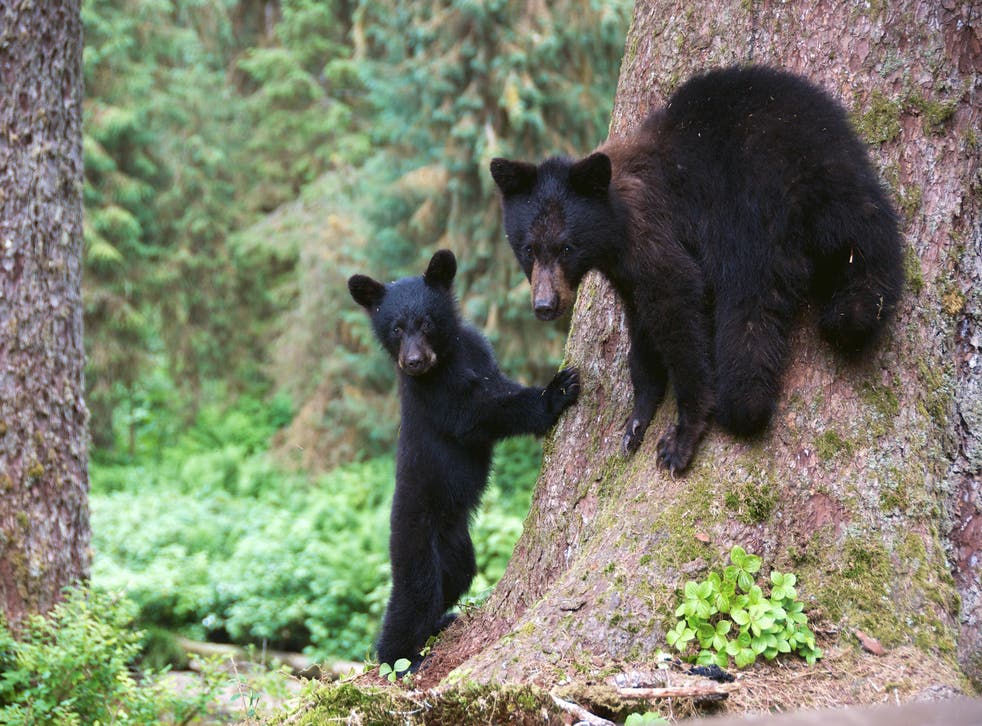 The Trump administration will allow increased hunting and trapping on federal wildlife preserves in Alaska, green-lighting practices that include shooting swimming caribou from motorboats, setting dogs on black bears and killing bear cubs and wolf pups in their dens.
The rules took effect on Tuesday and roll back 2015 bans put in place under the Obama administration.
The move has angered conservation groups who say that it supports the killing of wild animals and their young while some political figures, hunters and a tribal consortium have lauded the decision.
The Trump administration has focused on expanding hunting rights on federal lands. The president's eldest son, Donald Trump Jr, is an enthusiastic hunter and today it was revealed that his hunting vacation to Mongolia in 2019 cost US taxpayers more than $75,000, The Independent reported.
Theresa Pierno, National Parks Conservation Association president and CEO, said: "Amid the global pandemic, the Trump administration is declaring open season on bears and wolves, through their sport hunting rule on national parklands in Alaska. Interior Secretary David Bernhardt had the opportunity to halt this rule that includes baiting park bears but chose instead to ignore commonsense and opposition by members of Congress, scientists and tens of thousands of Americans.
"National preserve lands at Denali, Katmai, Gates of the Arctic and others are the very places where people travel from around the world, in hopes of seeing these iconic animals, alive in their natural habitat.
"Through this administration's rule, such treasured lands will now allow sport hunters to lure bears with greased doughnut bait piles to kill them, or crawl into hibernating bear dens to shoot bears and cubs. Shooting hibernating mama and baby bears is not the conservation legacy that our national parks are meant to preserve and no way to treat or manage park wildlife."
The new rules allow hunters and trappers to kill black bears, including cubs and females with cubs, with artificial light at den sites; black bears with the use of dogs, and wolves and coyotes including pups during the denning season.
Hunters can also kill swimming caribou while travelling on motorboats.
The rules cover ten preserves in Alaska under National Park Service management including Denali National Park and Preserve, an area roughly the size of the state of New Hampshire.
The change stems from orders issued by former Interior Secretary Ryan Zinke in 2017 and a memorandum recognising states as the leading authorities for fish and wildlife management.
The rules affirm state wildlife management regulations and follow federal policies and law, the park service told AP. The regional office in Alaska did not immediately respond to a request for comment by The Independent.
"With the release of this final rule, we are eliminating a wrongful federal seizure of Alaska's authority," Republican Rep. Don Young said in a statement released by the park service in May.
Defenders of Wildlife said that the state wants to increase game populations by driving down carnivore numbers.
A 2018 federal environmental assessment of the rollback of hunting restrictions in the preserves said the subsistence harvest of moose and caribou could increase.
The Tanana Chiefs Conference, representing 42 tribes in the state's interior region, said last month the group supports the rollback because the 2015 rules threatened tribal way of life and ancient sustainable-management practices.
Ben Williamson, US program director for World Animal Protection, said that Fish and Wildlife Service data shows numbers of hunters have been declining in recent years while people participating in wildlife watching is on the rise.
"Around the world, places once famous for hunting are finding greater value in preserving their wildlife for viewing rather than killing. There's more to environmental protection than leaving enough animals for the next generation to shoot and kill. Together, we need to commit to ending the use of wild animals for entertainment," he said in a statement to The Independent.
Associated Press contributed to this report
Register for free to continue reading
Registration is a free and easy way to support our truly independent journalism
By registering, you will also enjoy limited access to Premium articles, exclusive newsletters, commenting, and virtual events with our leading journalists
Already have an account? sign in
Join our new commenting forum
Join thought-provoking conversations, follow other Independent readers and see their replies