Trump plans to sell oil drilling rights in Arctic Refuge on 60th anniversary – before Biden becomes president
The sale would be held on 6 January 2021, via video livestream - and if details are finalized before president-elect Biden takes office, it could be difficult for him to undo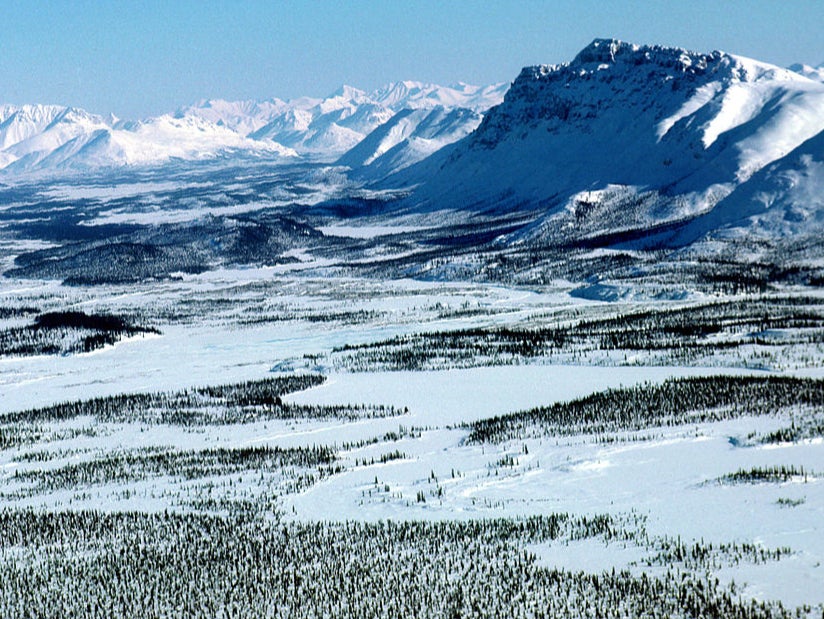 The Trump administration is racing to sell off oil drilling leases in the Arctic National Wildlife Refuge before president-elect Joe Biden takes office, saying on Thursday it would issue a sale notice next week and hold an auction in early January.
The sale of drilling rights is scheduled for 6 January 2021, via video livestream, according to the US Bureau of Land Management. 
Following a sale, there is typically a months-long review process but it is possible that the leases could be completed before Mr Biden, who opposes drilling in the unspoiled refuge, is sworn into office two weeks later. It would then be difficult for Mr Biden to reverse the decisions.
The notice of the lease sale will take place on 7 December – a day after the 60th anniversary of the refuge being established by president Dwight Eisenhower, a Republican, "for the purpose of preserving unique wildlife, wilderness, and recreational values".
In a statement Adam Kolton, executive director of the Alaska Wilderness League, said: "President Trump's electoral fate has been sealed and his days in office are numbered, making an Arctic Refuge lease sale yet another dangerous political favour that lacks broad public support or legal credibility."
Mr Kolton said that the lease sale, on the heels of a celebrated achievement by a fellow Republican, "symbolises the degree to which the president has taken a wrecking ball to decades of bipartisan conservation support".
Earlier this week, Bank of America ruled out financing oil drilling in the Arctic region, including the Arctic National Wildlife Refuge.
It joins all other major American banks – Goldman Sachs, Morgan Stanley, Chase, Wells Fargo, and Citi – who announced similar policies earlier this year.
"There's been misunderstanding around our position, but we have not historically participated in project finance for oil and gas exploration in the Arctic," Larry Di Rita, head of public policy for the bank, told Bloomberg on Monday.
"But given that misinterpretation, we've determined that it's time to codify our existing practice into policy."
Bank of America did not immediately respond to a request for comment from The Independent.
In November, the Trump administration called for the oil and gas industry to submit proposals on where they would like to drill in the refuge's 1.6 million-acre coastal plain.
Industry analysts have been skeptical whether oil companies, or the financial institutions which back them for exploration, would be interested in the risk.
Bank of America had been under pressure from environmentalists, indigenous communities and its own shareholders to say that it would not fund drilling in the Arctic.
In November Trillium, which has a more than $3bn (£2.2bn) in assets under management, questioned why the bank had not committed to rejecting funding oil and gas development, due to the "reputational risk" it posed "from the public, Capitol Hill, and the Gwich'in people of Alaska, not to mention a UN investigation…"
The Arctic wildlife refuge is a breeding ground for endangered polar bears and home to grey wolves, musk oxen and caribou, along with migratory birds from around the world.
The indigenous Gwich'in people have cited concerns for the porcupine caribou herd on which they have relied for subsistence. The Gwich'in Steering Committee have been battling to protect the region from oil and gas companies for decades.
"The Trump administration has never even pretended to care about the Indigenous communities whose human rights would be threatened by the destruction of the coastal plain, but major financial institutions are listening to us," said Gwich'in Steering Committee executive director Bernadette Demientieff.
"We will never stop fighting to protect the sacred calving grounds from destructive drilling, and we will prevail."
Earlier this week, Ben Cushing from the environmental organisation, Sierra Club, said: "It has long been clear that drilling in the Arctic refuge would trample Indigenous rights, threaten vulnerable wildlife, and worsen the climate crisis.
"Now that every major American bank has stated unequivocally that they will not finance this destructive activity, it should be clearer than ever that any oil company considering participating in Trump's ill-advised lease sale should stay away."
Join our commenting forum
Join thought-provoking conversations, follow other Independent readers and see their replies