Trump administration removes quarter of all climate change references from government websites
Researchers warn move has 'severely weakened public access' to information about environment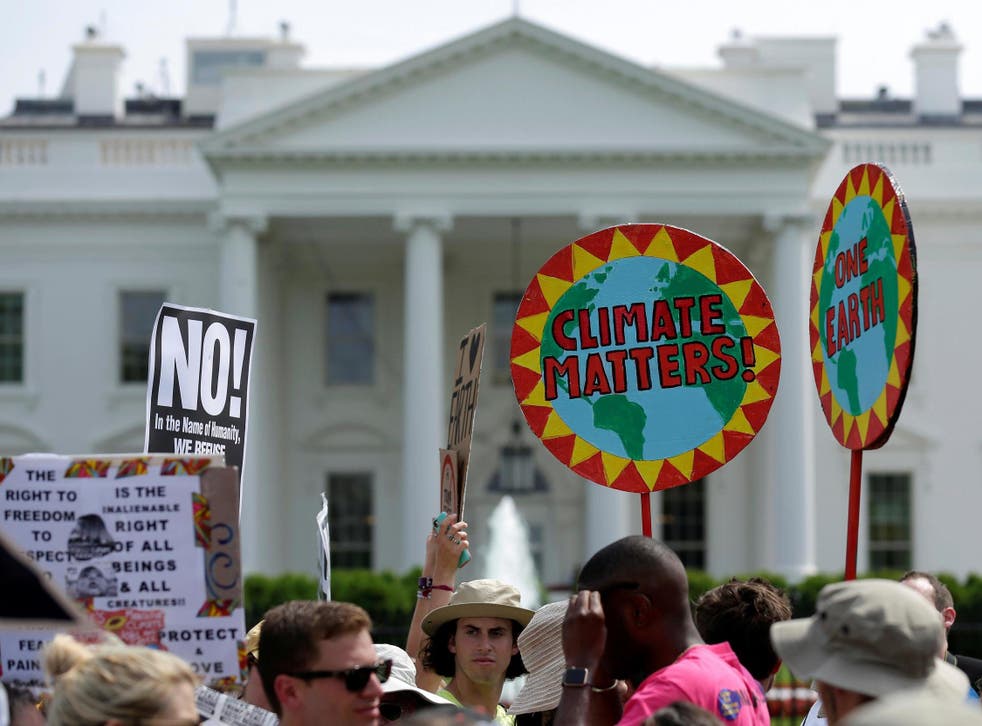 Donald Trump's administration has removed a quarter of all references to climate change from federal government websites since 2016, researchers have found.
Agencies' usage of broad environmental terms which "undermine clear analysis" has grown at a similar rate over the same period in a move that has "severely weakened public access" to information, a report warned.
The Environmental Data and Governance Initiative (EDGI), which published the research, analysed more than 5,300 pages on the websites of 23 federal agencies.
It found usage of the terms "climate change," "clean energy," and "adaptation" had dropped 25 per cent since Mr Trump's inauguration as president. There were 4,912 mentions of "climate change" on the websites analysed in 2018, compared to 6,552 in 2016.
Over the same period, researchers said, the frequency of "catch-all terms that are employed to undermine clear analysis" increased by 26 per cent. Such terms cited by the report included "energy independence," "resilience," and "sustainability".
Coral reefs: Trying to combat climate change damage

Show all 25
The report stated: "The website changes we document actively erode the digital 'bridge' by which publicly-funded research is contextualized and shared with those in need of information, including the general public and decision-makers in state, local, and tribal governments.
"Rather than cultivating the informational resources necessary to confront climate change, the Trump administration has attempted to remove the topic from federal agency websites, a clear policy indicator in line with withdrawing from the Paris Agreement and revoking the Clean Power Plan.
"While prominent political, journalistic, and scientific entities are sharpening the language they use to describe the climate crisis, we see precisely the opposite from this administration: removal of the term 'climate change' and its replacement with less clear language."
Mr Trump has repeatedly dismissed climate change as a "hoax", ignoring the scientific consensus and even warnings from his own federal agencies that human-caused global warming is course to have catastrophic consequences.
The president has reversed Obama-era policies aimed at limiting climate change and environmental pollution, and in 2017 announced he would withdraw the US from the Paris climate agreement, in which signatories pledged to work towards limiting temperature rises to 1.5C above pre-industrial levels.
The EDGI analysis found references to climate change had been removed entirely from 136 government pages.
More than half of those pages were on the Environmental Protection Agency's (EPA) website. Researchers said in their report: "Such removals are significant given that EPA.gov was the 1,750th most visited website in the U.S. in early 2019, giving it more reach than even WhiteHouse.gov."
Amendments highlighted in the report include the the EPA recategorising the work of some of its researchers as "ecosystems" instead of "climate science", and the Occupational Safety and Health Administration removing all references to "climate change" on a page about how employers and staff can manage heat-related health risks at work.
In other cases entire resources were simply removed, such as a Department for Transportation's Climate Change Clearinghouse, which detailed possible impacts on the transportation industry.
Support free-thinking journalism and attend Independent events
"While our research cannot make definitive conclusions about motivation in all cases, changes to sites may often be the result of direct politicisation – that is, orders from senior administration officials and political appointees," the EDGI researchers wrote.
They pointed to lobbying by right-wing groups such as the Heartland Institute, which denies the existence of climate change and last year wrote to the White House complaining about climate-related government web pages.
The report also suggested there may be "indirect self-censorship occurring" at government agencies, where staff "modify climate change content to 'fly under the radar' of politically-appointed higher-ups.
The White House did not immediately respond to The Independent's request for comment.
In March, the US Geological Survey issued a press release about research that could be useful for infrastructure planning along the California coastline. The release did not mention the main finding of the study, which warned the state's economy was at threat from climate change.
Three federal officials told Climate Wire the Trump administration had ordered references to climate change be removed from the release, which was delayed for three months as a result.
Join our new commenting forum
Join thought-provoking conversations, follow other Independent readers and see their replies