Trump's climate change sceptic environment chief Scott Pruitt flies first class to avoid angry public
'He was approached in the airport numerous times, to the point of profanities being yelled at him and so forth'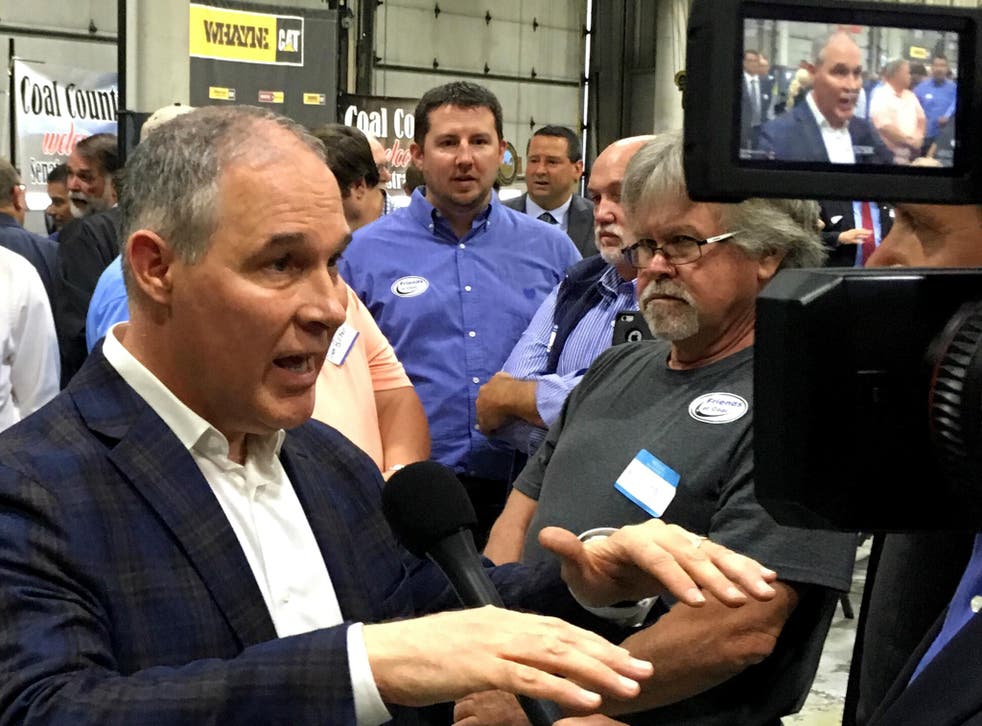 The head of environmental protection in the US flies first class because he faces so many angry critics in airports and on planes, it has been revealed.
Scott Pruitt, head of the Environmental Protection Agency, was advised to travel first or business class to provide "a buffer" between him and the public.
Mr Pruitt has sparked anger during the year he has been in the job by denying that carbon dioxide is a key driver of climate change and staunchly supporting Donald Trump's plan to reinvigorate the US coal industry.
Henry Barnet, head of the agency's Office of Criminal Enforcement, told Politico: "He was approached in the airport numerous times, to the point of profanities being yelled at him and so forth."
The travel advice, from head of security Pasquale Perrotta, was prompted by an incident last year when another traveller approached Mr Pruitt "with threatening language" that was "vulgar", Mr Barnet said.
The person approached Pruitt with his mobile phone recording, yelling, "Scott Pruitt, you're f—-ing up the environment," Mr Barnet said.
"The team leader felt that he was being placed in a situation where he was unsafe on the flight."
"We felt that based on the recommendation from the team leader, the special agent in charge, that it would be better suited to have him in business or first class, away from close proximity from those individuals who were approaching him and being extremely rude, using profanities and potential for altercations and so forth," he said.
"They felt they could not protect him appropriately, based on the amount of times he was being recognised and the way that some members of the public were acting toward him in a threatening manner."
He said he was "not aware of any physical confrontations" but compared with the verbal insults and threatening language Mr Pruitt's immediate predecessors dealt with, "it's much more prevalent with this administrator [head of the agency]. And he's recognised much more when he travels."
Mr Pruitt has come under fire for a week over the high taxpayer-funded cost of his air travel. The Washington Post reported that flights for Pruitt and his top aides during one stretch last June cost at least $90,000 (£63,900). It included first-class seats and a ride on a military jet, the newspaper reported.
But the environment chief told the New Hampshire Union Leader: "Unfortunately... we've had some incidents on travel dating back to when I first started serving in the March-April timeframe. We live in a very toxic environment politically, particularly around issues of the environment.
"We've reached the point where there's not much civility in the marketplace and it's created, you know, it's created some issues and the (security) detail, the level of protection is determined by the level of threat."
He said the decision to travel first class was not his.
Critics, including Republican members of Congress, say they routinely travelled "coach" (economy) class.
"I would be embarrassed to get on a plane, sit down in first class and have my constituents pass me by and see me in first class," said Senator John Kennedy.
Mr Pruitt, a former Oklahoma attorney-general, has set out to undo the agency's biggest Obama-era environmental regulations.
Last month, he said one of his top priorities for 2018 was to replace the Clean Power Plan, the former president's centrepiece climate change regulation, which would have slashed carbon emissions from power plants. The agency began rescinding the regulation last year and is considering what should replace it.
He has also suggested that rising temperatures could benefit people, and has defended the US's decision to pull out of the Paris climate accord.
Under his leadership, the agency is said to be considering a televised debate between climate scientists and those who deny the bulk of scientific evidence that human activity is causing climate change.
The Environmental Protection Agency has instituted round-the-clock protection for Mr Pruitt last year, a step up from that given to previous agency chiefs
Register for free to continue reading
Registration is a free and easy way to support our truly independent journalism
By registering, you will also enjoy limited access to Premium articles, exclusive newsletters, commenting, and virtual events with our leading journalists
Already have an account? sign in
Register for free to continue reading
Registration is a free and easy way to support our truly independent journalism
By registering, you will also enjoy limited access to Premium articles, exclusive newsletters, commenting, and virtual events with our leading journalists
Already have an account? sign in
Join our new commenting forum
Join thought-provoking conversations, follow other Independent readers and see their replies