Trump's environmental plan doesn't mention climate change
The terms 'greenhouse gas emissions' and 'carbon dioxide' are also absent from the draft EPA document
Mythili Sampathkumar
New York
Wednesday 11 October 2017 22:52 Comments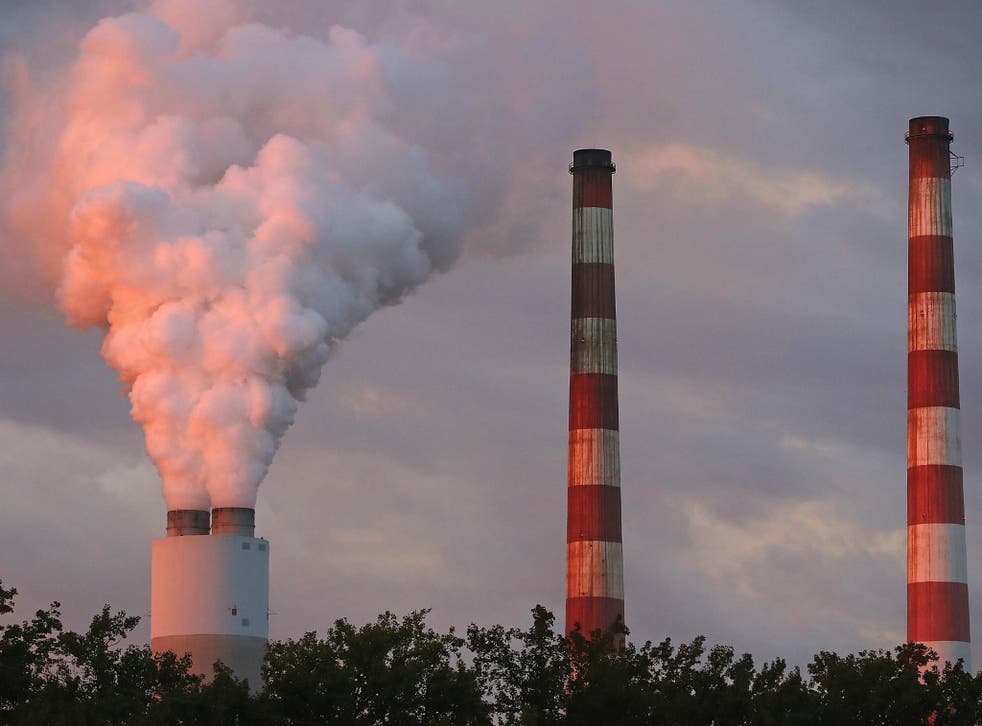 The Environmental Protection Agency's strategic plan does not contain the phrase "climate change."
The federal agency's draft four-year plan is detailed in a 38-page report that was released late last week.
Neither "carbon dioxide" or "greenhouse gas emissions" are mentioned in the document either published by the EPA, CNN reported.
EPA spokesperson Liz Bowman told the news outlet that "providing more Americans with access to clean air, land, and water" was the focus of the agency.
However, it is a marked difference from the Obama administration's EPA plan.
That 80-page document, written in 2014 under then-EPA administrator Gina McCarthy, included 40 mentions of the phrase "climate change" and one of the key sections was titled ""Addressing Climate Change and Improving Air Quality."
Rachel Cleetus, lead economist and climate policy manager with the Union Of Concerned Scientists, told CNN the Trump plan is "stunning" in its ignorance of climate change.
"This wasn't an oversight; this is a deliberate strategy by this administration," she said.
Donald Trump has previously called climate change a "hoax" perpetrated by China and has not confirmed whether he actually believes in it and the scientific evidence that supports it.
EPA Administrator Scott Pruitt, appointed to lead the agency he sued 13 times in his previous capacities, has also said he is not convinced human action makes climate change or the environment worse, saying in May that "review and analysis" will need to be continued in order to establish a link.
Stephen Hawking has a chilling warning about Trump and climate change
Mr Pruitt also refused to confirm - despite widespread consensus in the global scientific community - that carbon emissions released into the atmosphere by burning fossil fuels like coal are what cause global warming and climate change.
Some of the goals outlined in Mr Pruitt's plan include "issue permits more quickly" to private companies and wanting to "rebalance" the federal role in environmental regulation by pushing more of that responsibility to the state level.
Mr Pruitt also wants to enforce environmental law "as Congress intended."
The language in the report is one more step in achieving Mr Trump's campaign promise to totally dismantle Mr Obama's environmental legacy.
The President withdrew the US from the Paris Agreement on climate change in June, an accord signed by nearly 200 countries in an effort to curb greenhouse gas emissions and help poorer countries adapt to an already-changed planet.
10 photographs to show to anyone who doesn't believe in climate change

Show all 10
Mr Trump said the agreement put American workers at an "economic disadvantage."
The Trump administration has also announced a plan to repeal and possibly replace a centerpiece of Obama-era environmental legislation: the Clean Power Plan.
The CPP, called a "game changer" by the Union of Concerned Scientists in 2015 after it was passed into law, regulates the carbon emissions of power plants.
According to the Washington DC-based organisation, power plants account for almost 40 per cent of the country's emissions - "more than every car, truck, and plane in the US combined."
Had the CPP been implemented it would have reduced power plants' carbon emissions by 2030 to a level 32 per cent lower than they were in 2005.
The Obama administration saw it as the main means of meeting targets outlined in the Paris Agreement.
The public has until the end of October to send comment on the strategic plan to the EPA and it will be submitted to Congress in its final form in February 2018.
Register for free to continue reading
Registration is a free and easy way to support our truly independent journalism
By registering, you will also enjoy limited access to Premium articles, exclusive newsletters, commenting, and virtual events with our leading journalists
Already have an account? sign in
Join our new commenting forum
Join thought-provoking conversations, follow other Independent readers and see their replies