Trump's plan to shrink national park could drive dozens of unique bees to extinction, study suggests
Lack of protection opens up land to mining and road development
Josh Gabbatiss
Science Correspondent
Tuesday 04 December 2018 12:58 Comments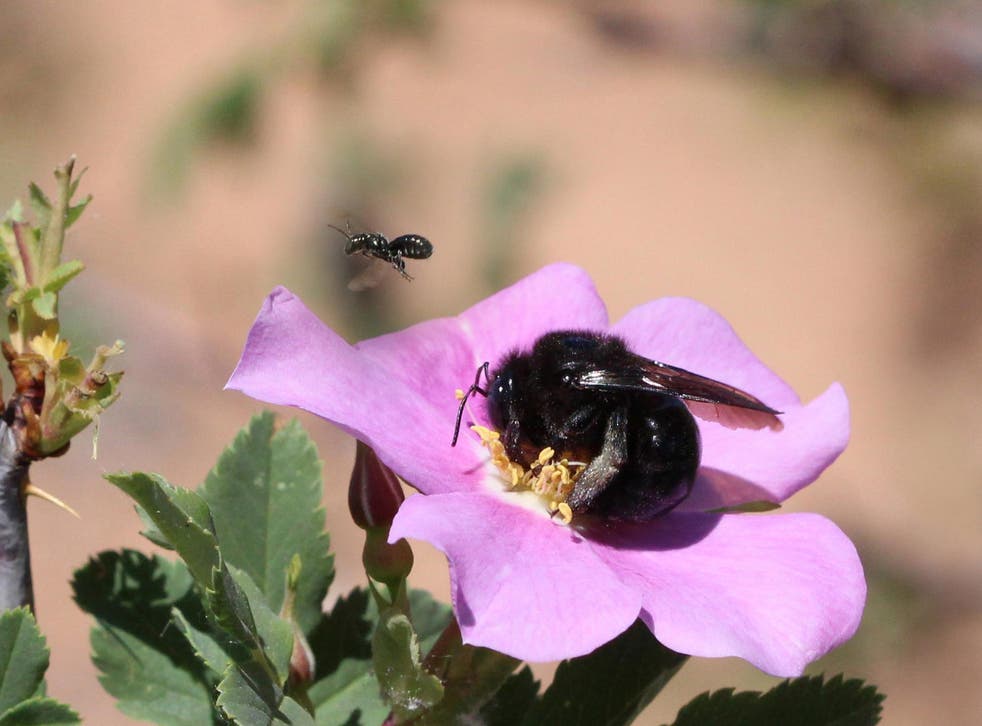 A hotspot of bee diversity is under threat following Donald Trump's decision to drastically shrink two national parks in Utah.
The western state is home to a quarter of the nation's bee species, some of which are unique and have never been closely documented by scientists.
Scientists have now examined how the reduction of the parks, set up by Mr Trump's Democrat predecessors, will affect the region's pollinators.
Of the 660 species found in the Grand Staircase-Escalante National Monument, the team discovered that 84 now live outside of the conservation zone and the protections it affords.
"This includes some new, undescribed species, as well as 'morphospecies,' which are unique individuals that don't match known species," said Professor Joseph Wilson of Utah State University, who led the study.
Mr Trump announced a year ago he was cutting the size of both Grand Staircase-Escalante and Bears Ears national monuments, by 47 and 85 per cent respectively.
Extinction rebellion: Climate change protesters block London bridges

Show all 25
Bill Clinton created the Grand Staircase-Escalante zone while in office, and Barack Obama did the same with Bears Ears.
Though the researchers behind the study said the fate of the bees was now uncertain, they noted that the lack of protection placed them at immediate risk of habitat destruction.
"If development is allowed in the unprotected areas, say, mining, road development, more recreational development, then yes, pollinator habitat could be lost," said Professor Wilson.
He also noted that some of the vulnerable bees could be wiped out completely as the additional pressure of climate change made their desert habitat even hotter and drier than it is today.
With pollinators playing a vital role in sustaining natural biodiversity and agriculture, Professor Wilson said it was urgent for policy makers to take their survival into account.
"Bees need to be a part of the management decisions," he said. "People should be aware of their pivotal role in our ecosystems."
Since Mr Trump declared the shrinking of the two national monuments – a term denoting protected areas created from federal government-owned land – they have been a source of controversy.
Support free-thinking journalism and attend Independent events
Native American tribes and conservation groups filed lawsuits against the president, arguing he had no legal authority to make such a massive change.
Since coming into power, Mr Trump has made a number of contentious environmental decisions, cutting back the US Environmental Protection Agency and stating his intention to pull his country from the Paris climate agreement.
The study of the parks' bees was published in the scientific journal PeerJ.
Register for free to continue reading
Registration is a free and easy way to support our truly independent journalism
By registering, you will also enjoy limited access to Premium articles, exclusive newsletters, commenting, and virtual events with our leading journalists
Already have an account? sign in
Join our new commenting forum
Join thought-provoking conversations, follow other Independent readers and see their replies