Turtle conservationist shot dead 'by poachers' on Costa Rica beach
Jairo Mora Sandoval, 26, died just weeks after posting a Facebook plea for police help with turtle-egg thieves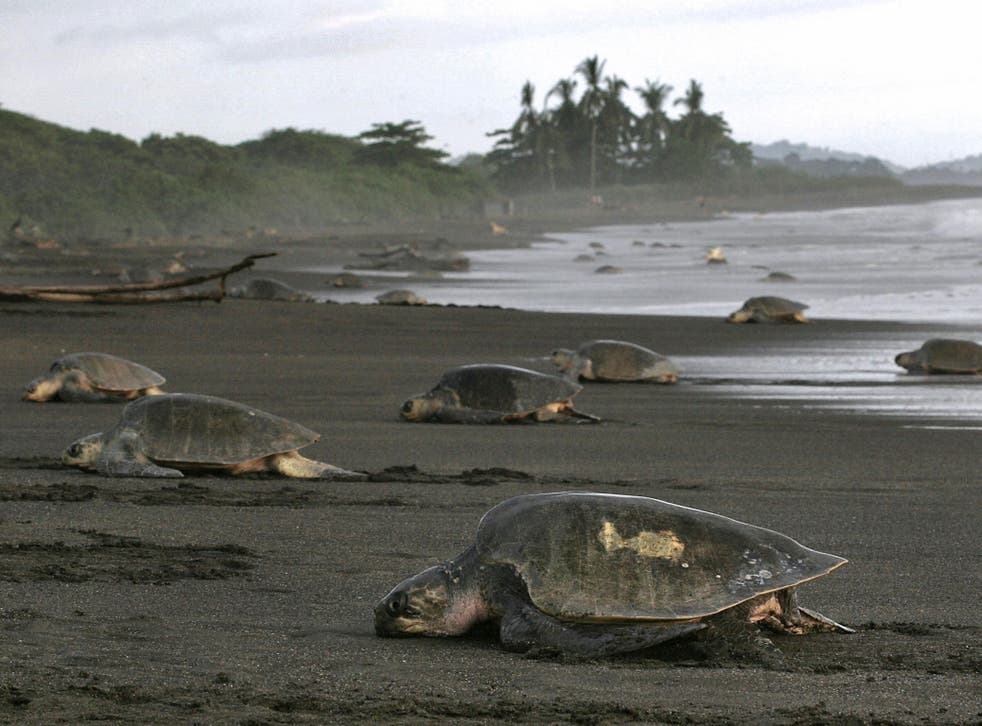 Late in April a dedicated young Costa Rican conservationist, Jairo Mora Sandoval, logged on to his Facebook page, with its pictures of cavorting baby sea turtles and wild beaches, and typed out an urgent plea. "Can you send messages to the police to come to the Moin beach," he asked his friends, stressing that the officers must be armed and not afraid, "60 turtles are lost – there wasn't even a nest left. We need help and soon."
In a comment beneath the post, Mr Mora Sandoval, who was working to protect the endangered leatherback turtles on his country's Caribbean coast, explained that the beach was being targeted by "hueveros" (egg thieves). Five people liked the message and 135 shared it. But the response was insufficient.
The 26-year-old's naked body was found on the same beach shortly before 7am on Friday. His hands had been tied behind his back and he had been shot in the head after being kidnapped by a masked gang. Four of his female colleagues, all foreign volunteers, were also bundled into a car as they patrolled the beach and have given evidence to the police.
The murder has shed light on the criminal trade linked to the largest of living turtles. At around the same time last year, a group of six men armed with AK-47 assault rifles and 9mm handguns forced their way into a nursery on the same beach designed to protect young leatherbacks. Volunteers, many of them foreigners, were bound and gagged as the gang raided the hatchery for 1,520 eggs from the 19 protected nests.
In the Costa Rica newspaper La Nacion on 28 April, a few days after his Facebook warning, the young conservationist had written that delinquents were stamping out the sea turtle, and that environmentalists were being threatened by a mafia that was looting the nests for eggs, which were then sold to drug traffickers.
Mr Mora Sandoval, a biology student, worked for the state-run animal rescue group Paradero Eco-Tour and also for the Wider Caribbean Sea Turtle Conservation Network (Widecast), a non-profit organisation. His Facebook postings are testimony to his passion for the work. Because the victim's mobile phone and money were taken, police are treating the murder as a robbery, but due to the kidnapping and type of killing they are not ruling out other courses of investigation.
Didiher Chacon, Costa Rica co-ordinator for Widecast, said there had been increased activity by poachers and that he suspected the murder was in retaliation for Mr Mora Sandoval having spoken out.
"With everything we know about what happened it seems like it was an act of revenge. Jairo didn't drink. He didn't smoke. He wasn't involved in those kinds of things. We think it must have had to do with his work." He added that drugs traffickers were unhappy that usually deserted beaches were being patrolled by environmentalists.
Turtle egg poaching has become a major problem around the Caribbean city of Limon, even though Costa Rica officially outlawed the practice in 1966. The Marine Turtle Population Law of 2002 allows a three-year prison sentence for anyone who "kills, hunts, captures, decapitates, or disturbs marine turtles". But until fairly recently it was common for Costa Ricans to head to the beach at nesting time and harvest vast quantities of turtle eggs, which are traditionally slurped in bars from a glass, with salsa and lemon.
In some areas of the country, the government has been trying to manage this human collection of eggs with an understanding of the need for conservation. But problems persist on the Caribbean coast, where the eggs have become a recognised currency, exchanged for drugs. In South-east Asia – and particularly in Malaysia, where leatherback eggs are considered a delicacy – turtle populations have been devastated by harvesting.
The threat to the leatherback, which can grow to 6ft in length and weigh up to 900lbs, has potential consequences for marine ecology. The turtles play an important role in keeping down the numbers of jellyfish.
The killing of Mr Mora Sandoval has shocked Costa Rica, and its President, Laura Chinchilla Miranda, went on Twitter to call for the police and judicial authorities to work closely together to solve what she called an "abominable murder".
Celso Gamboa, of the Limon police, defended the force by saying that 50 officers were assigned to guarding sea turtle nests but they could not accompany the environmentalists at all times.
Register for free to continue reading
Registration is a free and easy way to support our truly independent journalism
By registering, you will also enjoy limited access to Premium articles, exclusive newsletters, commenting, and virtual events with our leading journalists
Already have an account? sign in
Register for free to continue reading
Registration is a free and easy way to support our truly independent journalism
By registering, you will also enjoy limited access to Premium articles, exclusive newsletters, commenting, and virtual events with our leading journalists
Already have an account? sign in
Join our new commenting forum
Join thought-provoking conversations, follow other Independent readers and see their replies