'Alarming' numbers of endangered turtles being stranded on beaches as oceans warm
Changing ocean temperatures expected to leave thousands of marine reptiles stunned and in danger of death
Josh Gabbatiss
Science Correspondent
Friday 01 February 2019 15:13 Comments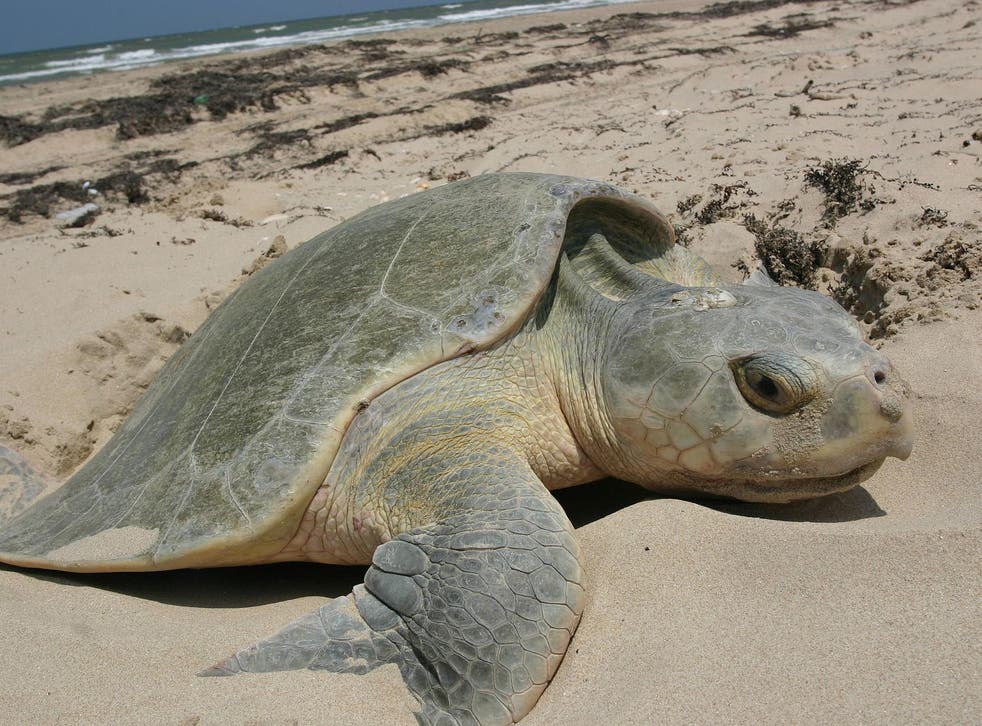 A spike in the number of turtles washing up stunned on beaches in the northeastern US has been linked to changes in global ocean temperatures.
The Kemp's ridley sea turtle is one of the world's most endangered species, and in recent years scientists have been concerned by the rising number of "cold-stunned" individuals being reported.
Exposure to cold water can trigger a state of lethargy in the ocean-going reptiles that often culminates in death if left untreated.
Just a decade ago, it was rare to see more than 100 cold-stunned turtles washing up on the north Atlantic shores annually, but in recent years the figures have exceeded 1,000.
While the underlying problem is cold water, scientists think warming oceans may actually be to blame for this surge in stranded turtles.
Environment news in pictures

Show all 8
As summer temperatures rise, the turtles are migrating further north into the Gulf of Maine, only to become trapped when the seasons change by the long "arm" of Cape Cod that juts out into the Atlantic.
In a new study, scientists used the available data to predict the likely factors behind the epidemic of strandings, and how many are likely to occur in the future.
"Our model indicated that years with warmer sea-surface temperatures in the Gulf of Maine in late summer through late fall produce higher numbers of cold-stun turtles on an annual basis," said Lucas Griffin, a PhD student at the University of Massachusetts.
"This is particularly alarming, considering the Gulf of Maine is predicted to continue to warm at a rapid rate in coming decades."
In around a decade, Mr Griffin and his colleagues predicted the number of stranded turtles could exceed 2,000 every year.
According to the researchers young turtles are particularly at risk, and though only a relatively small proportion of the population is becoming cold stunned the situation will get worse as they shift northwards.
These critically endangered reptiles already face a number of threats, including water pollution and entanglement in fishing nets.
Cold-stunned turtles can be rehabilitated at specialist facilities, and the scientists said they hoped their efforts could inform the rescue organisations running these operations.
Sir David Attenborough at the United Nations Climate Change Conference in Katowice: Climate change 'our greatest threat'
"We know so little about this critically endangered species and it's really important for us to learn more to bolster their resilience, because the Gulf of Maine is expected to warm rapidly in the next few decades, which could lead to more turtles failing to leave in time," said Mr Griffin.
The findings were published in the journal PLOS ONE.
Register for free to continue reading
Registration is a free and easy way to support our truly independent journalism
By registering, you will also enjoy limited access to Premium articles, exclusive newsletters, commenting, and virtual events with our leading journalists
Already have an account? sign in
Join our new commenting forum
Join thought-provoking conversations, follow other Independent readers and see their replies