U2's 'massive carbon footprint' called into question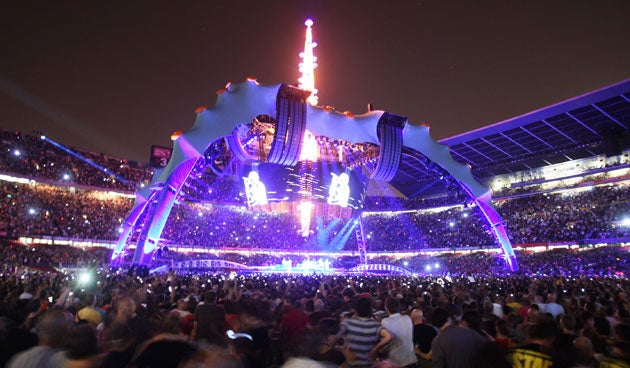 U2 and Bono's long-held commitment to "save the planet" has come into question after it emerged they have a carbon footprint big enough to fly the band to Mars and back.
The Irish rockers campaign to fight poverty and AIDS in Africa and Bono called on the world's population to take better care of the earth.
Speaking in Tokyo last year he said: "My prayer is that we become better in looking after our planet."
However, according to an environmentalists' website, the band's 100-date 18-month world tour will see the multi-millionaires clock up an incredible 70,000 air miles in their fuel-guzzling private jet.
The £90m U2360 tour also features three 390-tonne stages criss-crossing the globe, along with 200 crew and backstage staff.
The opening night in Barcelona's Nou Camp last week featured the space station-style stage and satellite link-up with the International Space Station.
Perhaps appropriately, the tour's carbon footprint can also be measured in space terms, with their colossal emissions of up to 65,000 tonnes of CO2 enough to fly Bono, the Edge, Adam Clayton and Larry Mullen Jr from earth to the planet Mars — and back.
The figure was calculated by experts from carbonfootprint.com, a company which specialises in assessing environmental damage.
U2's CO2 emissions are the equivalent of the waste created by 6,500 average British or Irish people in an entire year, or equal to leaving a standard 100 watt lightbulb on for 159,000 years.
The band's vast emissions are dozens of times bigger than Madonna's carbon footprint on her 2006 world tour, despite her extravagant demands and 250 staff. She produced 1,635 tonnes in air transport.
U2's PR agency RMP did not return a request asking if the band were buying carbon offsets to contribute towards the damage of their enormous emissions.
Carbonfootprint.com's environment consultant Helen Roberts said: "The carbon footprint generated by U2's 44 concerts this year is equal to carbon created by the four band members travelling the 34.125 million miles from Earth to Mars in a passenger plane.
"You also have to add the carbon emissions from the same number of concerts again next year.
"Just looking at the 44 concerts this year, the band will create enough carbon to fly all 90,000 people attending one of their Wembley concerts to Dublin. To offset this year's carbon emissions, U2 would need to plant 20,118 trees."
Pollution experts said U2's 44 concerts in Europe and North America this year will produce 20,117.50 tonnes of CO2 emissions, unless the band unexpectedly decide to ship to equipment to the US, in which case the footprint would be 5091.41 tonnes.
Bono and his bandmates will generate 64.42 tonnes of CO2 by flying 22,037 miles to this year's gigs in their private jet, currently stationed at Nice airport, near their Cote d'Azur holiday villas in the south of France.
Most of the carbon footprint comes from transporting the three 390-tonne stages, using 3,286.60 tonnes of CO2, with another 916.07 tonnes for extra equipment. Next year they are expected to play 20 concerts in North America in June and July and 20 dates in Europe in August and September.
Taken from the Belfast Telegraph
Join our commenting forum
Join thought-provoking conversations, follow other Independent readers and see their replies