Overwhelming majority of UK's air breaks pollution laws, new figures reveal
Government estimates full compliance with EU limits will take another nine years, despite initial deadline of 2010 
Josh Gabbatiss
Thursday 16 November 2017 22:20 Comments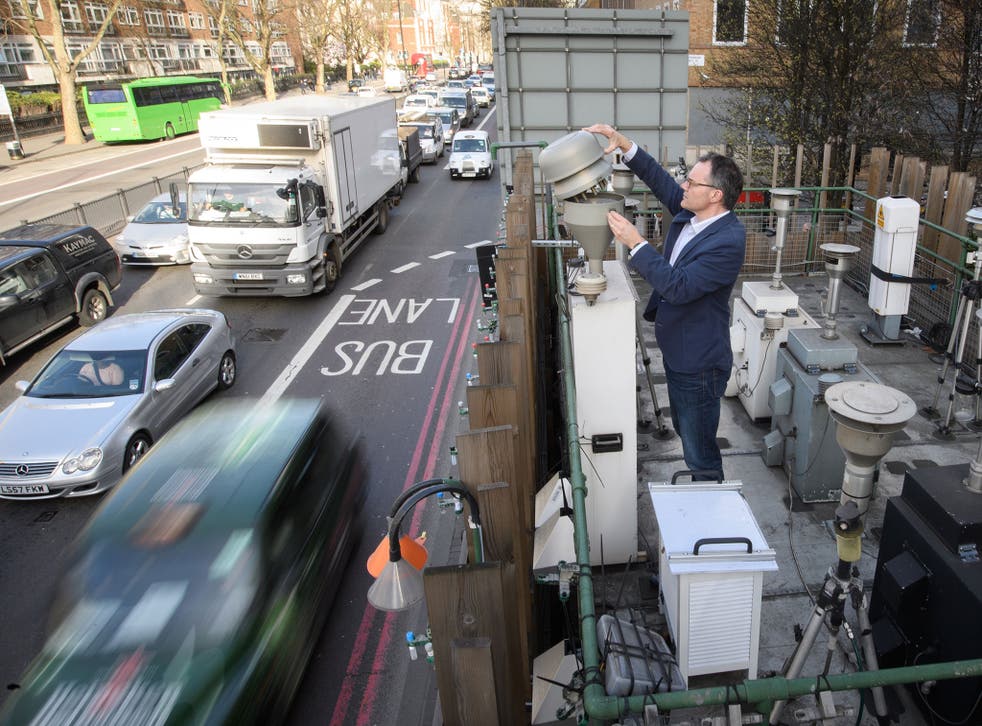 Levels of pollution in the UK's air are still way above the targets set by the EU.
According to a new report from the National Audit Office, 85 per cent of UK "air quality zones" still exceed legal pollution limits eight years after they were supposed to meet them.
The Government estimates that meeting targets for the pollutant nitrogen dioxide will not be achieved until 2026.
The worst countries in the world for air pollution deaths

Show all 10
The report highlights grave concerns that – despite a fall in emissions in recent years – the Government has not done enough to comply with EU regulations concerning air quality.
"The Government's current air quality plan only skims the surface of what is required," said a spokesperson from the British Lung Foundation. "Millions of people in towns and cities across the UK are breathing in levels of pollution that are illegal and harmful for their health."
Air pollution is responsible for tens of thousands of deaths every year, and the Royal College of Physicians estimated that the health impacts of air pollution cost the country £20bn in 2016.
The Government published its most recent air quality plan in July, following legal challenges resulting from the previous plan's non-compliance with regulations. The current plan focuses primarily on transport.
"Road transport contributes some 80 per cent of nitrogen oxides emissions at the roadside, which is where the UK exceeds the legal limits," said Lillian Greenwood, chair of the Transport Select Committee.
However, overlooked areas such as wood-burning, agriculture and fossil fuel power plants also make significant contributions, and will not be covered until a "wider air quality strategy" is published in 2018.
"It's clear that action on air quality is needed now. Waiting for almost another decade for all parts of the UK to reach acceptable levels of air quality is a deeply disappointing prospect," said Ms Greenwood.
As these legal requirements come from the EU, there is some question as to what will happen following Brexit. The Government has said it will remain committed to the strict environmental protections following exit from the EU, but as yet it is unclear how this will be reviewed and regulated.
Environment Secretary Michael Gove has said he recognises concerns about a "governance gap" after Brexit, but that this will only be considered as the withdrawal bill progresses.
A key component of the 2017 plan is that 28 local authorities with low air quality will implement measures to comply with the EU laws "in the shortest possible time".
"The current air quality plan is only part of a long-term approach to cutting the high levels of pollution," said Neil Parish, chair of the Environment, Food and Rural Affairs Committee.
"The four Parliamentary committees will use this in evidence sessions as we continue to hold the Government to account on this vital issue."
Register for free to continue reading
Registration is a free and easy way to support our truly independent journalism
By registering, you will also enjoy limited access to Premium articles, exclusive newsletters, commenting, and virtual events with our leading journalists
Already have an account? sign in
Join our new commenting forum
Join thought-provoking conversations, follow other Independent readers and see their replies