Climate change latest: UK becomes first developed economy to examine Paris agreement commitments
'The science is clear: in order to halt climate change, we have to move to net zero emissions – and to meet the Paris agreement temperature goals, we have to do so around mid-century'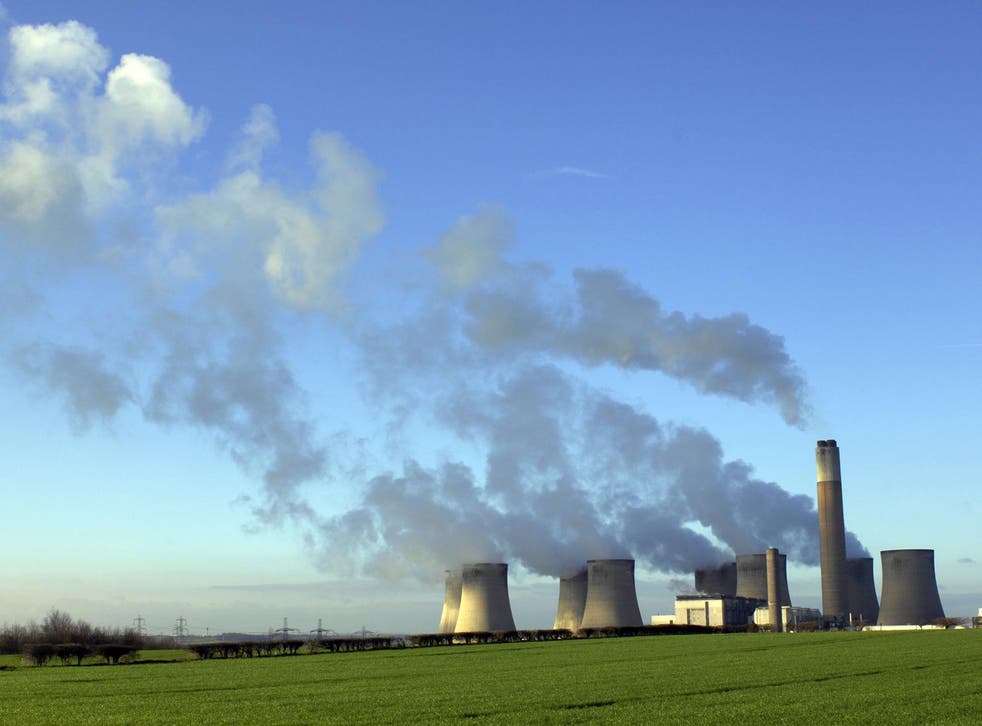 Britain will become major developed economy to commit to examining how it will meet the terms of the Paris climate agreement and review its long-term target to cut carbon emissions, experts have said.
The Committee on Climate Change will investigate the potential for the UK to tighten its reduction targets as part of global efforts to curb rising temperatures.
Experts welcomed the announcement, as it raises the possibility of reducing emissions to "net-zero" by 2050.
Net zero is the point at which greenhouse gas emissions are balanced by the removal of greenhouse gases from the atmosphere.
The goal, that has been championed by climate scientists and environmental groups, would be more stringent than existing targets which aim to cut greenhouse gas emissions by 80 per cent before 2050.
Experts said the pledge by Clean Growth Minister Claire Perry at the Commonwealth Heads of Government Meeting (CHOGM), made the UK the first major developed economy to commit to examining how it will meet the terms.
Under the Paris agreement, countries have committed to curbing temperature rises to "well below" 2C above pre-industrial levels and to pursue efforts to keep them to 1.5C, to prevent dangerous climate change.
Such a move will require the world to cut greenhouse gas emissions to net zero in the second half of the century.
The UK government has previously pledged to enshrine a zero target in law.
10 photographs to show to anyone who doesn't believe in climate change

Show all 10
After a global scientific review of the impacts of, and action needed to keep to, a 1.5C rise is published this autumn, the UK's climate advisers will be asked to review the country's 2050 target, Ms Perry said in a speech.
After the report is published, she said the government would seek "the advice of the UK's independent advisers, the Committee on Climate Change, on the implications of the Paris Agreement for the UK's long-term emissions reduction targets."
The committee recently suggested the UK would have to meet the net-zero target by 2045-2050 in order to do its bit to ensure global temperature rises do not exceed 1.5C.
A temperature rise of 1.5C is seen by some countries, such as low lying islands at risk of rising sea levels, as the limit beyond which their very existence is threatened.
Laurence Tubiana, a key architect of the Paris agreement and chief executive of the European Climate Foundation, said: "Ten years after the UK pioneered its world-first Climate Change Act, today's announcement shows that once again it is the British government looking to lead the world on climate change.
"For a safe climate we need all governments to aim for cutting pollution to net zero levels by 2050. This decision to review Britain's long-term climate target sends a strong message to the EU and other big economies that London is committed to the Paris agreement, and now it's time they too considered what more they can do."
The announcement comes after polling of 4,007 people by Opinium for think tank Bright Blue, showed almost two thirds of Britons agreed the UK should aim to cut its carbon emissions to net zero in the next few decades.
John Sauven, executive director of Greenpeace UK, said the review was extremely important and could provide a "valuable lead" for other countries.
Eight young Floridians file lawsuit against the state of Florida over climate change
"The data shows that the challenges posed by emissions from transport – land, sea and air – and our reliance on gas for heating will have to be confronted as a matter of urgency," he said.
"Fossil-fuel dependent cars and vans need to be removed from sale by 2030, a step-change in energy efficiency standards in our construction industry should be prioritised, and the Government must accept that no new runway at Heathrow will fit inside our carbon budget," he added.
Professor Joanna Haigh, co-director of the Grantham Institute at Imperial College London, said: "The science is clear: in order to halt climate change, we have to move to net zero emissions – and to meet the Paris agreement temperature goals, we have to do so around mid-century.
"So although the UK Climate Change Act was ground-breaking in its day, its existing 80 per cent target now looks somewhat inadequate; other nations have already set net zero targets in line with the Paris accord, and the UK should logically adopt one too. As both a scientist and a mother I applaud the government for this step, and look forward to working with ministers to bring the net zero vision into reality."
Additional reporting by PA.
Join our new commenting forum
Join thought-provoking conversations, follow other Independent readers and see their replies