Purple hills vanish from British countryside as climate change blamed for preventing heather from flowering
'Seriously stressed' heather on two moorland sites suffering from last year's drought
Jon Sharman
Thursday 05 September 2019 17:55 Comments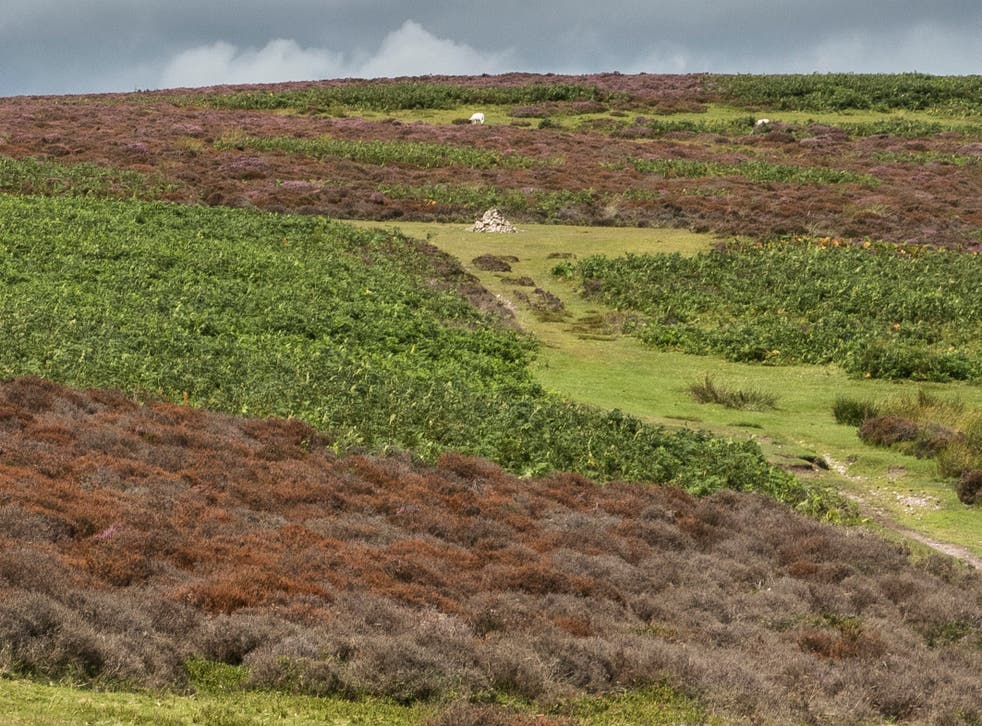 The beloved sight of bright purple heather on English moorland is at risk due to climate change, the National Trust has warned.
The violaceous vistas of late summer have failed to materialise on the Long Mynd in Shropshire and Holnicote on Exmoor, where the landscape is instead a muddy brown.
National Trust officials said it was due to a combination of last year's drought and an increase in damage caused by the heather beetle pest, which has been encouraged by mild winters.
Up to three-quarters of the heather on the sites, which should bloom through August and early September, is in poor health this year.
Peter Carty, the National Trust's parkland manager in Shropshire, said: "Last year's high temperatures, and subsequent lack of rain, damaged a large area of heather and it is clear from the orangey-brown colouration this year that the plants are seriously stressed and unlikely to flower."
Climate change: Greenland ice cap accelerated retreating

Show all 22
He added: "The milder winter also led to an increase in the heather beetle numbers, which are a natural element of the heather ecosystem, as it wasn't cold enough to kill off their larvae.
"In places where heather was sheltered from the extreme or where damp conditions were present, the heather has survived. However, there will be no mass flowering this year."
Though a boon to the beetle, the warming climate could cause problems for other species like the red grouse and the emperor moth, whose caterpillars feed on the plants.
Met Office experts said last year's prolonged hot summer was made 30 times more likely by climate change.
The Independent has also reported this year on how drought in 2018 killed nearly 90,000 trees that were planted to mitigate the environmental impact of HS2. Project chiefs said it was cheaper to replace them than to water them.
Keith Jones, a climate change specialist at the National Trust, said: "We are seeing first-hand the impacts of climate change on at least two of these special landscapes within our care. With warming temperatures, other trees and plants are increasingly more susceptible to pest and diseases."
Other impacts include an explosion in the tick population and plane tree wilt, particularly in London, which is magnified in drought conditions, he added, while moorlands are more susceptible to wildfires.
At Holnicote, the National Trust team is planting trees to slow the flow of water up the valley, and restoring wet habitats such as blanket bogs to counter dry conditions.
It is thought the prolonged warmer weather could also boost heather shield bugs, which are a natural predator to heather beetles.
While damage has occurred to hundreds of acres of heather, workers hope the resilient plant will recover with careful management.
Additional reporting by PA
Register for free to continue reading
Registration is a free and easy way to support our truly independent journalism
By registering, you will also enjoy limited access to Premium articles, exclusive newsletters, commenting, and virtual events with our leading journalists
Already have an account? sign in
Join our new commenting forum
Join thought-provoking conversations, follow other Independent readers and see their replies