UK election: Jeremy Corbyn accuses Theresa May of being 'subservient' to Donald Trump
Green Party co-leader Caroline Lucas also says Prime Minister's 'slow and timid response to this reckless and irresponsible announcement by Trump is another sign of her weakness'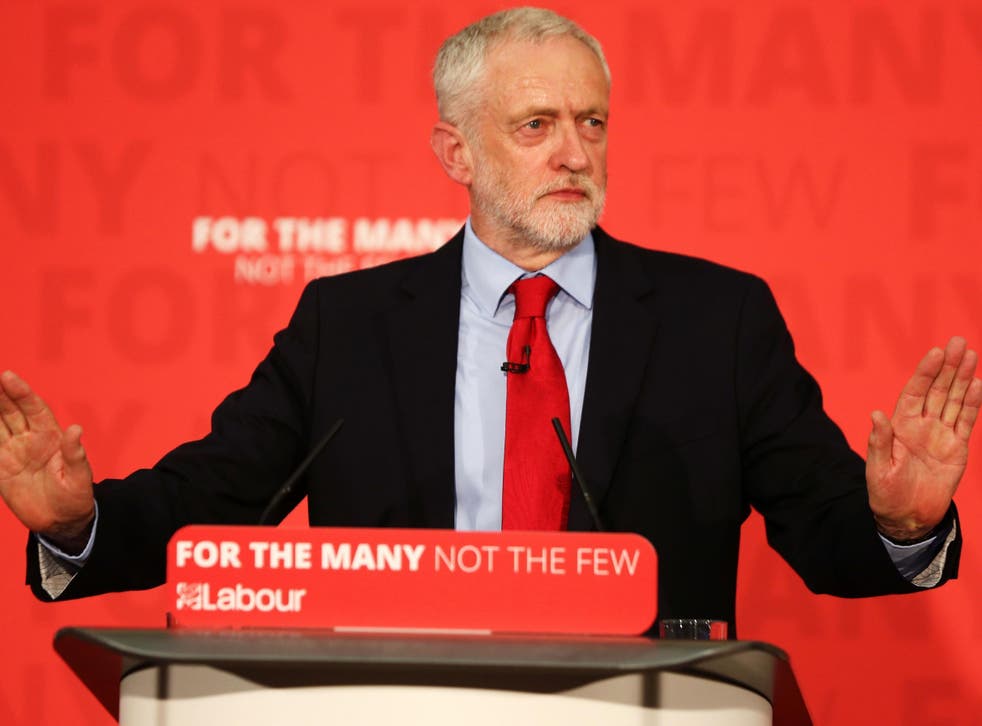 Jeremy Corbyn has accused Theresa May of being "subservient" to Donald Trump after she remained silent over the Paris Agreement on climate change and only expressed her disappointment after the US President announced his decision to quit the accord.
The Labour leader's remarks were echoed by Green Party co-leader Caroline Lucas, who condemned the Prime Minister for her "slow and timid" response and saying it was "another sign of her weakness".
Ms May's leadership qualities have come under scrutiny as Labour has closed a once seemingly unassailable gap in the polls. This was only exacerbated by her decision not to take part in the BBC leaders' debate.
Mr Corbyn said the US withdrawal from Paris was "reckless and dangerous".
"There can be no question of watering those commitments down – the Paris deal cannot be up for renegotiation," he said, dismissing Mr Trump's suggestion he might be able to do this.
And he criticised Ms May's decision not to add her name to a statement defending the Paris Agreement by the leaders of France, Germany and Italy.
"Why does Theresa May not have her name on this joint statement?" he said.
"Given the chance to present a united front with our international partners, she has instead opted for silence and, once again, subservience to Donald Trump."
Ms Lucas also contrasted Ms May's belated expression of her "disappointment" with the tough response from Europe's leaders.
"Theresa May's slow and timid response to this reckless and irresponsible announcement by Trump is another sign of her weakness," Ms Lucas said.
"A true global leader would be condemning the President's actions, and joining with other European countries to formulate an emergency plan to save the Paris Agreement.
"Once again we're seeing a weak Prime Minister failing to stand up tall on the world stage in the face of near-criminal behaviour from one of our closest allies."
She said the UK should be "leading the way on tackling climate change" but the Conservatives were "dragging us backwards at home, and stepping back from making an impact internationally".
Tim Farron, the Liberal Democrat leader, challenged Ms May to try to change Mr Trump's mind.
Donald Trump's first 100 days: in cartoons

Show all 33
"You have gone to Washington to hold Donald Trump's hand, now is the time to hold his feet to the fire," he said.
Scottish First Minister Nicola Sturgeon said it was an "appalling abdication of leadership" by the Prime Minister not to join her French, German and Italian counterparts in signing a joint declaration about the United States' withdrawal from the Paris Agreement.
In the statement, Emmanuel Macron, the French President, Angela Merkel, the German Chancellor, and Paolo Gentiloni, the Italian Prime Minister, said they remained committed to the "irreversible" accord and regarded it as "a cornerstone in the cooperation between our countries, for effectively and timely tackling climate change".
In a statement, Downing Street said Mr Trump had called Ms May to discuss withdrawing from Paris.
"The Prime Minister expressed her disappointment with the decision and stressed that the UK remained committed to the Paris Agreement, as she set out recently at the G7," the statement said.
"She said that the Paris Agreement provides the right global framework for protecting the prosperity and security of future generations, while keeping energy affordable and secure for our citizens and businesses."
Join our new commenting forum
Join thought-provoking conversations, follow other Independent readers and see their replies