UK farms sore over French oyster herpes
British producers are struggling with demand as foreigners snap up stocks
Simon Usborne
Sunday 03 November 2013 01:00 Comments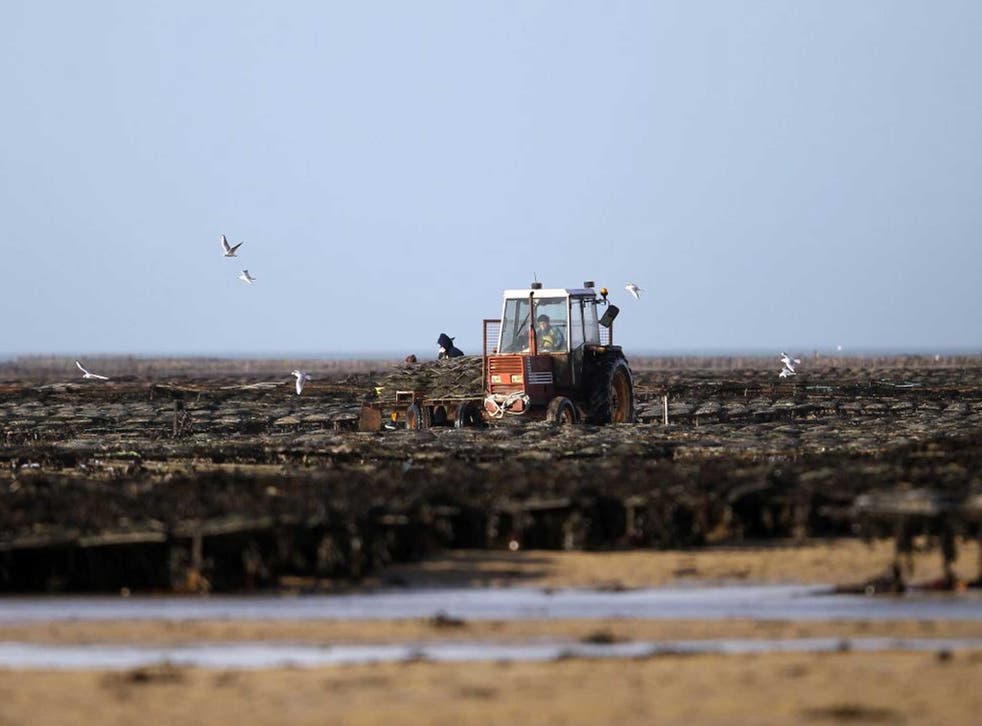 Not since the signing of the Entente Cordiale have relations between Britain and France – gastronomically speaking, at least – been so strained. The battleground: estuaries and waterways that are home to the prized oysters that are shucked with increasing enthusiasm on both sides of the Channel. The trigger: a nasty case of herpes.
As a lethal strain of the virus lays waste to farms across the channel, French producers are coming over here and taking our oysters. This raiding has reached such intensity that British farmers say they are struggling to meet growing domestic demand, leading to dramatic price rises for consumers.
British oyster exports topped more than £3m in value last year. Meanwhile French cultivators, not content to import only ready-to-shuck oysters to cope with the herpes-prompted shortfall, are also invading prime seabeds off the coasts of Scotland and Ireland to establish satellite farms.
Robin Hancock, co-founder of Wright Brothers, which harvests five million oysters a year from its farm in Cornwall, said the situation is critical. "British farms are battling to get enough spat [baby oysters] to grow their own stock, struggling to find enough market-size oysters for our restaurants. It doesn't add up."
Not that all British oysters are immune to herpes. Last week, the movement of the delicacy from Poole Harbour was banned after a local outbreak. But for several years in a row, France has suffered nationwide infection on a much greater scale.
Mr Hancock said wholesale prices in Britain went up 25 per cent last year as a result: "It's a massive leap, and when you add the fuel and transport costs to production, the French issue becomes a big part of the problem."
Kyle of Tongue Oysters on the north coast of Scotland has already been conquered by French firm SCEA Huitres. It is expanding production there to grow seed oysters before shipping the shellfish to mature in France when they are large enough to resist herpes.
Andy Woolmer, a marine biologist and oyster expert based in South Wales, is taking advantage of demand for British oysters with plans to restore native oysters to Swansea bay, where they had effectively become extinct after overfishing.
The superior native species, which take longer to grow but are more resistant to disease, are considered a greater delicacy than the rock or Pacific oysters most often found in bars and restaurants.
Mr Woolmer is, unsurprisingly, convinced that British oysters outshine their Gallic rivals. "Because we grow them slightly slower and in lower density, you can appreciate differences in oysters grown relatively small distances apart. They're definitely better," he said.
But no sooner had he discussed his plans for Swansea Bay than, he says, "word got back to some French guys and they came to see what we were up to. I think they're mainly interested in the end product, but they'll have to wait a few years".
Register for free to continue reading
Registration is a free and easy way to support our truly independent journalism
By registering, you will also enjoy limited access to Premium articles, exclusive newsletters, commenting, and virtual events with our leading journalists
Already have an account? sign in
Join our new commenting forum
Join thought-provoking conversations, follow other Independent readers and see their replies