Frogs and toads vanishing from British gardens due to lack of ponds, says RSPB
'Unfortunately, the sights and sounds of wildlife that were once common to us are sadly becoming more mysterious'
Josh Gabbatiss
Science Correspondent
Thursday 21 June 2018 11:45 Comments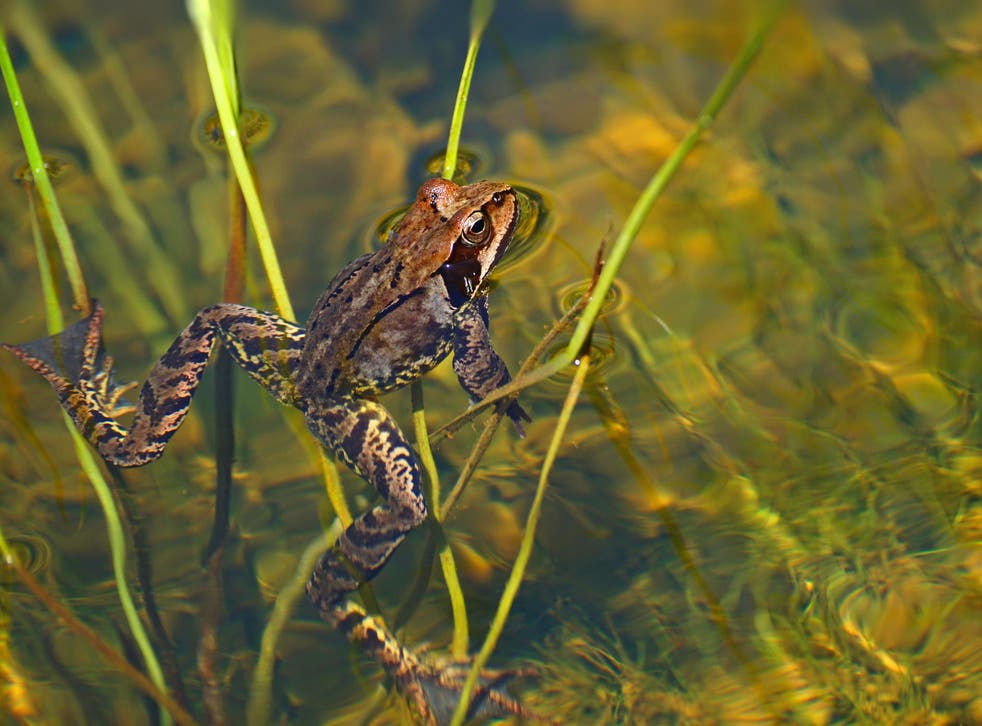 Frogs and toads are disappearing from gardens across the UK as ponds become less popular among the British public.
Data collected in the RSPB's annual Big Garden Birdwatch revealed that while frogs are still the most commonly seen garden visitors besides birds, sightings have declined in the past four years.
The survey, which covered tens of thousands of households, showed frogs were spotted in over three quarters of gardens in the past year.
However, while they were seen at least monthly in 39 per cent of outside spaces in the last year, the figure is down from 46 per cent in 2014, the last time they were included in the survey.
It is a similar story for toads, which were seen in 20 per cent of gardens and outdoor spaces, down from 28 per cent four years ago.
The disappearance of garden ponds and pools, important habitat for amphibians, is putting pressure on frogs and toads, conservationists say.
The RSPB is urging people to get outside and create simple ponds and pools in their outdoor spaces this summer.
"Most people remember seeing tadpoles at the local pond or a toad emerging from under a rock while they were growing up - these first experiences with nature stay with us forever," said Dr Daniel Hayhow, an RSPB conservation scientist.
British mammals' fight for survival

Show all 11
"Unfortunately, the sights and sounds of wildlife that were once common to us are sadly becoming more mysterious.
"There are lots of simple things we can all do in our outdoor spaces to make them perfect for wildlife."
As frogs and toads are amphibians, they need a source of water where they live in order to survive and reproduce.
"Creating a small pond in your garden, or a pool using a washing-up bowl, is so simple to do and could make all the difference," said Dr Hayhow.
Dr Karen Haysom, from wildlife charity Amphibian and Reptile Conservation, said: "Frogs and toads face many pressures including the loss of habitat like ponds.
"Helping these fascinating creatures by making wildlife habitat in your garden, or taking part in species recording and monitoring schemes so we understand how nature is faring, is fun and can make a difference."
Other results about wildlife reported as part of the Big Garden Birdwatch survey show an increase in sightings of hedgehogs compared with last year – seen in almost two-thirds of gardens at least once in the year.
Foxes also continue to be commonly seen in gardens, spotted in almost three-quarters of outdoor spaces by people taking part in the survey.
These findings provide some reassurance following a major review conducted by the Mammal Society that found many of Britain's mammal species are facing extinction – with hedgehogs experiencing a population decline of two-thirds in the past two decades.
Naturalist Chris Packham recently warned of an "ecological apocalypse" facing the UK due to the collapse in populations of insects and birds – trends that have been attributed in part to pesticide use on farms.
Additional reporting by PA.
Register for free to continue reading
Registration is a free and easy way to support our truly independent journalism
By registering, you will also enjoy limited access to Premium articles, exclusive newsletters, commenting, and virtual events with our leading journalists
Already have an account? sign in
Join our new commenting forum
Join thought-provoking conversations, follow other Independent readers and see their replies