UK may have to import rubbish for incinerators
Waste Britain: Improved recycling rates mean that we may not have enough garbage to feed planned new plants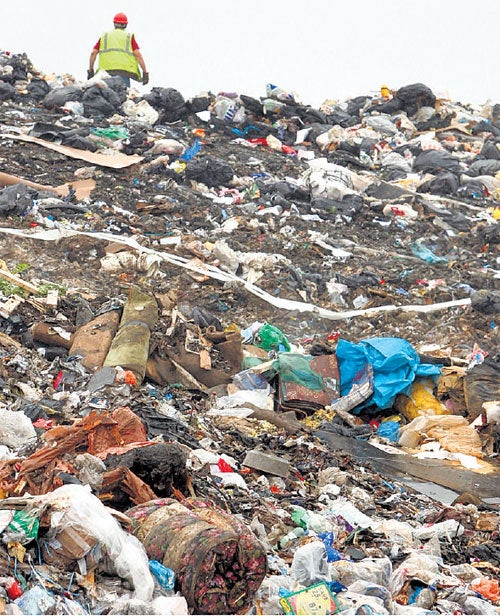 Environmental groups are demanding an end to the building of new waste incinerators, which they say will undermine recycling. Experts question whether Britain will produce enough household waste to fuel energy-from-waste plants as the country improves its recycling efforts. And they warn that waste will have to be diverted from sustainable recycling schemes or imported from elsewhere to keep a rash of new planned waste incinerators working.
The UK has 25 waste incinerators, but, according to the UK Without Incineration Network, there are a further 65 "potential" incinerators outlined for England, nine in Scotland and one for Wales. Environmentalists are calling for a moratorium, urging the Government to take a more sustainable approach to waste management.
Last week, the coalition government announced a review of waste policies in England. It will include consideration of "how to ensure the right contribution of energy from waste, including delivery of a step change in generation from anaerobic digestion", a method of processing biological wastes that generates methane which can be used to produce power and heat, as well as a soil improver. Preliminary findings are not due to be published until next year.
Incinerator policy will come under scrutiny next month when the public inquiry into a proposed 180,000-ton energy recovery facility at Rufford, Nottinghamshire, recommences. Becky Slater, campaign assistant at Friends of the Earth, said the UK should learn from Europe, where some countries with many incinerators "are now finding they are struggling to fill them and recycling rates are being restricted".
In Hampshire, where the Veolia waste contractor operates three incinerators, a shortage of municipal waste has already led the company to seek to vary the plants' planning conditions to allow them to process more commercial waste and, potentially, import waste from outside the county. A county council spokeswoman denied the incinerators would impact on recycling. However, only one of the county's 14 local authorities recycles domestic food waste – the rest incinerate it.
Gill Weeks, of the Environmental Services Association, the trade body representing the UK's waste management industry, claimed there was particular overcapacity in Germany and the Netherlands, with other EU member states exporting waste there. Campaigners warn that the possibility of overcapacity in the UK arises because waste levels across the country are now in decline as Britons get better at recycling. Official statistics show collected municipal waste in England alone decreased by 4.1 per cent to 27.3 million tons in 2008-09, compared to 28.5 million tons in 2007-08. The proportion of municipal waste being recycled or composted increased from 34 per cent to 36.9 per cent in the same period, while waste incinerated with energy recovery rose from 11.1 per cent to 12.2 per cent. Landfill disposal fell from 54.4 per cent to 50.3 per cent.
"If you combine that stabilisation of waste growth and an ever-increasing recycling rate, it shows we need to be very careful not to build too much infrastructure to deal with waste," said Ms Slater. Despite this, there has been a "surge" of PFI incinerator proposals, she said.
The Department for Environment, Food and Rural Affairs says there are 39 waste PFI projects, two of which are operational and two which are being built. Four more await a planning inquiry or appeal. Environmentalists warn that PFI agreements lock councils into expensive, inflexible, long-term contracts that make predicting future recycling rates difficult.
A Defra spokesman said the priority was to prevent waste being created, but that there would always be some unavoidable waste. "Reusing and recycling this waste is important, but where this can't happen, a more environmentally friendly alternative to sending it to landfill can be to use it to generate power for homes and businesses," he added. "We monitor potential waste-incineration capacity very closely and we do not believe at this stage there will be overcapacity. Many European countries such as the Netherlands have a higher rate of recycling than England and combine it with high rates of incineration."
Additional reporting by Pavan Amara
Join our commenting forum
Join thought-provoking conversations, follow other Independent readers and see their replies