UK needs to plant 1.5 billion trees to tackle climate change, government told
'Let's not shy away from the truth. It will be a challenge, it will cost money'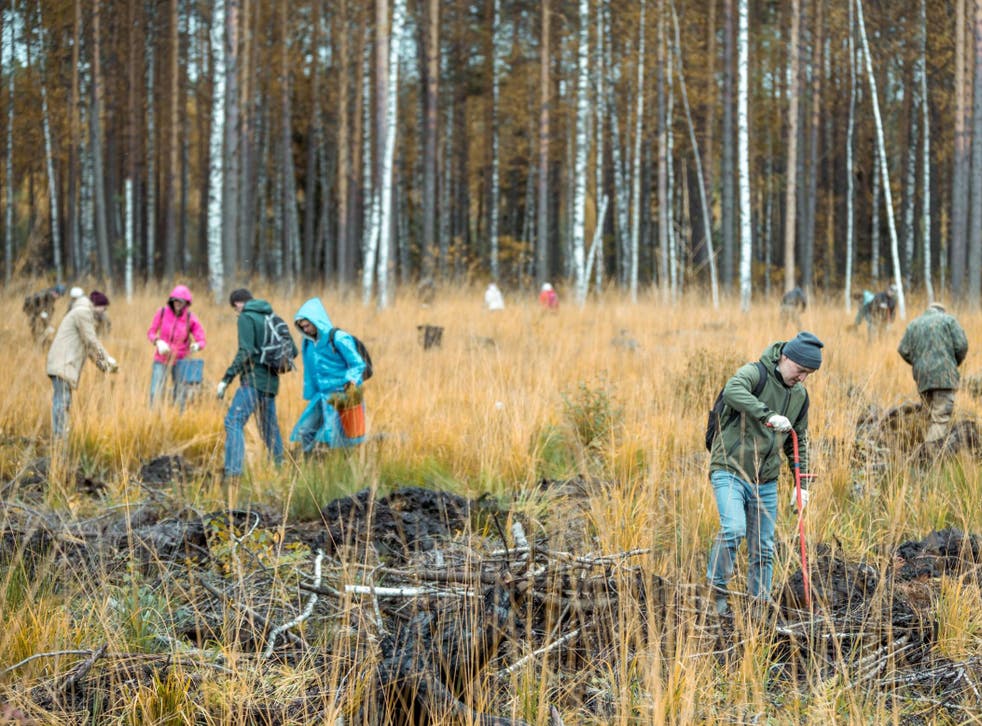 The UK will have to plant 1.5 billion trees if it is to meet its pledge to reach net zero emissions by 2050 – and this needs to "happen quickly", government advisers have warned.
The Committee on Climate Change (CCC) recommended that 30,000 hectares be planted every year but if other carbon-reducing targets are not met, it said this will have to go up to 50,000.
Last year, the UK planted just 13,400 hectares of woodland, the majority of which was in Scotland. Woodland cover needs to increase from 13 per cent to 17 per cent – the equivalent of 1.5 billion new trees – the committee said.
"The government needs to develop a strategy to meet the 30,000-hectare target and it needs to happen quickly," Ewa Kmietowicz, the CCC's transport and agriculture team leader told the BBC. "It takes time for trees to grow and absorb carbon."
The CCC has not yet worked out if the target should be 50,000 hectares per year.
Fighting climate change with trees: The facts

Show all 6
Woodland Trust director of conservation and external affairs Abi Bunker said: "The scale of what needs to be achieved to reach net zero targets is obvious; it will necessitate a three-fold increase on current levels. Let's not shy away from the truth. It will be a challenge, it will cost money, it will mean tough choices, but the human race is at a crossroads for our environmental future.
"To avoid climate breakdown we have to act, that's the reality we live in, tough choices, big challenge, but we can all rise to meet it head on."
Rural landowners can apply for up to £6,800 of government funding for every hectare of land reforested. There is also a new two-year £10m fund to plant 130,000 urban trees.
Ms Bunker said the ambition of 17 per cent tree cover is achievable.
"It is essential to address the climate and natural environment crises together – recognising them as being interconnected and not two separate challenges. This means that native woodland along with other natural habitats will play an important role for both carbon and biodiversity," she added.
As well as locking up carbon, trees can also improve soil quality, stability, reduce the impacts of flooding and provide vital habitats for wildlife.
A Defra spokesperson said: "Since 2010, government has planted over 15 million trees, and we have a clear commitment through our 25 Year Environment Plan to grow woodland cover further. We've kickstarted a vast Northern Forest, allocated £10m to plant trees in urban areas and just this week we have reappointed our Tree Champion to drive forward planting rates.
"But we recognise we need to go further, which is why later this year we will consult on a new English Tree Strategy to accelerate woodland creation and introduce a flagship Environment Bill to address the biggest environmental priorities of our age."
Philippines passes law requiring students to plant 10 trees if they want to graduate
Earlier this month, research by Swiss scientists from the Crowther Lab in Zurich showed that planting trees in an area the size of the US could be the "most effective climate change solution to date".
The study, published in the journal Science, suggested trees could absorb and store 205 billion tons of carbon. This could remove around two-thirds of the extra carbon released into the atmosphere by human activity since the industrial revolution.
The scientists said it highlighted "global tree restoration as our most effective climate change solution to date".
Join our new commenting forum
Join thought-provoking conversations, follow other Independent readers and see their replies