UK weather: Severe weather warnings as high tides put coastline at high risk of floods
Environment Agency issues 21 of the most serious severe flood warnings, indicating that there is a threat to life or property, to areas in the South West, Gloucestershire and Wales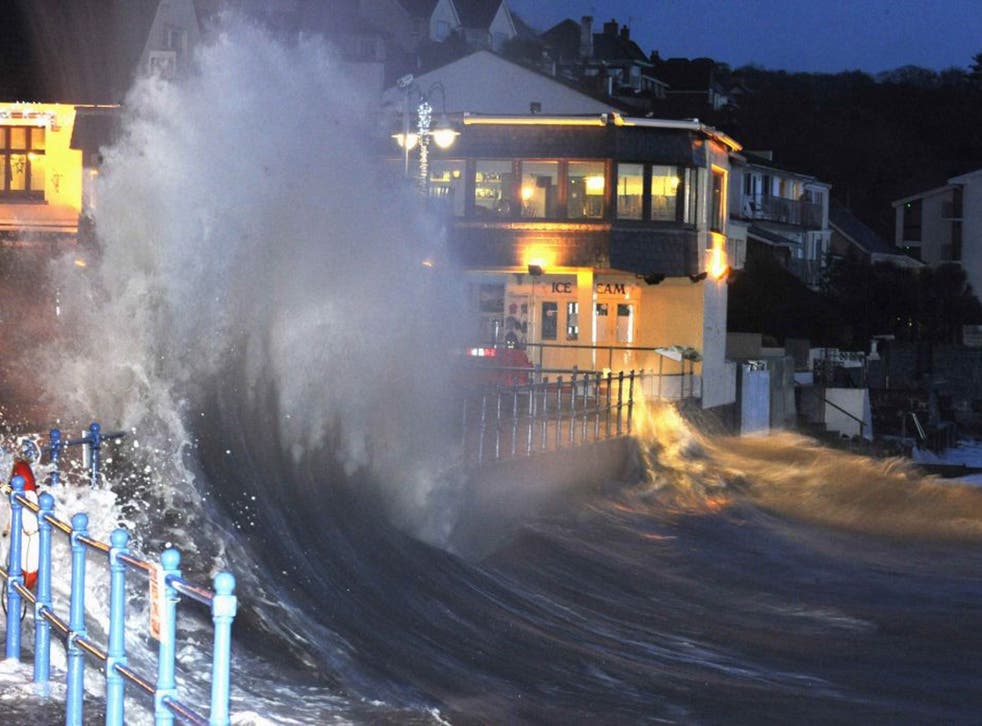 Britain is bracing itself for another series of devastating storms, as high tides, heavy rains and strong winds combine to cause yet more severe flooding to parts of the country.
The whole of the UK is facing "exceptional" bad weather in the coming days, with a high risk of flooding expected, particularly in coastal towns and villages.
The Environment Agency (EA) has issued 21 of the most serious severe flood warnings, indicating that there is a threat to life or property, to areas in the South West, Gloucestershire and Wales.
Ministers are warning residents, councils and power companies to expect the worst in terms of strong winds, heavy rain and flooding.
Homes in Newport were evacuated last night ahead of flood risks, as Wales prepared for the highest tides in 17 years, ITV News said.
Residents at the Lighthouse Park Estate were taken to a nearby leisure centre as a precautionary measure, while coastguards have been put on alert for storms bringing winds of up to 70mph.
The EA has also issued 188 flood warnings across England and Wales and a further 233 flood alerts.
The bad weather is worsened by high tides this morning, with the risk of flooding expected for between two and four hours either side of high water.
In Pictures: 2014 Winter floods

Show all 60
Waves of more than 30ft (10m) are expected to hit Devon and Cornwall, the BBC said, with authorities declaring a "major incident" and warning people to stay away from shorelines, where there are 14 severe flood warnings and 60 flood warnings.
In Scotland heavy rain and gusts of up to 60mph could sweep across the country today and the Scottish Environment Protection Agency (Sepa) has warned that high tides and a storm surge have increased the risk of flooding in the Firth of Clyde.
Sepa has issued a flood alert for west central Scotland, warning that high water during early afternoon will be "exceptionally high" with large waves likely.
It has also issued eight flood alerts and 17 flood warnings for other parts of Scotland.
Emergency services will be under increased pressure because of today's Fire Brigades Union strike today between 6.30 and 8.30am.
Environment Secretary Owen Paterson, who chaired a meeting of the Government's Cobra emergencies committee, yesterday warned energy network companies to be prepared, following complaints it took too long to restore electricity to the more than 150,000 homes left without power in the wake of severe weather over Christmas.
But today Mr Paterson said he expected the power companies to do their best to prepare for the latest storm. Speaking on Sky News following the Cobra meeting in London, he said: "We are looking to have a combination of exceptional rain, wind and a surge in sea and high tides and so there are nearly 50 warnings put out around the whole of the west coast and south coast.
"We had a range of ministers from right across government attending the meeting, who will be working very closely with local councils, power companies, utility and transport companies, making sure that all of those organisations are absolutely prepared for the bad weather that is coming."
At least two people have already died because of the extreme weather. A 27-year-old man from Surrey was swept out to sea off the coast of Cornwall on New Year's Eve and, on Tuesday, a woman drowned at the popular beauty spot Croyde Bay in north Devon.
Elsewhere, in Dorset a search was carried out for a man who is believed to have fallen into the River Stour, near Iford Bridge in Christchurch.
Pete Fox, head of strategy at the Environment Agency, urged people to be vigilant and stay away from the coast.
He said: "Coastal paths and promenades could be highly dangerous as there is an increased risk of being swept out to sea. People are warned to stay away from the shoreline."
Severe disruption is also expected on the transport networks and the roads.
The AA, which has attended 1,500 call-outs from those stranded due to floods since December 23, said some drivers were failing to heed warnings.
Darron Burness, head of the AA's flood rescue team, said: "Our patrols have seen it all in that time - including people ignoring road closure signs, blindly following their sat-nav or other drivers into deep water and 4x4 drivers naively thinking their car has amphibious qualities - and time and again they hear the same excuses that the driver didn't think the floods were very deep or that their car could deal with it."
Join our new commenting forum
Join thought-provoking conversations, follow other Independent readers and see their replies