UK weather: Why the recent devastating floods will become the new normal
Last month's wet and warm conditions are in part due to climate change – and we are going to have get used to it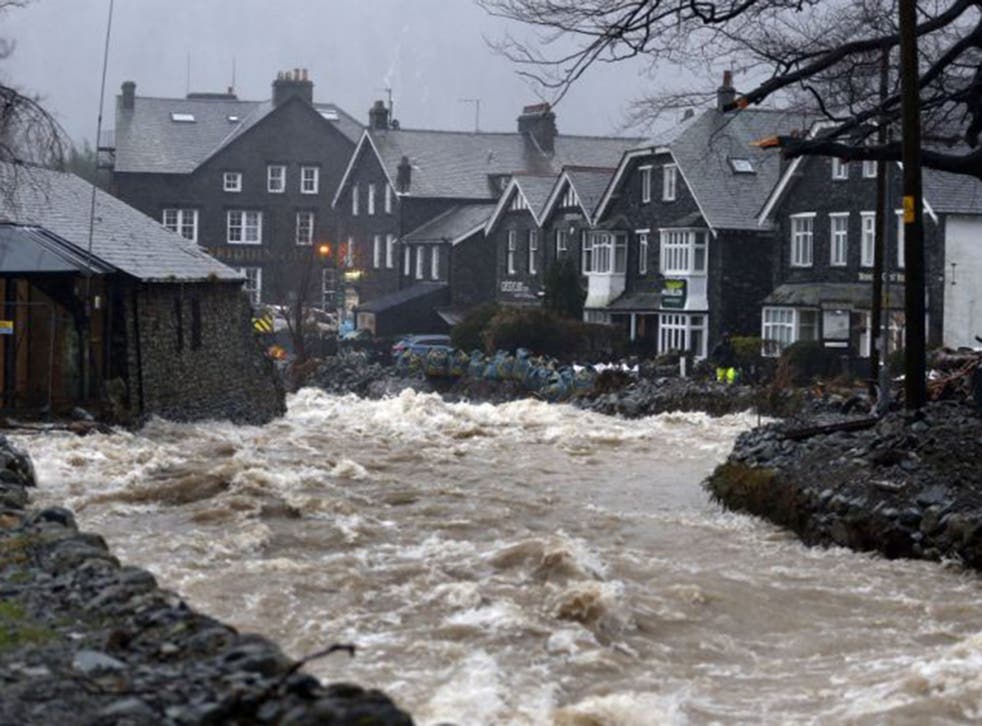 What's up with our weather? It has been the wettest December since records began for Scotland and Wales, the fourth-wettest for Northern Ireland and the second-wettest overall for the UK.
In the past four weeks there has been an almost complete lack of frost, with the UK average temperature during December hitting a record-breaking 8C, which according to the Met Office is about 4.1C above the long-term average – beating the previous record of 6.9C set in 1934.
This 4.1C temperature anomaly was higher than for any calendar month since 1910, which means that temperatures in the last month of 2015 – now the officially the warmest year globally – were closer to what we usually expect for April or May.
But it was the extreme rainfall over Wales, Northern Ireland, North-west England and Scotland that really brought things home. Warm, humid air carried by strong south-westerly winds influenced by the Atlantic jet stream dumped huge volumes of rain over the hills of northern Britain.
It began in earnest with Desmond, a fierce Atlantic storm that dropped 13.44 inches of rain at Honister Pass in Cumbria between 6.30pm on 4 December and 6.30pm on 5 December – a new national record for rainfall accumulation in a 24-hour period.
In Pictures: Floods hit the UK

Show all 17
Storms Eva and then Frank followed Desmond with further heavy rain falling on already saturated land. The widespread flooding directly affected thousands of homes and businesses, and many thousands more suffered lengthy power cuts due to flooded electricity sub-stations.
Scientists are normally cautious about attributing any single weather extreme to climate change and the rise in global average temperatures due to human emissions of greenhouse gases, such as carbon dioxide from fossil-fuel burning.
However, there is already clear evidence that what has happened over the past month or so in terms of temperature and rainfall has fallen outside the range of the natural variability of the notoriously fickle British weather, according to a growing number of climate experts.
"There is no doubt in my mind that climate change is partly responsible for the flooding across the North of England. This December is around 5C warmer than normal and physics tells us that 24-hour extreme rainfall increases by 7 per cent per degree," said Piers Forster, professor of climate science at Leeds University.
"Worst flooding in York since 2000"
Paul Williams, meteorologist at Reading University, explained: "Simple physics tells us that warmer air can hold more water vapour. The global warming that we have experienced so far has increased the atmosphere's moisture storage capacity by about seven per cent. This is undisputed science and it clearly increases the potential for extreme rainfall and flooding."
It is undeniably true that warmer air can hold more moisture, just as warmer oceans increase the moisture content of the atmosphere by about six per cent for every 1C warming. In simple terms, the more moisture there is in the atmosphere, the more additional energy it contains, said Dame Julia Sligo, the chief scientist at the Met Office.
"So from basic physical understanding of weather systems it is entirely plausible that climate change has exacerbated what has been a period of very wet and stormy weather arising from natural variability," she said.
The Met Office predicted in 2014 that Britain is in line for more heavy rain as a result of the world getting warmer, and that this signal may already be showing up in long-term rainfall records.
"There is evidence that heavy rainfall events may have become more frequent over time: what in the 1960s and 1970s might have been a one-in-125-day event is now more likely a one-in-85-day event," the Met Office said.
But predicting something is more likely is not the same as attributing direct cause and effect for any single storm – so can climate change have caused Desmond and the other storms last month?
Scientists are not able to categorically prove such cause and effect. However, a study already submitted to a peer-reviewed journal has suggested that climate change has increased the chances of Desmond-like storms by about 40 per cent – give or take a rather large margin of error.
The research, by scientists from the Royal Netherlands Meteorological Institute and the University of Oxford, found that three different ways of assessing the influence of climate change are all in "remarkable agreement" on its influence over Storm Desmond.
"We found that global warming increased the likelihood of the heavy precipitation associated with a storm like Desmond. An event like this is now roughly 40 per cent more likely due to climate change than it was in the past, with an uncertainty range of five to 80 per cent," said Friederike Otto of Oxford, a co-author of the study.
There is of course another record being broken at present; El Niño in the Pacific Ocean is expected to surpass the one of 1997-98. Some scientists have suggested a possible link with the south-westerly "kink" in the jet stream over the Atlantic, which is sending warm, wet air to the UK. The Met Office said that a strong El Niño could be influencing our weather by increasing the probability of a "positive phase" of the North Atlantic Oscillation, which is associated with milder and wetter-than-average conditions over our part of Western Europe.
"However El Niño is just one of many drivers that affect the UK weather and there are many other factors which could override this signal," said a Met Office spokesperson.
However, those who continue to deny the connection between extreme rainfall in the UK and climate change are looking increasingly undermined by the growing evidence, said Professor Myles Allen of Oxford University.
"The armchair meteorologists who continue to insist this is all just weather are starting to sound a little bit like Aunty Mabel expressing surprise at her remarkable luck in boardgames," Professor Allen said.
"The weather has changed, and we have changed it: get used to it. Those with more open minds are asking, 'Is this the new normal?' Unfortunately, the answer is 'No' – 'normal weather', unchanged over generations apart from random fluctuations, is a thing of the past."
Join our new commenting forum
Join thought-provoking conversations, follow other Independent readers and see their replies