UN climate change summit: Talks stand still as states clash over costs
Japan dramatically scales back long-term commitments to reduce carbon emissions as Australia moves to repeal its carbon tax
Tom Bawden
Friday 22 November 2013 19:41 Comments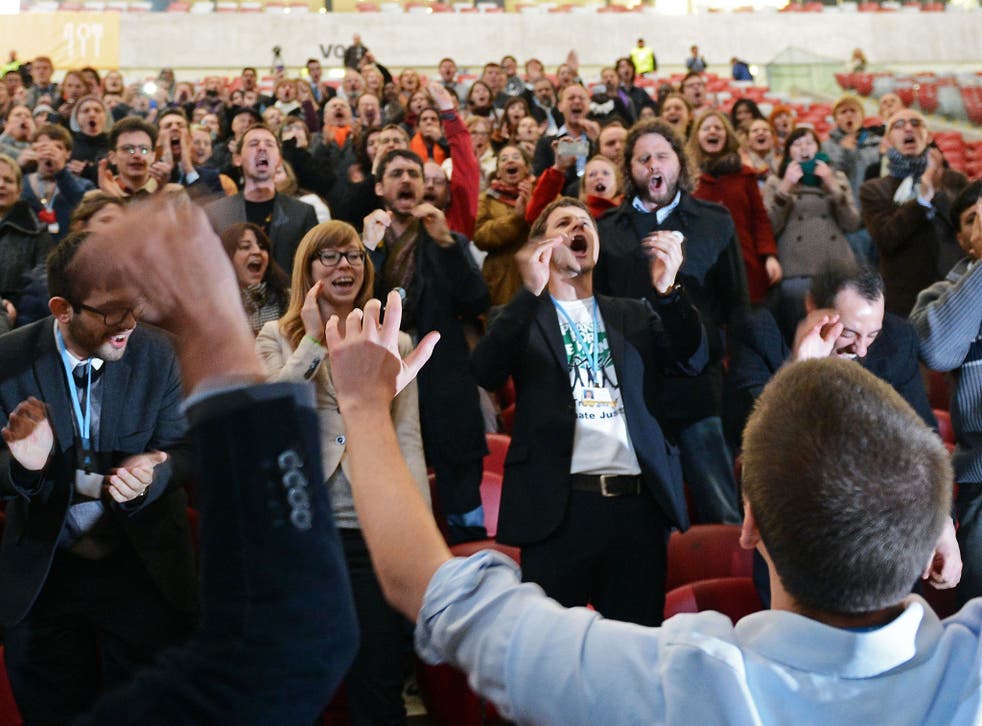 The wrangling at the UN climate change summit in Warsaw is set to run well into the night as nearly 200 governments clashed over how to finance the cost of global warming and dragged their heels about setting a clear timetable for action.
As the annual two-week summit came to a close, the mood in Poland's national stadium was despondent, with some participants describing the talks as the worst since the series of meetings began in 1992.
Typhoon Haiyan wrought havoc in the Philippines just before the summit, while Japan dramatically scaled back its long-term commitments to reduce its carbon emissions and Australia moved to repeal its carbon tax.
"Things are in a serious state of disarray, with delegates reporting episodes of bad-faith bargaining, industrialised countries demanding [that] previously-agreed-upon decisions be reopened," said Elizabeth May, the leader of the Canadian Green Party.
As talks reached a climax yesterday, the thorny issue of how the developed countries would help the developing countries pay for the damage caused by climate change had yet to be resolved. Governments had also failed to agree an agenda to structure discussions in the run-up to the crucial Paris summit in 2015, when they have pledged to agree legally binding reductions in carbon emissions.
Many delegates were also disappointed at the lack of progress towards the cost of financing the transition to a low-carbon world. The UK, Norway and the US provided one bright spot of the summit, through a $280m pledge to set up a new initiative to help combat the loss of forests.
Jonathan Grant, a climate change expert at the PwC consultancy, said: "There is a sense of realism creeping into the talks this year, which is new. Poland hosted a coal summit at the same time and there is a realism in the way Japan has revised its targets.
"There is a greater recognition of the challenge and the trade-off that needs to be made between the economy and the environment... The problem is that the environment is coming off worse. It's different here than in the past, where talks took place in splendid isolation of real-world events."
Sam Smith, of the WWF, added: "This meeting will end with fewer commitments to cut carbon emissions than when it began." Ms Smith was one of more than 800 campaigners who walked out of the talks on Thursday in protest at the lack of action.
A WWF spokesman added: "Warsaw, which should have been an important step in the transition to a sustainable future, is on track to deliver virtually nothing... governments have given up on the process."
A UK delegation spokesman said: "It is disappointing that some Non-Government Organisations have decided to walk out of COP 19 [the summit]. There has been steady progress during the talks."
Register for free to continue reading
Registration is a free and easy way to support our truly independent journalism
By registering, you will also enjoy limited access to Premium articles, exclusive newsletters, commenting, and virtual events with our leading journalists
Already have an account? sign in
Join our new commenting forum
Join thought-provoking conversations, follow other Independent readers and see their replies