Top universities commit to selling shares in fossil fuels after student protests and hunger strikes
Institutions not yet divested 'complicit in crimes of climate breakdown,' campaigners warn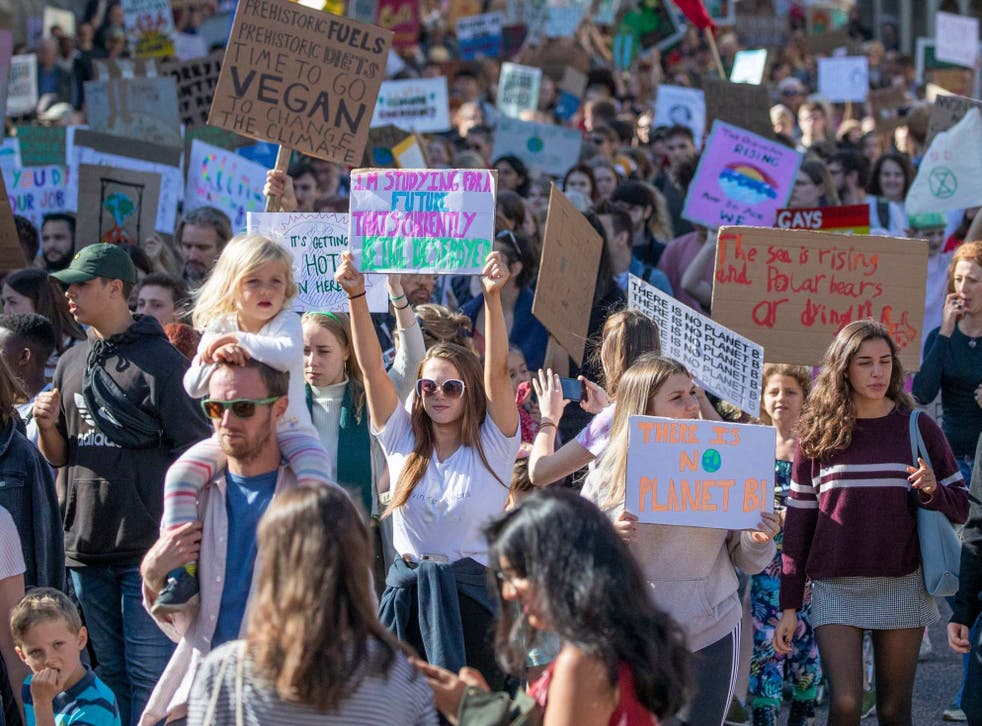 Almost all of Britain's top universities have committed to selling their shares in fossil fuel companies after pressure from eco-conscious students who have occupied buildings and carried out hunger strikes.
Twenty-one of the elite 24 Russell Group universities, which are traditionally the most selective in the country, have pledged to at least partially divest from fossil fuels following years of campaigning.
However, an analysis from campaigners found Imperial College London and the universities of Manchester and Birmingham are yet to join the divestment campaign.
Around £12.4bn of endowments across the sector have been divested after half of UK universities have committed to cutting ties with fossil fuel firms, according to student campaign group People & Planet.
The move towards divestment in higher education comes after hundreds of thousands of students across the world took part in the climate strikes last year inspired by teenage activist Greta Thunberg.
Youth Strike for Climate: London protest in photos

Show all 50
The University of Glasgow was the first university to divest in 2014 following a campaign. Since 2012, there have been student-led campaigns on more than 100 campuses in the UK.
In the past year alone, a number of Russell Group universities – including Exeter, Liverpool, York and University College London – have pledged to divest from fossil fuels.
But Oxford and Cambridge, who have committed to remove investments from coal and tar sands companies, are still subject to student-led campaigns over their links to the fossil fuel industry.
Zamzam Ibrahim, president of the National Union of Students (NUS), said the student movement to "marginalise" companies who profit from the "climate breakdown" has now made history.
"The campaign has displayed the power of students taking collective action together. We have reached this tipping point due to years of hard work and strategic organising by students, often working alongside staff, alumni and members of local communities," she said.
But Ms Ibrahim added: "Despite growing declarations of climate emergency, there are still the 50 per cent of UK universities who remain invested in the principle profiteers of the climate crisis.
"At a time when Australia burns in the bushfire crisis and climate deniers remain in positions of power across the globe, this lack of action is unforgivable.
"The social license of the fossil fuel industry has already been significantly damaged. We'll now use this moment as a springboard to continue campaigning until the whole university sector has divested and the fossil fuel industry can no longer operate."
Chris Saltmarsh, co-director for climate change campaigns at People & Planet, said: "Excluding this industry from our universities is now a mainstream and majority position.
"Universities not yet divested can now choose to stand with their students on the right side of history or be forever known as complicit in the crimes of climate breakdown."
In 2017, a PhD researcher at King's College London went on hunger strike to demand the university investing in coal, oil and gas companies.
A Universities UK spokesperson said: "Universities take climate change very seriously and recognise the importance of this issue to students and staff alike.
"Through their research, UK universities are leading the way in tackling global environmental challenges.
"As well as moving away from the use of fossil fuels, universities are working hard to tackle their own carbon footprints: investing in energy saving technologies, finding sustainable supply chains and focusing on greater energy efficiency, including greener and more sustainable buildings."
Join our new commenting forum
Join thought-provoking conversations, follow other Independent readers and see their replies