US to experience 'dangerous' global warming up to 20 years before most of the rest of the world
The heavily populated northeast will hit 3C of warming when the world average is at 2C, models predict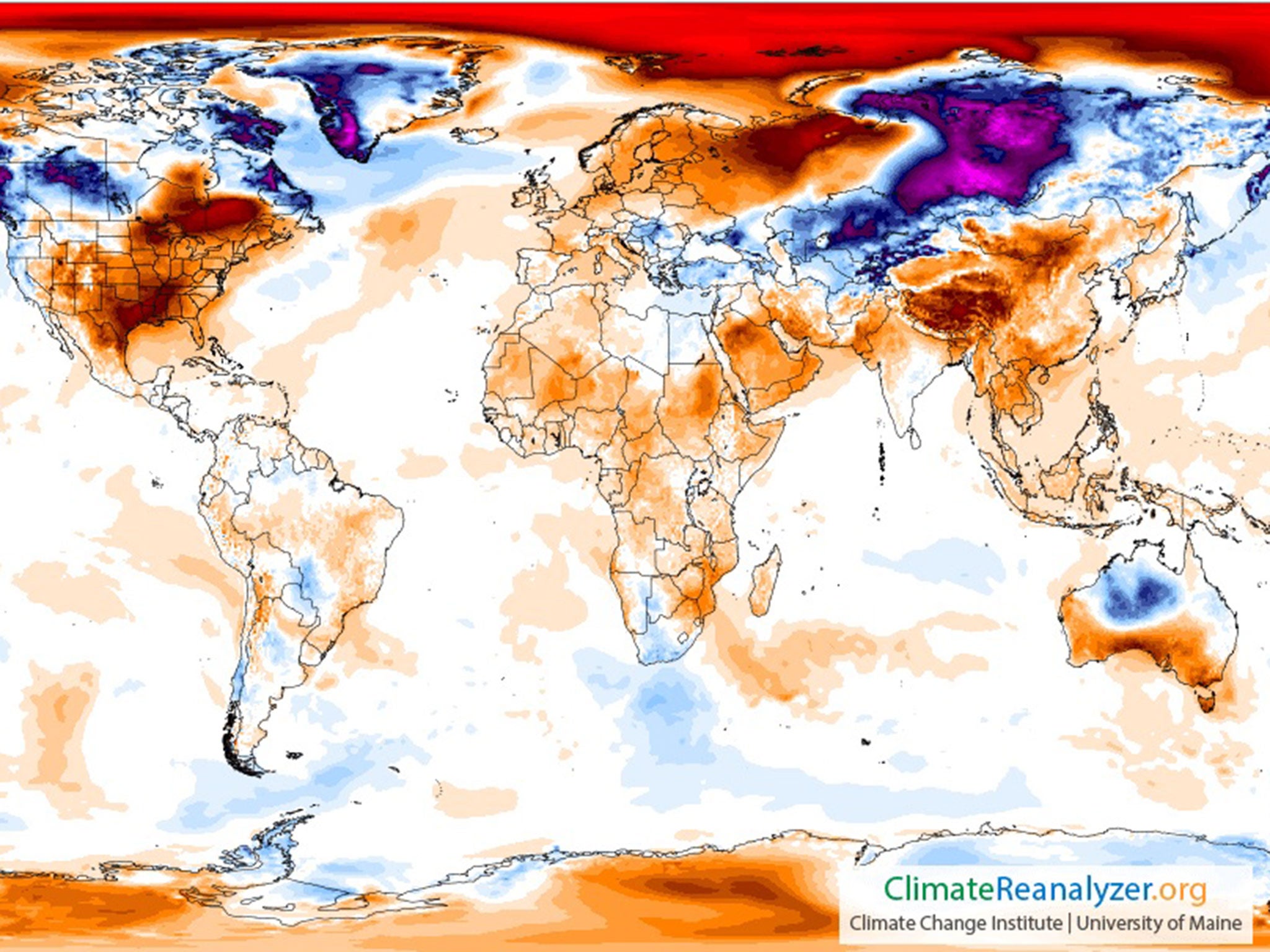 The United States will experience dangerous global warming up to 20 years sooner than the planet as a whole, according to experts' predictions.
A new study found that the mainland United States would hit two degrees Celsius of warming when the average for the rest of the world was 1.5C.
And the heavily populated Northeast would feel the effects even more with an extra 3C added to temperatures when the rest of the world averages a 2C rise, according to computer simulations.
The study was released as the US prepared to inaugurate Donald Trump, who has dismissed global warming as a hoax in the past, as its next president.
Writing in the journal Plos One, researchers from the University of Massachusetts Amherst pointed out that different parts of the world were experiencing different degrees of warming.
And they predicted the United States would reach 2C — the point at which scientists believe extreme weather events will start to become particularly dangerous — about 10 to 20 years before the world's average temperature.
Most models predict that the 48 states of the contiguous US will reach 2C by about 2050.
The Arctic has seen the most dramatic rises to date with reports of daily temperatures that are up to 20C higher than they normally are.
The Svalbard archipelago normally averages about minus 6.7C over a year, but last year the figure was around zero degrees.
The researchers wrote: "The differential warming of land and ocean leads to many continental regions in the Northern Hemisphere warming at rates higher than the global mean temperature.
"Adaptation and conservation efforts will, therefore, benefit from understanding regional consequences of limiting the global mean temperature increase to well below 2C above pre-industrial levels.
"The regional warming rates differ considerably across the contiguous US, but all regions are projected to reach 2C about 10-20 years before the global mean temperature.
10 photographs to show to anyone who doesn't believe in climate change
Show all 10
"Although there is uncertainty in the timing of exactly when the 1.5 and 2C thresholds will be crossed regionally, over 80 per cent of the models project at least 2C warming by 2050 for all regions for the high emissions scenario.
"This threshold-based approach also highlights regional variations in the rate of warming across the US.
"The fastest warming region in the contiguous US is the Northeast, which is projected to warm by 3C when global warming reaches 2C."
Join our commenting forum
Join thought-provoking conversations, follow other Independent readers and see their replies