US Energy Secretary Rick Perry told he lacks 'fundamental understanding' of climate science
'Scepticism that fails to account for evidence is no virtue'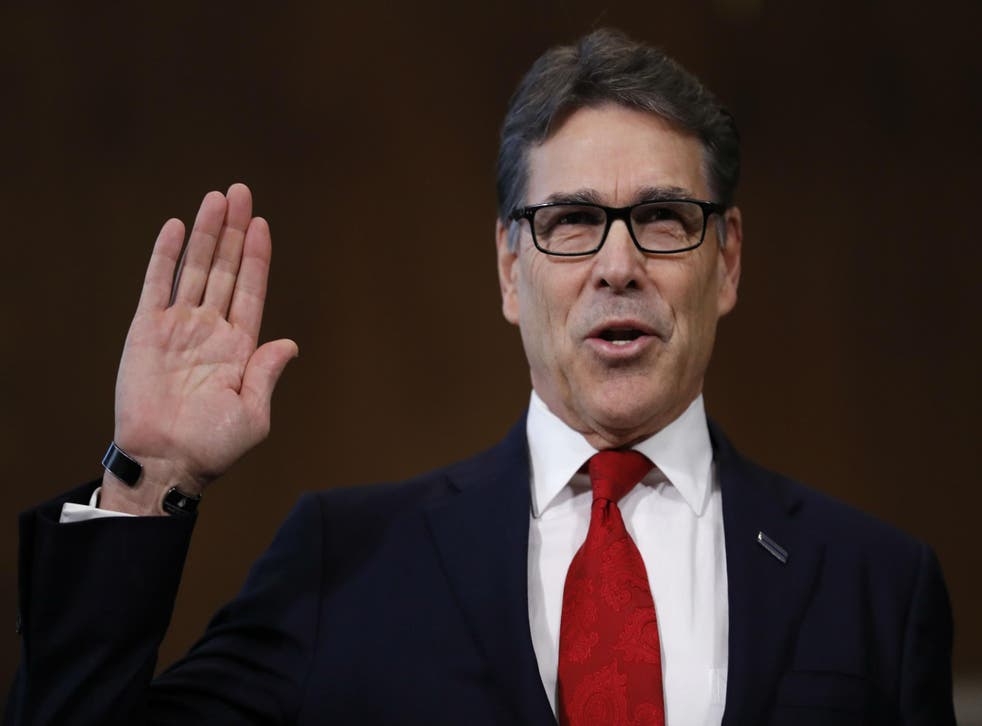 The American Meteorological Society has told Rick Perry he lacks a 'fundamental understanding' of science after the US Energy Secretary claimed carbon dioxide was not a primary cause of climate change.
The former governor of Texas told CNBC TV that "the most likely the primary control knob [for climate change] is the ocean waters and this environment that we live in", rather than greenhouse gas emissions produced by human activity.
Becoming the latest of Donald Trump's administration to dispute established science without any attempt at reasoned argument, Mr Perry also said it was "quite all right" to be a sceptic about climate change, suggesting the trait was one held by any "wise, intellectually engaged person".
In a letter, Keith Seitter, executive director of the American Meteorological Society, agreed that scepticism and debate were "critically important to the advancement of science".
However he added: "In climate science unresolved questions remain – issues that currently lack conclusive evidence.
"However, there are also very solid conclusions that are based on decades of research and multiple lines of evidence.
"Scepticism that fails to account for evidence is no virtue. As noted above, the role of carbon dioxide and other greenhouse gases as the primary driver for the warming the Earth has experienced over the past several decades is extremely well established."
Scientists discovered that carbon dioxide has a warming effect on the atmosphere in the 1800s with the Nobel-prize winning Swedish scientist Svante Arrenhius predicting the world's average temperature would rise as a result of human emissions in 1895.
As carbon dioxide has risen from about 280 parts per million at that time to more than 400 parts per million, the world's average temperature has risen by nearly one degree Celsius. This rise in atmospheric carbon has been directly linked to the burning of fossil fuels because it has a different signature to 'natural' carbon. No other plausible explanation exists for the increasing temperature.
Mr Seitter told Mr Perry: "It is critically important that you understand that emissions of carbon dioxide and other greenhouse gases are the primary cause [of climate change].
"This is a conclusion based on the comprehensive assessment of scientific evidence. It is based on multiple independent lines of evidence that have been affirmed by thousands of independent scientists and numerous scientific institutions around the world.
"We are not familiar with any scientific institution with relevant subject matter expertise that has reached a different conclusion."
He added that these "indisputable findings" were reflected in the society's statement on climate change.
"Without this fundamental understanding of the science, it is impossible to discuss potential policy changes in meaningful ways," Mr Seitter said.
"Department of Energy programmes have a major role to play in developing and informing the solutions for our nation's future energy needs, so it is especially important that the best possible science and understanding is applied to policy issues with respect to Department of Energy programmes."
10 photographs to show to anyone who doesn't believe in climate change

Show all 10
Mr Perry is not the only Trump official to receive such a letter. Scott Pruitt, the head of the Environmental Protection Agency, was accused of "mischaracterising the science" after claiming there was "tremendous disagreement" about climate change and saying he did not believe carbon dioxide was a primary cause.
Register for free to continue reading
Registration is a free and easy way to support our truly independent journalism
By registering, you will also enjoy limited access to Premium articles, exclusive newsletters, commenting, and virtual events with our leading journalists
Already have an account? sign in
Register for free to continue reading
Registration is a free and easy way to support our truly independent journalism
By registering, you will also enjoy limited access to Premium articles, exclusive newsletters, commenting, and virtual events with our leading journalists
Already have an account? sign in
Join our new commenting forum
Join thought-provoking conversations, follow other Independent readers and see their replies