US to become world leader in oil and gas thanks to fracking
Tom Bawden
Tuesday 13 November 2012 01:00 Comments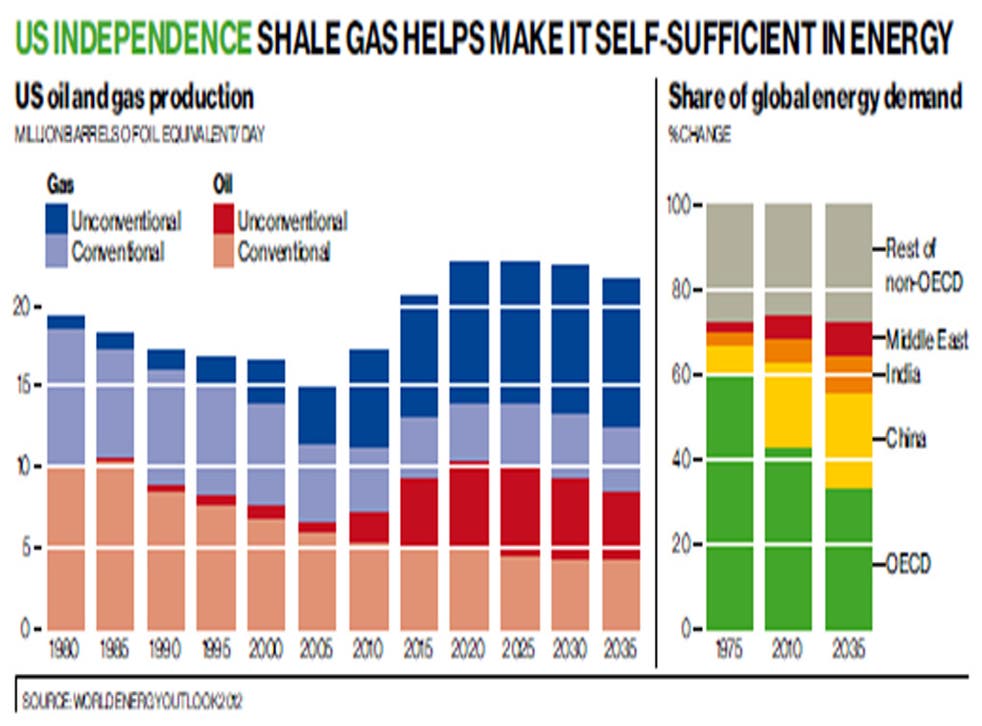 The United States will leapfrog Saudi Arabia and Russia to become the world's biggest producer of oil and gas in the next five years as the controversial practice of "fracking" for hydrocarbons contained in shale rocks has enabled the country to increase production massively, according to an authoritative new report.
In a development that will reshape the geopolitical map, US oil and gas production is set to leap by about a quarter by 2020 as the rapid growth of hydraulic fracturing, or fracking, propels the country towards providing all its own energy by 2035, according to this year's keenly watched World Energy Outlook report from the International Energy Agency.
Fracking is a highly controversial practice that involves blasting a mixture of sand, water and chemicals into shale rock to release the oil or gas inside. The process, which has been linked to earth tremors and water pollution, has boomed as rising oil prices and advances in horizontal drilling techniques have made available resources thought unrecoverable.
It was initially used to extract gas but it is increasingly being used to produce oil in states such as North Dakota and Texas.
The fracking boom will push US oil production up from 8.1 million barrels a day last year to 11.1 million in 2020 while gas extraction will jump from 604 billion cubic metres a day to 747 billion, the IEA said.
Maria van der Hoeven, the IEA executive director, said: "North America is at the forefront of a sweeping transformation in oil and gas production that will affect all regions of the world." The US presently imports about a fifth of its energy and has increasingly relied on Middle Eastern oil over the past five decades. However, by the time the country is self-sufficient in energy in 2035 nine tenths of Middle Eastern oil exports will be consumed by Asia, with China a particularly big customer.
In a report yesterday, the IEA said that global carbon emissions from generating energy rose by 3.2 per cent to a record 31.2 gigatonnes in 2011 as a 30 per cent jump in fossil fuel "consumption subsidies" to $523bn (£329bn) helped to entrench fossil fuels as the dominant source of energy.
Much of that increase performed a useful social function, as it resulted from governments in the Middle East and North Africa helping their populations to buy staples such as petrol and heating oil. However, the sheer scale of the fossil fuel subsidies will make it harder to curb global warming, when set against just $88bn worth of subsidies to renewable energy last year, the IEA said.
Furthermore, Europe's consumption of environmentally unfriendly coal is increasing as the US shale boom reduces domestic demand for its coal, which instead finds its way to the continent.
The IEA said the world was on course to emit 37 gigatonnes of carbon dioxide by 2035 from energy generation, which would imply a long-term temperature increase of 3.6 degrees Celsius from pre-industrial times, well ahead of the 2 degree level at which experts agree the worst consequences of climate change could be avoided.
Global oil demand is set to increase by just over a tenth to about 99 million barrels a day by 2035.
Register for free to continue reading
Registration is a free and easy way to support our truly independent journalism
By registering, you will also enjoy limited access to Premium articles, exclusive newsletters, commenting, and virtual events with our leading journalists
Already have an account? sign in
Join our new commenting forum
Join thought-provoking conversations, follow other Independent readers and see their replies