Valentine's Day cards made from illegally and unsustainably sourced wood found on British high street
WWF-UK calls on retailers to better scrutinise their supply chains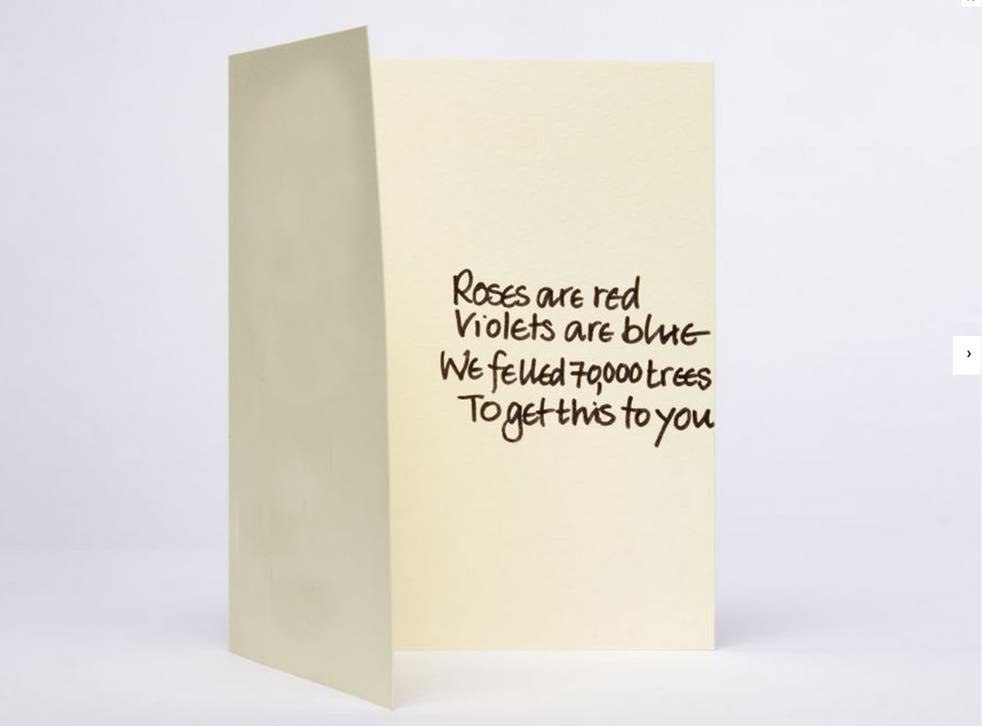 Some things are best left unsaid over Valentine's dinner. But what would your sweetheart think if they knew that in handing over your Valentine's card filled with tender declarations of love you may have helped to destroy thousands of acres of rainforest?
As heart-adorned cards fill high street shops, retailers are continuing to sell goods made with illegally and unsustainably sourced wood, according to a report from the World Wide Fund for Nature (WWF-UK).
Legislative loopholes in the EU Timber Regulation, introduced in 2013 to prevent illegally logged wood from being imported into Europe, mean that not all imported timber and wood products are covered by the regulation. Greetings cards, books and musical instruments fall outside the regulations.
WWF-UK organised the testing of 20 greetings cards and envelopes from a range of high street retailers, and found two items, bought at Card Factory and Clintons, that contained varying amounts of mixed tropical hardwood (MTH), suggesting the fibres originated from natural growth tropical rainforests.
One card purchased from Card Factory contained 10 per cent MTH fibres, while the paper component within a card bought from Clintons contained 8 per cent MTH. Both products also contained acacia, which WWF says is frequently grown in plantations created on recently cleared tropical forest.
Beatrix Richards, head of corporate stewardship, timber and seafood, at WWF, said: "These results suggest the true cost of our Valentine's card could be far greater than the price on the wrapping. They may be contributing to the further loss of some of the most valuable forests in the world."
WWF-UK called on retailers to better scrutinise their supply chains, allowing customers to feel assured they are buying cards from sustainable sources. With global demand for wood set to triple by 2050, WWF is asking businesses to sign up to its Forest Campaign, which aims to create a market dealing wholly in sustainable wood products by 2020.
Responding to the allegations, Card Factory said: "While the EU Timber Regulation doesn't currently apply to greetings cards, Card Factory operates as though it does. The card in question was made by a third-party supplier. It was produced in 2012, before EU Timber Regulation came into force and before we introduced further controls over our sourcing from third-party suppliers."
Clintons said: "We require all of our suppliers to comply with applicable law, including the EU Timber Regulation. This report has raised concerns which we are addressing with our supplier. The cards have been withdrawn. We will continue to strive to ensure the ethical sourcing of our timber products."
The illustration which features at the top of this item previously featured a design by greetings card firm The Art File. We would like to make clear that all its cards are made with Forest Stewardship Council (FSC) approved paper.
Register for free to continue reading
Registration is a free and easy way to support our truly independent journalism
By registering, you will also enjoy limited access to Premium articles, exclusive newsletters, commenting, and virtual events with our leading journalists
Already have an account? sign in
Register for free to continue reading
Registration is a free and easy way to support our truly independent journalism
By registering, you will also enjoy limited access to Premium articles, exclusive newsletters, commenting, and virtual events with our leading journalists
Already have an account? sign in
Join our new commenting forum
Join thought-provoking conversations, follow other Independent readers and see their replies