Victoria Falls: One of world's natural wonders at risk of drying up because of climate change, warns Zambian president
Average water flow at popular tourist attraction is down by half in 2019.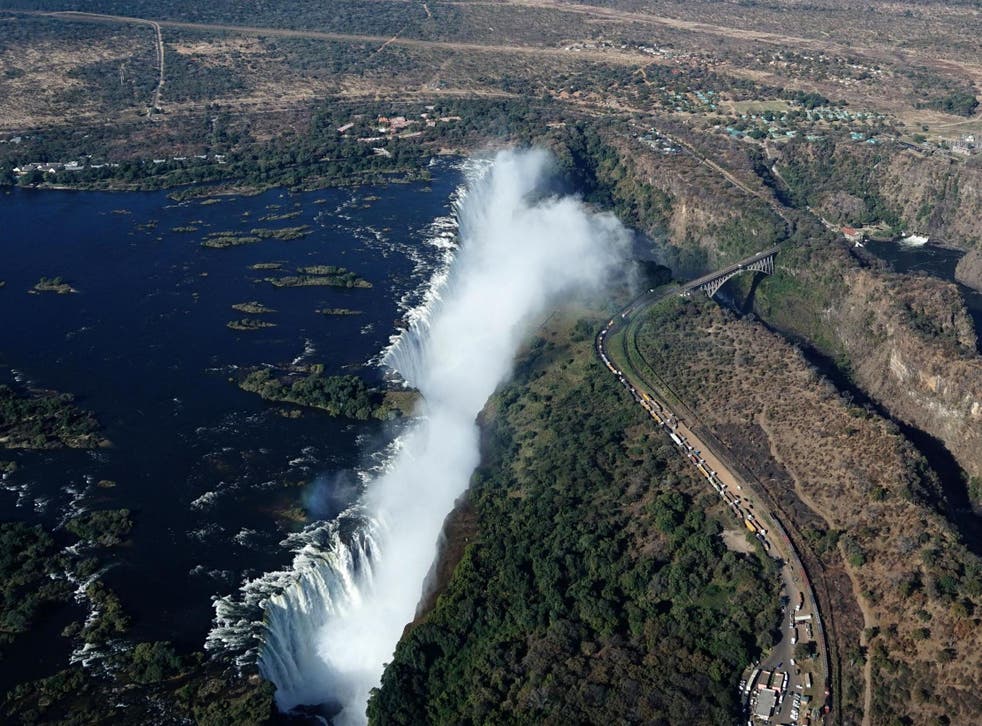 One of the world's natural wonders, the Victoria Falls, could one day dry up unless urgent action is taken to tackle the climate crisis, the Zambian president has warned.
Edgar Lungu said drought had reduced water levels at the falls – which border Zambia and Zimbabwe – to their lowest in 25 years.
Both countries have suffered power cuts as they are heavily reliant on hydropower from plants at the Kariba Dam, which sits on the Zambezi river upstream of the waterfalls.
While the falls typically dry up occasionally during the dry season, officials said this year had brought unprecedented decline in water levels.
The average flow over the falls in 2019 is down by almost 50 per cent, according to Zimbabwe's Ministry of Environment, Climate and Tourism.
Drama lessons: The traveller's guide to natural wonders

Show all 6
In an interview with Sky News in Zambia's capital Lusaka, Mr Lungu said: "Do we want to want to pass on the Zambezi without the mighty Victoria Falls?
"Do we want to pass on Africa and the next generation without the mighty Victoria Falls? Is that what we want? There are practices and measures we can take now."
In October, the Zambian president tweeted a picture of the falls with barely a trickle of water descending the dry rock face. The scene is more famously known as a wall of cascading water – up to a kilometre wide – which draws hundreds of thousands of tourists a year.
"These pictures of the Victoria Falls are a stark reminder of what climate change is doing to our environment and our livelihood," wrote Mr Lungu. "It is with no doubt that developing countries like Zambia are the most impacted by climate change and the least able to afford its consequences."
This week Zimbabwe's tourism authority denied the falls were at risk of disappearing amid fears the publicity could deter visitors.
"It's normal to have low water this time of the year but the falls will never dry in our lifetime. We haven't had as much water as we have had in the past years but it's not dry," said board member Blessing Munyenyiwa, in comments reported by The Chronicle newspaper.
But Elisha Moyo, principal climate-change researcher at the country's environment ministry, said the disappearance of the falls was a "serious possibility".
"It's a worry," he told the BBC's Hardtalk last month. "Maybe one year there will be no falls completely, no water."
He added the falls drying up would mean the loss of Zimbabwe's "tourism trump card" but would also affect animals reliant on the Zambezi's water supply.
Support free-thinking journalism and attend Independent events
Droughts in southern Africa have also affected crops, leaving millions of people facing food shortages
Zimbabwe's finance minister Mthuli Ncube said in October that water in the Kariba dam was so low "we are dangerously close to a level where we have to cut off power generation".
Water and power shortages are set to shrink the county's economy by 6.5 per cent this year, he added.
Join our new commenting forum
Join thought-provoking conversations, follow other Independent readers and see their replies