Victory for campaigners as UN judges order Japan to stop hunting Antarctic whales
Tom Bawden
Tuesday 01 April 2014 11:03 Comments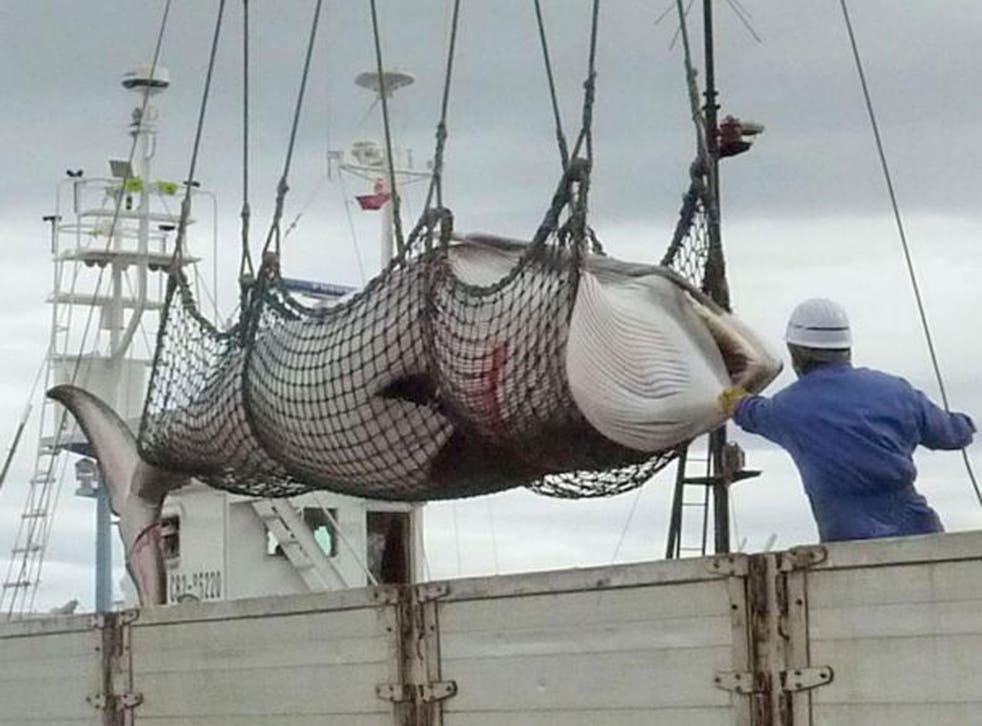 Japan has been ordered to end whale hunts in the Antarctic in a historic ruling that saw United Nations judges dismiss longstanding Japanese arguments that the hunting of more than 900 whales a year was carried out for scientific research purposes only.
The International Court of Justice's ruling, which was made today at The Hague, is binding on Japan and cannot be appealed following a case bought by Australia in 2010.
The decision raised hopes that commercial whaling could be totally eradicated by putting pressure on Norway and Iceland, the other two nations which have continued killing and selling whales in their territorial waters, despite an international ban since 1986.
Japan had justified the slaughter of more than 10,000 whales in the Southern Ocean in the past 25 years on the grounds that it was done for scientific purposes, even though it sold them on commercially. This exempted Japan from the 1982 Whaling Moratorium, which came into effect four years later, the country claimed.
However, the UN's International Court of Justice dismissed Japan's claim that the cull was motivated by the need to study such things as the whales' migratory patterns and their impact on ocean ecosystems.
"Japan shall revoke any existent authorisation, permit or licence granted and refrain from granting any further permits in pursuance to the programme," Judge Peter Tomka said.
"Japan has violated the memorandum on commercial whaling in each of the years during which it has set catch limits above zero for minke whales, fin whales and humpback whales," he added.
Under its Antarctic programme Japan has a target of 850 minke whales, 50 fin and 50 humpback whales.
The ruling noted that Japan had not considered a smaller programme or methods of studying whale populations that did not involve killing them, while critics have repeatedly said that the sale of the meat to restaurants and supermarkets – while legal under the research exception – raises questions about the real intention of the science programme.
"Special permissions granted by Japan are not for purposes of scientific research. The evidence does not establish that the programme's design and implementation are reasonable in relation to its stated objectives," the court ruling said.
The ruling – given in response to a suit brought by Australia – was welcomed by campaign groups around the world who have been protesting against whaling for decades. Members of the Sea Shepherd Conservation Society have been particularly dogged in disrupting culls by obstructing Japanese whaling ships with small high-speed boats as well as other less conventional tactics, such as bombarding their crews with rancid butter. Japan's fishing ministry responded by sending support ships to try and ward off the protests.
"The International Court of Justice findings that Japan's whaling is illegal vindicates a decade of courageous actions," said Sea Shepherd Australia Chairman, Bob Brown.
Willie MacKenzie, UK Oceans Campaigner at Greenpeace, another long-term whaling activist, added: "This is hugely significant. We welcome this verdict which will hopefully mark the end of whaling in the Southern Ocean around Antarctica. The myth that this hunt was in any way scientific can now be dismisses once and for all."
An official at the Japanese Fisheries Agency stood by his country's claim that its whaling programme was primarily concerned with science.
"Japan's whaling is purely for the purposes of obtaining scientific data, so that whale resources can be sustainably maintained," he said. In its defence, Japan cited two peer-reviewed papers relating to its science programme and contended that it only hunted whales whose populations have recovered to sustainable levels.
However, Japan promised to abide by the ruling. Its Foreign Affairs Ministry spokesman said Japan "regrets and is deeply disappointed" by the decision.
"But as a state that respects the rule of law and as a responsible member of the global community, Japan will abide by the ruling of the court," he said.
Although the ruling halts by far the biggest source of whale killings, it does not mark an end to the practice altogether. Japan has a second, smaller programme in the northern Pacific, while Norway and Iceland continue to kill whales and ship them to Japan. However, campaigners are optimistic that the UN's decision could have a domino effect on the remaining activities.
Patrick Ramage, director of the International Fund for Animal Welfare's whale programme, said: "The ruling certainly has implications ultimately for whaling by Iceland and Norway as well. I think it will increase pressure on those two countries to reexamine their own whaling practices and the various reasons and pretexts given for that whaling activity," he added.
Sarah Gregerson, a whaling lawyer at Client Earth, said the court ruling left the door open for Japan to create a new Southern Ocean whaling programme for the purposes of scientific research – but pointed out that any new programme will need to prove the necessity of killing the whales. Paul Jepson, a wildlife population researcher at the Zoological Society of London, said it would be hard to prove that the cull was necessary to any scientific research.
The decision could make for a fraught meeting in Tokyo next week when Australian prime minister Tony Abbott is due to meet Shinzo Abe, his Japanese counterpart, for talks to try and agree a free trade deal.
Australian officials are expected to play down the whaling case which was launched under former prime minister Kevin Rudd in 2010, following a pre-election pledge he made a time of significant public anger over Japanese whaling.

Register for free to continue reading
Registration is a free and easy way to support our truly independent journalism
By registering, you will also enjoy limited access to Premium articles, exclusive newsletters, commenting, and virtual events with our leading journalists
Already have an account? sign in
Join our new commenting forum
Join thought-provoking conversations, follow other Independent readers and see their replies