Earth on track for its warmest year on record after hottest September in 136 years
Eleven out of the past 12 months have set new records for average global temperatures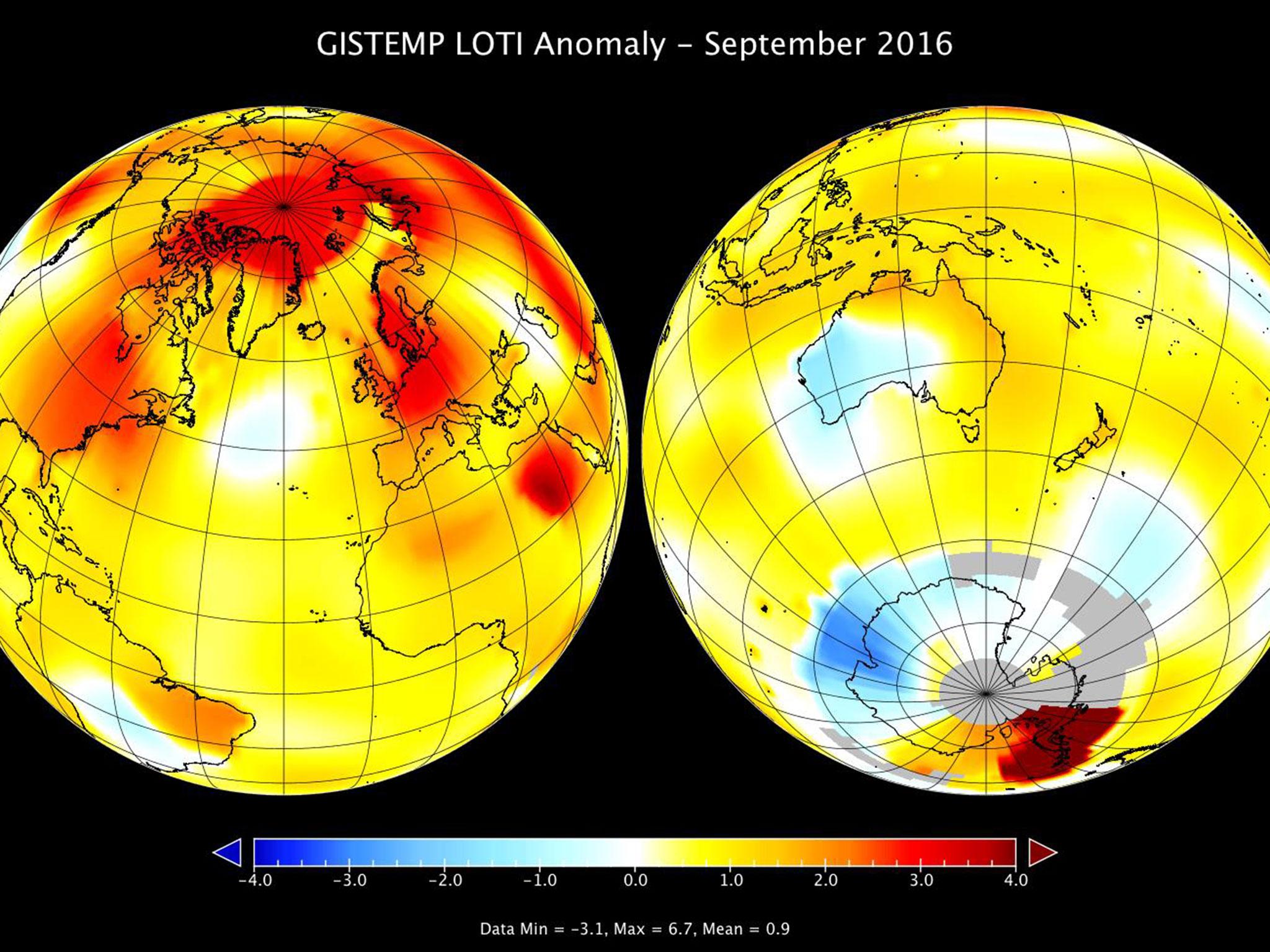 Last month was the warmest September the world has seen since modern records began 136 years ago, according to new figures from Nasa.
However the US agency added that the difference between it and the previous record in September 2014 was just 0.004 degrees Celsius, making the result a statistical tie.
It was 0.91 degrees warmer than the average temperature for the month between 1951 and 1980.
The figures mean 11 of the past 12 months have set new records for highest average temperature.
However, Nasa said it had now established that June this year was not a record, as it previously said.
Additional temperature readings from Antarctica showed it was actually the third warmest June, behind last year and 1998.
Gavin Schmidt, director of Nasa's Goddard Institute for Space Studies, said: "Monthly rankings are sensitive to updates in the record, and our latest update to mid-winter readings from the South Pole has changed the ranking for June.
"We continue to stress that while monthly rankings are newsworthy, they are not nearly as important as long-term trends."
This year is on track to be the warmest on record.
The Nasa figures are calculated using publicly available information from about 6,300 weather stations around the world, including ships and buoys that measure the temperature of the sea.
The records go back to the 1880s as prior to this there were not enough temperature readings to give a global average.
Climate change is already causing significant effects on the world with scientists recently concluding that the area affected by forest fires in the western US had doubled in size over the last 30 years as the vegetation in places like California has dried out.
Climate change protests around the world
Show all 25
Atlantic hurricanes like Sandy, which killed 157 people and caused £57bn of damage when it hit New York and New Jersey, have also become more likely.
Scientists estimated that storms capable of producing the surge floods caused by Sandy had increased by three times between 1800 and 2000.
Join our commenting forum
Join thought-provoking conversations, follow other Independent readers and see their replies