Water firms admit pumping raw sewage into UK rivers and seashores 1,000 times a day
Current situation is 'simply not good enough', Environment Agency boss says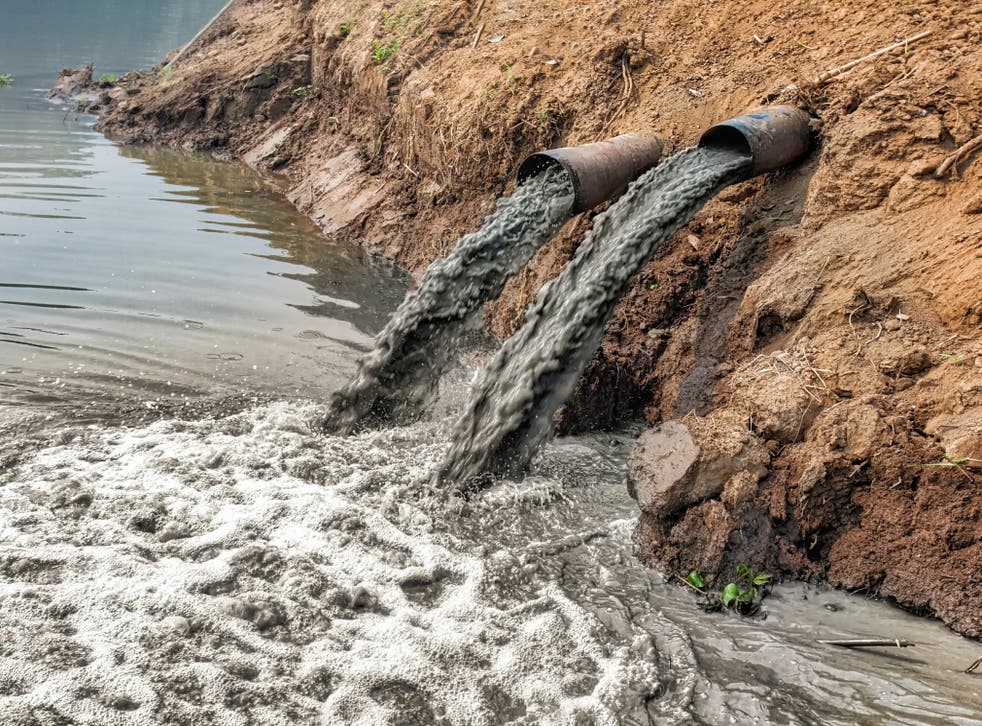 Water companies have admitted to discharging raw sewage into England's rivers, estuaries and seas around 1,000 times a day during the last year, according to government data.
While they are permitted to do this during times of heavy rainfall, the Environment Agency says spills can affect water quality if they happen too often.
It revealed discharges from storm overflows – which releases untreated sewage and rainwater into the environment to ease pressure on the system – happened more than 372,000 times in 2021.
There were more than 2.6 million hours of spills last year, the Environment Agency data – provided by water and sewerage firms – showed.
The Liberal Democrats said it was a "national scandal" and accused ministers of "ignoring outrage" over how often untreated sewage is going into waterways.
"The government is letting water companies get away with polluting our rivers and poisoning animals for decades to come," Tim Farron, its rural affairs spokesperson, said.
The Environment Agency says storm overflows are an important part of the sewerage system. They prevent the system from getting overwhelmed during heavy and prolonged rainfall to avoid flooding or sewage overflowing into streets and properties.
The government has been trying to clamp down on spills – which can pollute waterways and harm ecosystems – happening too frequently.
Releasing the new data, it said most storm overflows now have monitoring devices, which provides information on how often they are being used to help to "hold water companies to account and drive environmental protections".
The data showed 5 per cent of storm overflows recorded 100 or more spills during the last year. The average number was 29 times.
The total number of spills – 372,533 – was down on the previous year, when more than 400,000 were recorded.
But the government admitted the figures showed water firms had been discharging sewage into rivers and seas more than they should.
Sir James Bevan, the chief executive of the Environment Agency, said water companies have "rightly been under increasing pressure" from his organisation, campaigners and the public "for allowing far too many sewage spills into rivers".
He said the current situation was "simply not good enough" and said water firms needed to "act now to reduce their overflows to the minimum possible".
Dr Richard Benwell from Wildlife and Countryside Link, a network of environmental groups, said: "These figures show another year of our waterways being choked by sewage pollution. This must change, for our own health as well as that of plants and animals struggling to survive in our polluted waters."
The new figures were released on the same day as government proposals to tackle storm sewage discharges. These include strict limits on when water companies can use overflows and for firms to eliminate ecological harm of spills.
An increase in extreme weather events – including heavy rainfall driven by the climate crisis – and a growing population were both increasing pressure on the sewerage system, which was leading to discharges of untreated sewage happening too often, the government said.
Water quality in England has been under increasing scrutiny, with MPs warning earlier this year that rivers were suffering from a "chemical cocktail of pollution" – with sewage making up a key part of this.
A previous report said England's rivers, lakes and streams had some of the lowest water quality in Europe and warned the climate crisis was worsening conditions.
Launching the consultation on new sewage spill proposals, George Eustice, the environment secretary, said: "We are the first government to set out our expectation that that water companies must take steps to significantly reduce storm overflows.
"Today, we are setting specific targets to ensure that those storm overflows are used only in exceptional circumstances – delivering on our Environment Act and building on wider work on water quality."
Register for free to continue reading
Registration is a free and easy way to support our truly independent journalism
By registering, you will also enjoy limited access to Premium articles, exclusive newsletters, commenting, and virtual events with our leading journalists
Already have an account? sign in
Register for free to continue reading
Registration is a free and easy way to support our truly independent journalism
By registering, you will also enjoy limited access to Premium articles, exclusive newsletters, commenting, and virtual events with our leading journalists
Already have an account? sign in
Join our new commenting forum
Join thought-provoking conversations, follow other Independent readers and see their replies