Ships must slow down to protect whales and the climate, say conservationists
Noise from ships increases stress, and reduces their ability to locate relatives and prey, says charity
Wednesday 24 October 2018 08:12
comments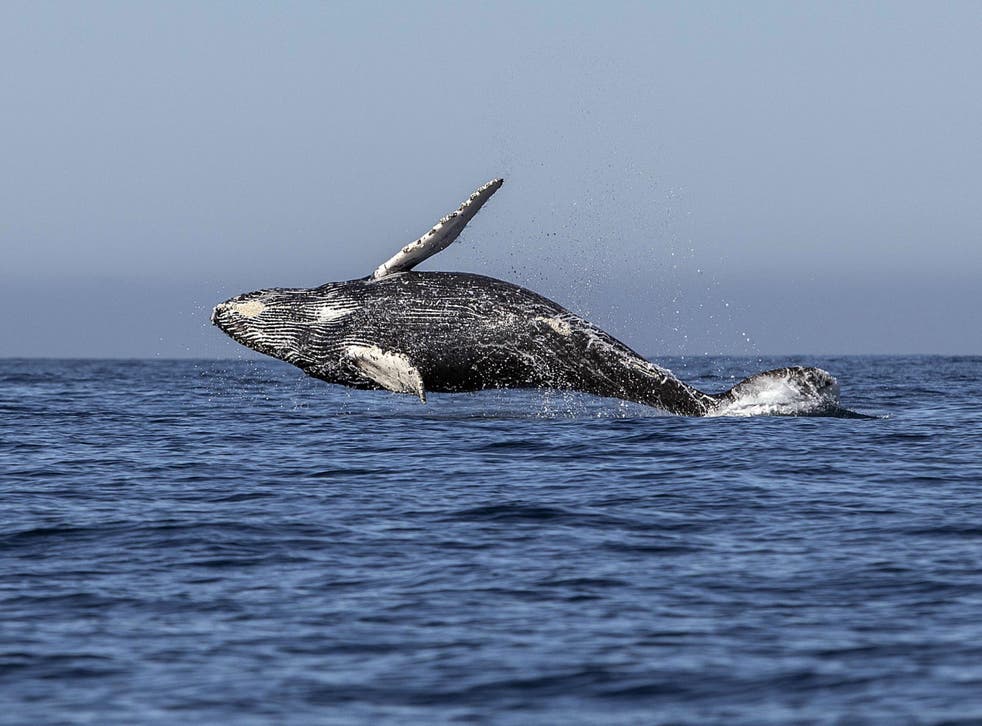 Ships must travel at slower speeds to help protect protect whales, leading conservationists have said during a major international summit on environmental protection.
The step would also reduce greenhouse gas emissions and air pollution, potentially helping protect against climate change and benefiting human health, according to the open letter.
Delegations from more than 100 countries around the world have gathered in London for a summit held by the International Maritime Organisation's (IMO) to discuss how to make the shipping industry more environmentally friendly.
The letter, signed by 10 organisations including the World Wildlife Foundation (WWF) and Whale and Dolphin Conservation North America, says enforced speed controls on ships would have "multiple benefits".
It calls on the IMO's environmental committee to decide on a timeline for an impact study before adopting such a rule.
"Managing the speed of ships, as is done in other transport sectors, would be a useful policy lever in cutting greenhouse gas emissions, with associated benefits for marine life," the letter says.
"Air pollution, whether of SOx, NOx, particulate matter, or black carbon, could similarly be reduced.
"For whales and dolphins, slower ship speeds could reduce underwater noise pollution, and reduce incidents of whale strikes.
"Speed could be a valuable tool in the IMO's toolbox, for the climate, human health, and marine life."
Explaining how the speed reduction could benefit animals, Regina Asmutis-Silvia, executive director of the Whale and Dolphin Conservation North America said: "Underwater noise from ships increases levels of stress-related hormones in whales, which can impact their ability to reproduce and impair their immune systems.
"Because whales and dolphins are highly dependent on sound to communicate, navigate, socialise, and locate prey, a noisy ocean is one in which their field of 'vision' shrinks, requiring whales to increase the amplitudes of their calls.
"Increasing vocal outputs can be energetically expensive, increase stress, and reduce their ability to locate their relatives and prey.
"Slower speeds can reduce underwater noise levels, and therefore may help some whale populations recover."
UK news in pictures

Show all 50
She continued: "Ship strikes can be a limiting factor in the recovery of endangered species such as the endangered North Atlantic right whale.
"Slower speeds reduce incidents of whales and ships colliding, and therefore may help some whale populations recover."
Join our new commenting forum
Join thought-provoking conversations, follow other Independent readers and see their replies