Why meat-eating Germany has gone off its Greens: Europe's most successful environmentalist party risks a reputation for meddling
From 1998 until 2005, they ruled in coalition with the Social Democrats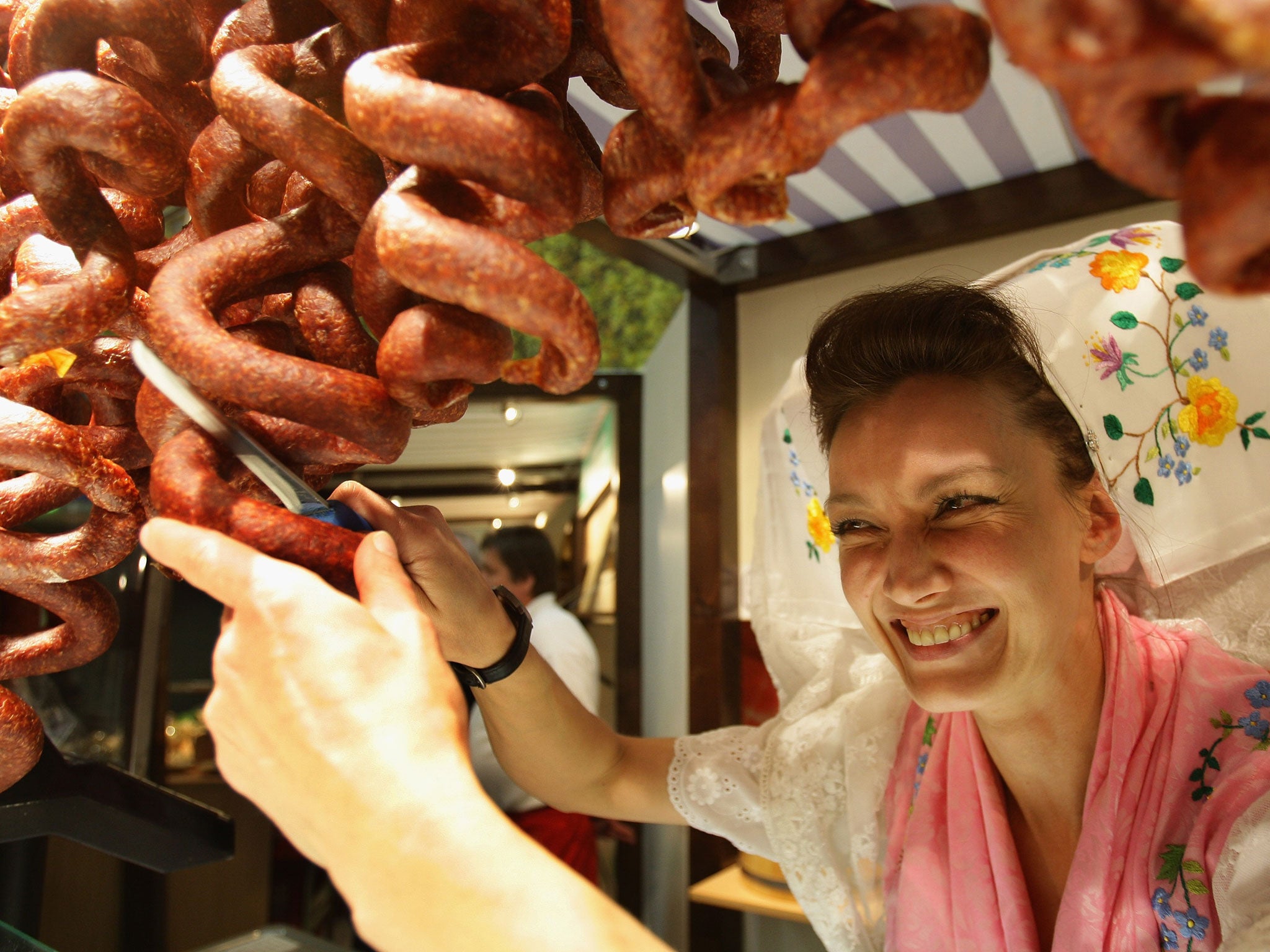 The event was clearly meant to resemble Green heaven on earth: at an all-organic, sunflower-decorated, multi-cultural kindergarten in middle class central Berlin, the German Green Party's top female candidate in next week's general election was busy making "vegetarian only" lunch for a group of children from 27 different countries.
But heaven for the Greens appears to be very different from that imagined by the rest of Germany. The party is facing growing accusations of promoting "nanny state" policies in the run up to Germany's 22 September poll. Support is currently draining away from the party at an alarming and unprecedented rate – not least because it has advocated a "vegetarian only" meal day once a week at office canteens and schools nationwide.
The suggestion did not go down well in a country famous for loving its meat. Instead it backfired badly. "How dare the Greens tell us what to eat !" trumpeted Germany's mass circulation Bild newspaper, the day after the proposal was floated. MPs in Chancellor Angela Merkel's ruling Christian Democratic Party accused the Greens of "dictating" to the public.
The furore over "Veggie day" was an embarrassment to 47-year-old Katrin Göring-Eckhardt, an east German Protestant churchwoman and Greens co-leader who is one of the party's two top candidates in the forthcoming general election on Sunday week. However it did not prevent her from taking the opportunity to show the world how to make a vegetarian lunch.
"We've been misunderstood," she told The Independent today as she chopped organic peppers and tomatoes for a kindergarten pasta sauce, "We are not out to impose our will on anyone, the vegetarian food day idea is a suggestion which should only be implemented on a purely voluntary basis," she insisted.
However the damage done appears to be irreversible. An opinion poll published this week showed that support for the Greens had dropped to below 10 per cent – the party's worst popularity rating in four years.
The party's fall from grace is dramatic; eighteen months ago, in the wake of the Fukushima disaster the Greens were polling between 23 and 30 per cent. Some even saw the party as Angela Merkel's future coalition partners.
"Believe the polls if you want, but it will be the voters who decide on September 22 and we still aim to convince many who are as yet not sure who to opt for," Mrs Göring-Eckardt said. Yet the party's popularity nosedive has made it even less likely that a centre-left coalition of Greens and Social Democrats will manage to oust Ms Merkel's conservative coalition.
The Greens' dilemma is a far cry from the seven years from 1998 until 2005 when the world's most successful environmentalist party ruled Germany with its Social Democrat coalition partners, and with Joschka Fischer, the firebrand former Green foreign minister, at its head.
"I usually vote Green, but I'm not so sure this time," said Katja Scholer, one of the parents at Berlin's organic kindergarten today. She blamed the party's decline on lack of inspiring leadership. "There are no Joschka Fischers any more," she complained.
Lack of convincing leadership may be one explanation for the fall in Green support. The other is what has been described as its new "intrusiveness" which appears to run counter to the Greens' easy-going image as an anti-nuclear protest party with pacifist roots.
The "Veggie Day" proposal was one example destined to deter meat eaters. In a country which worships the car, Green plans to widen 30kmh speed limits have also gone down like a lead balloon.
Proposals to introduce a "wealth tax" to fund investment in education and infrastructure were announced by the Green's other co-leader, Jürgen Trittin, the veteran former environment minister, during the party's campaign. But these too have backfired and appear to have frightened voters.
"We have a communication problem," admitted Tarek Al-Wazir, a Green party spokesman in Frankfurt, "Many people think they are going to be affected by the tax. We are only talking about the top seven percent of earners," he insisted.
But if recent surveys are correct, Green supporters are to be found increasingly among Germany's wealthy. A study released by Germany's Institute for Economic Research earlier this month showed that 17 per cent of the top 10 per cent income group – which covers households earning €3,000 a month or more – supported the Greens. "In 2013, a Green voter is just as likely to be a high-earning yuppie in a trendy Berlin neighbourhood as a Birkenstock-wearing tree-hugger. The ecotopians of yore now find themselves smack in the centre of German society," is how Der Spiegel magazine put it.
Yet the person who was probably done most damage to the Greens is Angela Merkel. Most German political observers agree that her post-Fukushima policy U-turn which has resulted in Germany's decision to abandon nuclear power has not only robbed the Green Party of one of its principal causes but part of its identity as well.
The Greens say that the party's disastrous opinion poll results have encouraged the leadership to redouble campaign efforts in the final week before the election. " We have seen some remarkable opinion polls before elections in the past too," said Jürgen Trittin. He was referring to 2002 when his party was lagging badly behind in the polls but surged ahead at the last minute and entered government with the Social Democrats.
Another green world: Party status
* New Zealand's Green party was the first, starting in the early 1970s. The party currently has 14 MPs in parliament.
* The Canadian Green party currently has 1 of 308 seats in the House of Commons, won in 2011.
* The French Green party, Europe Ecology, won 16.28 per cent of the vote in the 2009 European elections and have 15 of 74 seats in the European Parliament.
* Australian Green MP Adam Brandt recently managed to keep the Green party's only seat in parliament.
* The Green party of England and Wales is one of the oldest Green parties there is, having campaigned for over 30 years. They currently have one seat in the House of Commons, with another seat in the House of Lords.
Lottie Morley
Join our commenting forum
Join thought-provoking conversations, follow other Independent readers and see their replies