Wilderness land set to disappear from planet by 2100 as humans move in
'The amount of wilderness loss in just two decades is staggering and very saddening'
Ian Johnston
Environment Correspondent
Thursday 08 September 2016 20:44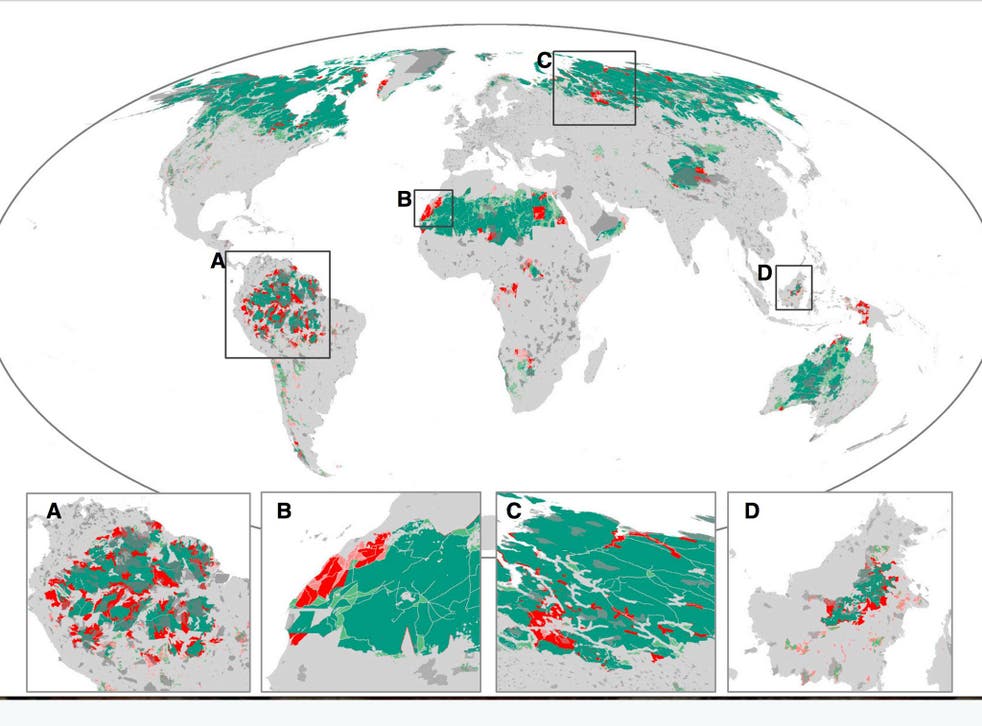 A tenth of the world's wild land – an area equivalent to half the vast Amazon basin – has been lost in just two decades in an "alarming" trend that requires urgent action on an international scale, experts have warned.
At the current rate of decline there will be no significant areas of wilderness – defined as an area "mostly free of human disturbance" – left on the planet in less than 100 years, the researchers said.
Mining, illegal logging, deliberately set fires to clear forest for agriculture, and oil and gas exploration were all contributing to the devastation of essentially natural environments, which are home to many of the world's endangered species.
10 per cent of the world's wildernesses disappearing in 20 years
Writing in the journal Current Biology, the researchers said: "All wilderness areas, regardless of their size threshold, warrant immediate scrutiny for conservation action, especially in regions with low levels of remaining wilderness areas.
"The continued loss of wilderness areas is a globally significant problem with largely irreversible outcomes for both humans and nature: if these trends continue, there could be no globally significant wilderness areas left in less than a century."
A map of the wildernesses still left shows the main remaining areas are in the Sahara, the northern tundras of Russia and Canada, the Amazon basin and central Australia.
The researchers concluded there was a total of 30.1 million square kilometres of wilderness left, amounting to just 23 per cent of Earth's land mass.
An estimated 3.3 million square kilometres has been lost since the early 1990s, equating to a 9.6 per cent decline over that period.
The one glimmer of hope was that most wilderness areas were large – with 82 per cent extending for more than 10,000 square kilometres.
The international team of researchers, led by Professor James Watson of the Wildlife Conservation Society, found vast areas of the Amazon had been lost since the 1990s with other major declines in west Africa, Russia and Indonesia.
Some scientists believe the Earth has entered the sixth mass extinction of life in its history – comparable to the meteor that wiped out the dinosaurs 66 million years ago.
This is one of the reasons why geologists are considering declaring a new epoch, called the Anthropocene, because of humans' widespread effects on the planet.
The paper said the loss of wilderness could tip already endangered species over the edge.
"Earth's remaining wilderness areas sustain the last strongholds of many imperilled species," it said.
"The geographic ranges of one-third of all terrestrial mammal species overlap with globally significant wilderness areas, including extensive parts of the distribution of 12 per cent of all threatened mammal species.
"Thus, ongoing and rapid loss of wilderness increases the risk of extinction for species that are already highly threatened."
It noted the 'rewilding' movement in Europe and North America and some conservation efforts by individual countries, but added such "positive examples" were too few to make a significant difference.
Animals in decline

Show all 8
Professor Watson, of Queensland University, urged world leaders to take action before it was too late.
"The amount of wilderness loss in just two decades is staggering and very saddening," he said.
"We need to recognise that wilderness is being dramatically lost and that without proactive global interventions we could lose the last jewels in nature's crown.
"You cannot restore wilderness. Once it is gone, the ecological process that underpin these ecosystems are gone, and it never comes back to the state it was. The only option is to proactively protect what is left."
Paul de Zylva, a nature campaigner with Friends of the Earth, said a healthy natural environment "underpins everything else – our economy, health and well-being".
"World governments must take drastic action now to meet their pledges to reverse nature's decline by 2020," he said.
"This means changing direction from the business as usual destruction – and especially the damage caused by farming, mining and oil and gas exploration."
Register for free to continue reading
Registration is a free and easy way to support our truly independent journalism
By registering, you will also enjoy limited access to Premium articles, exclusive newsletters, commenting, and virtual events with our leading journalists
Already have an account? sign in
Register for free to continue reading
Registration is a free and easy way to support our truly independent journalism
By registering, you will also enjoy limited access to Premium articles, exclusive newsletters, commenting, and virtual events with our leading journalists
Already have an account? sign in