Wind farm approval rate drops to all-time low
Jonathan Brown
Tuesday 10 June 2014 17:28 Comments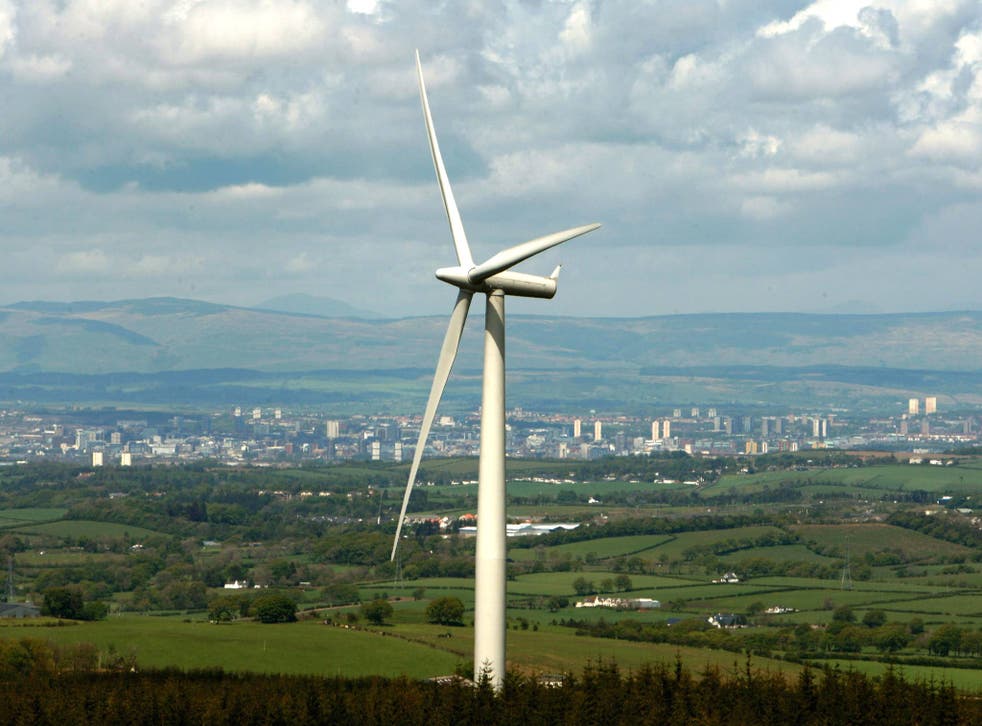 Two thirds of new onshore wind farm applications have been rejected this year amid fears that the once-burgeoning industry could be sacrificed by the Government, with carbon-reduction targets missed, to assuage widespread defections of Tory voters to Ukip at the next general election.
Industry figures reveal that the local authority approval rate for the green energy has reached an all-time low in the UK with the number of schemes being given the go-ahead plunging by half in the first five months of 2014 compared to the previous three years.
Just 33 per cent of applications were approved in England, according to RenewableUK which represents the renewable energy sector. Across the UK some 164 projects have been halted since January as a result of opposition – resulting in the loss of enough energy to power 321,186 homes, it is claimed.
The industry believes that many English councils are now following the lead set by Communities Secretary Eric Pickles, who since October has rejected 11 out of 13 applications, including five in which he has overruled the advice of the Planning Inspectorate. A further 27 decisions are pending after the Minister today called in another scheme for scrutiny in Cambridgeshire.
RenewableUK said Mr Pickles' decision to personally decide the fate of applications in England had caused "great confusion" among planners and councillors.
Chief executive Maria McCaffery said: "It's unfortunate that we've reached a point where the Conservatives are allowing Ukip to dictate Tory energy policy. When it comes to something as important as guaranteeing the security of the UK's future energy supply, the British public deserve better than ill-considered, short-term policy making on the hoof like this."
"Investors are shaking their heads in disbelief as the Tory party wilfully damages confidence in one of Britain's flagship new industries," she added.
Local opposition groups have sprung up across the UK campaigning against plans to build wind farms close to communities. Ukip leader Nigel Farage has spoken of his wish to "blow up" turbines "personally".
In April Conservative energy minister Michael Fallon announced a dramatic change in policy when he said a future Tory government would end bill-payer subsidies for onshore wind power – potentially making future schemes economically unviable.
It is a far cry from David Cameron's days as opposition leader when he fitted a micro generator to the roof of his constituency home. The Government is now championing the expansion of politically less hazardous off-shore wind farms which critics say require twice as much bill-payer subsidy as onshore turbines.
Alasdair Cameron, renewable energy campaigner at Friends of the Earth, said: "The economics of renewable energy are improving all the time and it will not be long before onshore and solar are the cheapest energy sources available. The Government is gambling with the UK's future both environmentally and economically by trying to play up to the fringes of the Conservative party in certain areas."
There are 4,417 turbines operating in the UK with plans for a further 3,000. Opponents of further expansion argue that the current plans mean Britain will easily hit the EU target of producing 30 per cent of electricity by 2020 although opponents say this figure should be higher and that not all planned schemes will be built.
Susan Crosthwaite, of the European Platform Against Windfarms, which represents 600 groups, said the UK had become "saturated" with turbines. "More and more people are recognising the negative effects of them both on the health of those who live close to them, property values and the landscape," she said.
Communities Minister Kris Hopkins said: "Inappropriately sited wind turbines can be a blot on the landscape, harming the local environment and damaging heritage for miles around. We make no apologies for changing planning guidance to ensure that these issues are properly taken into account."
Register for free to continue reading
Registration is a free and easy way to support our truly independent journalism
By registering, you will also enjoy limited access to Premium articles, exclusive newsletters, commenting, and virtual events with our leading journalists
Already have an account? sign in
Join our new commenting forum
Join thought-provoking conversations, follow other Independent readers and see their replies