Conservative MPs who called for onshore wind 'ban' out of step with constituents, poll reveals
'The time is now right for those MPs who have opposed onshore wind to throw their support behind the UK's cheapest new power source'
Josh Gabbatiss
Science Correspondent
Saturday 04 August 2018 23:24 Comments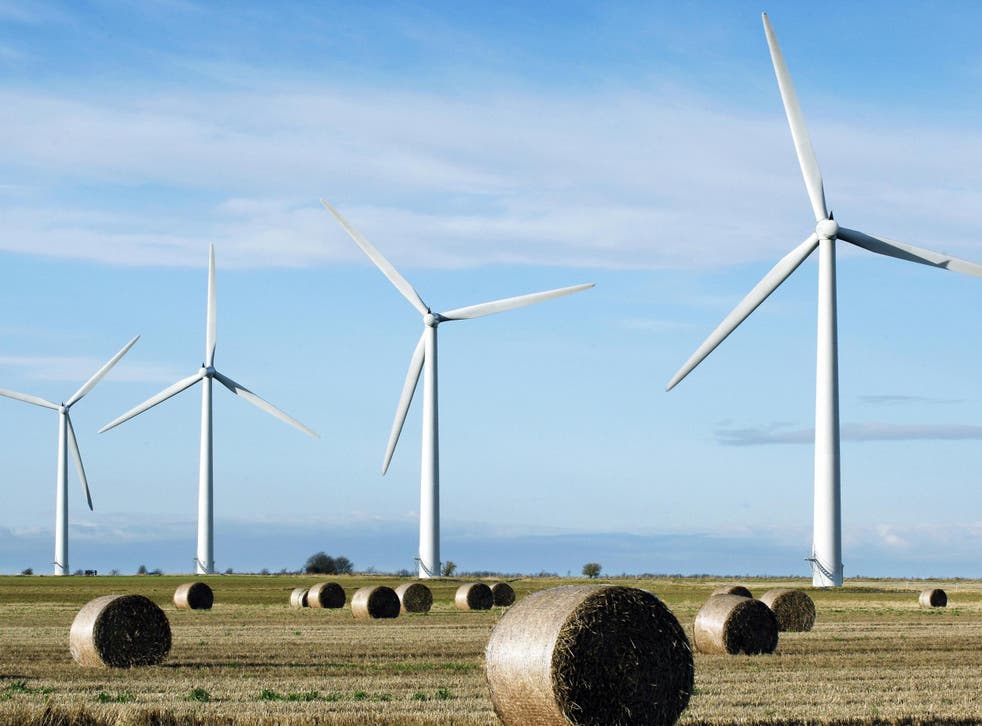 ​MPs who called for an end to onshore wind farms are "out of step" with their own constituents' views, according to a new poll.
Three years ago 79 Conservative parliamentarians signed an open letter in which they called for a block on new onshore developments in England.
After their election victory, the government changed planning rules and barred onshore wind developers from competing for subsidies - which amounted to an effective ban for the technology.
However, new polling conducted for green campaign group 10:10 Climate Action, suggests their constituents largely disagree with them.
Nearly three quarters of people across their constituencies supported onshore wind and nearly the same proportion said they would be happy to live within five miles of turbines.
Only six per cent would actively oppose developments, contradicting the government's assertion that communities in England do not want new wind turbines in their vicinity.
10 photographs to show to anyone who doesn't believe in climate change

Show all 10
Most people were unaware that new developments had been blocked, with only 12 per cent aware of the measures the government has introduced.
The findings were revealed after another poll commissioned by the Energy and Climate Intelligence Unit from YouGov showed that just eight per cent of MPs know that onshore wind farms are now the cheapest way to add electricity generating capacity in the UK.
The same poll found that MPs consistently overestimate opposition to onshore wind.
While government figures show just two per cent of the population "strongly" opposes the technology, half of polled MPs thought the proportion of the population was closer to a fifth or 20 per cent.
The government has tweaked its own rules to allow wind projects in remote regions such Scottish islands to compete for subsidies, but the block is effectively cemented in most of the country for the foreseeable future.
Referring to the latest figures, Ellie Roberts, campaign manager at 10:10 Climate Action, said: "This polling adds yet further to the growing body of evidence that in all corners of the UK onshore wind is popular. The time is now right for those MPs who have opposed onshore wind to throw their support behind the UK's cheapest new power source – with the enthusiastic backing of their constituents.
"It's on all of these Conservative MPs to push the government to listen to public opinion by removing the planning blocks on onshore wind."
Register for free to continue reading
Registration is a free and easy way to support our truly independent journalism
By registering, you will also enjoy limited access to Premium articles, exclusive newsletters, commenting, and virtual events with our leading journalists
Already have an account? sign in
Join our new commenting forum
Join thought-provoking conversations, follow other Independent readers and see their replies