Wisborough Green becomes the first village in Britain to fight off fracking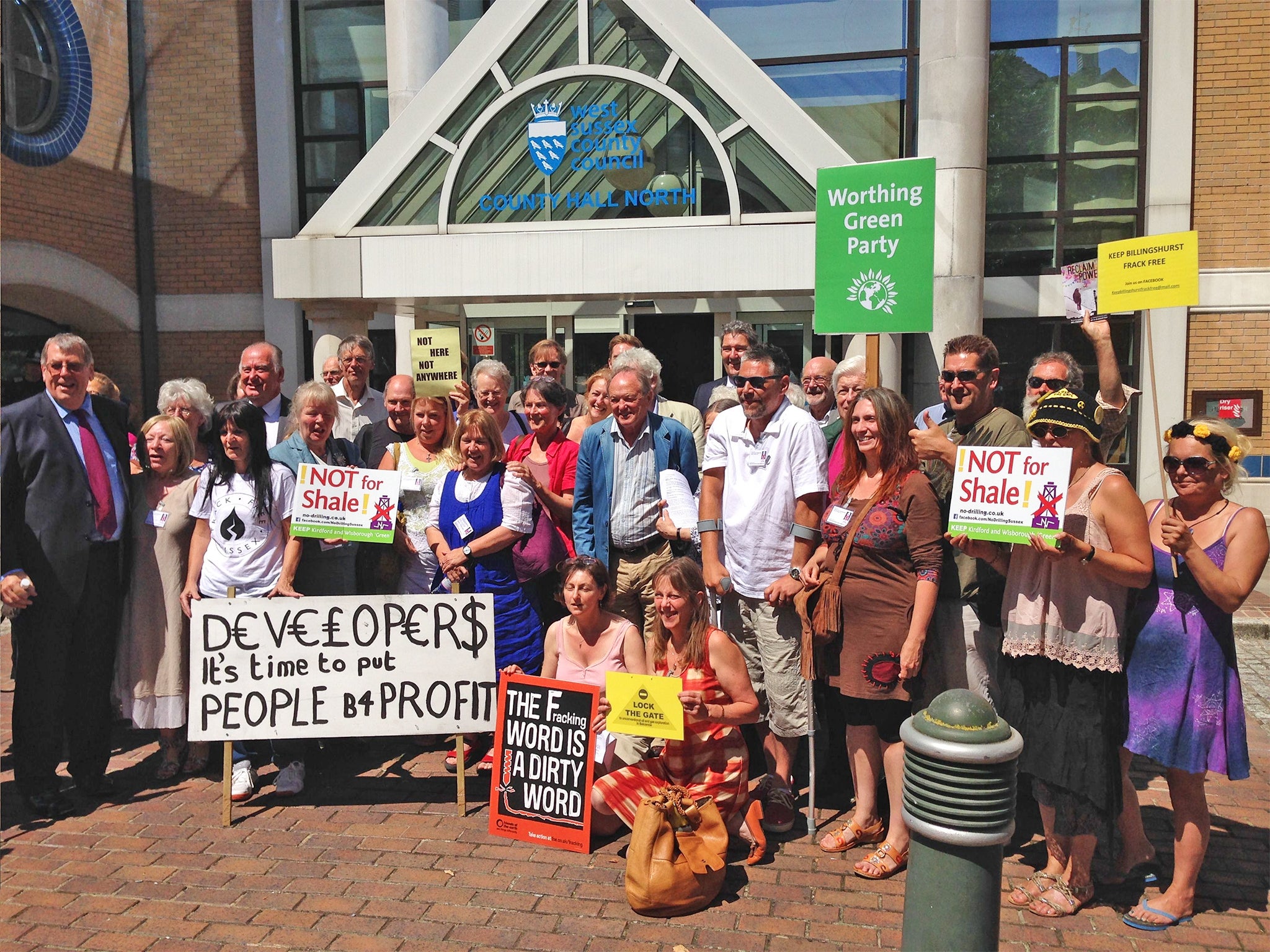 A picturesque village in West Sussex has become the first community in the country to successfully fight off an application by an energy company to explore for oil and gas, in a blow to the Government's hopes of a British fracking boom.
West Sussex County Council's planning committee refused an application by Celtique Energie for oil and gas exploration near the village of Wisborough Green, a conservation area just outside the South Downs National Park.
The council announced the decision yesterday at a public meeting attended by local campaigners, which included Likely Lads actor James Bolam and his wife Susan Jameson, who had argued that the exploration would lead to controversial fracking for oil or gas in the area. They also claimed that lorries would need to pass through the quiet village 24 times a day.
The proposals, which attracted nearly 2,500 objections from locals, were also criticised by local MP Nick Herbert, the former Conservative Police and Criminal Justice Minister, who warned that they could lead to rural West Sussex becoming "a carelessly industrialised landscape".
The council said it had turned down the application because it was worried that the exploration activity would have an adverse effect on the area, adding that other sites might be more appropriate. Planning committee chair Heidi Brunsdon said: "There were simply too many highways issues and other issues of concern for any decision other than refusal in this instance. We have noted the objections of the local community."
Andrew Jackson of Wisborough Green parish council said the villagers had felt that it was important to make a stand. "If this was to be allowed today, it sets a benchmark for all other villages like ourselves," he said. It's clear that earlier applications that have been approved have all had direct access to the major lorry routes. This one does not and it's not an appropriate location."
Local landowners were so determined to stop the exploration that they launched a "legal blockade" against Celtique, informing it that it did not have permission to drill under their properties and that they would go to the courts if it proceeded as planned. A similar tactic was employed by campaigners in nearby Fernherst, which sits inside South Downs National Park.
Brenda Pollack, the south east campaigner at the green group Friends of the Earth, said it was "absolutely the right decision", adding: "Nobody wants to see Sussex ruined by industrial drilling for dirty fossil fuels. If Celtique had been allowed to test for oil or gas, then there's every chance that fracking would have followed.
"Local people would have seen their peaceful neighbourhoods shattered by the drilling and the extra lorries and other industrial traffic that comes with it. It has been clear from the start that this application must be refused for a range of reasons."
The Government has said it is committed to going "all-out for shale", claiming development of the resource is needed to improve energy security, boost jobs and the economy and bring down energy prices. But opponents say it causes disruption and damaging development in the countryside, can cause minor earthquakes and the risk of water pollution, and that exploiting new oil and gas resources is not compatible with tackling climate change.
Geoff Davies, Celtique Energie's chief executive officer, said the firm was "very disappointed" with the council's decision, adding that it had "not followed the spirit or the letter of Government policy or good practice in dealing with this planning application".
He continued: "We believe this application was totally compliant, comprehensive and of high quality and would stand up to further scrutiny by the Planning Inspectorate or the Secretary of State in the event of an appeal. We are considering our further options and will make a decision in due course."
Join our commenting forum
Join thought-provoking conversations, follow other Independent readers and see their replies