Disappearance of country's first wolf in more than 100 years prompts €30,000 reward offer
Hunters deny killing animal who was understood to be pregnant again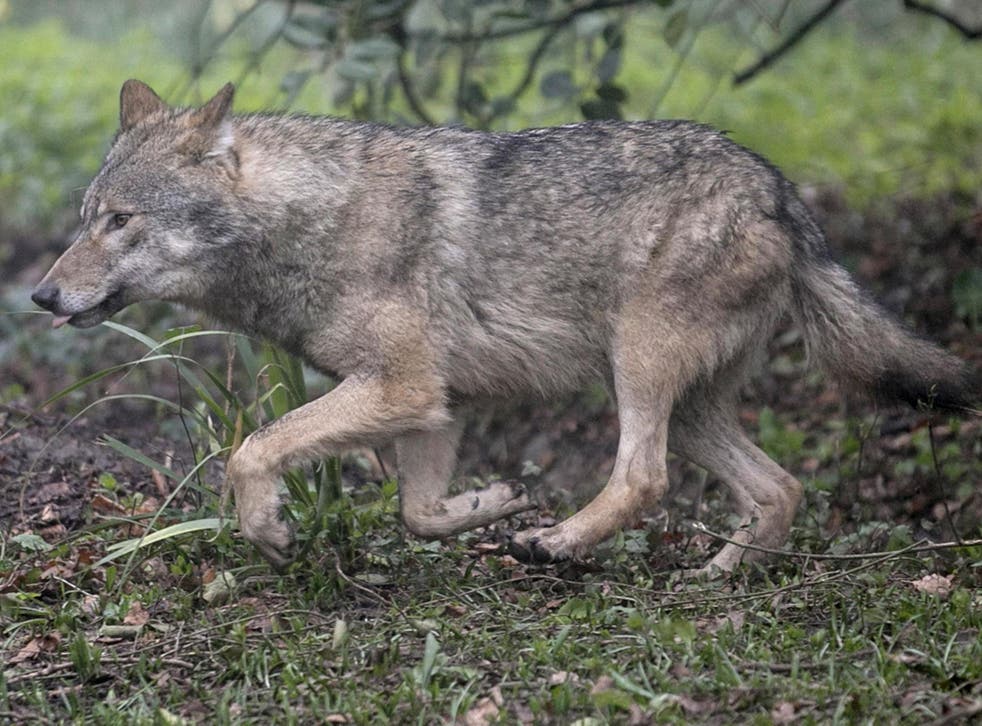 A reward of £26,700 (€30,000) is being offered for information about the presumed death of a rare wolf in Belgium and her cubs.
Environmentalists blame hunters for the disappearance of the animal, named Naya, who was pregnant again and had a male partner when she was last seen five months ago.
Naya was the first wolf to be sighted in Belgium in a century when she was first spotted in northeast Belgium in January last year.
But it was "virtually certain" she has been killed, possibly along her young, nature agency ANB said.
Wolves are considered extinct in much of central Europe, after centuries of being hunted, as well as fragmentation of the countryside from road and house-building, and intensification of farming.
World's most endangered animals

Show all 17
The wolf has the highest protection status – requiring conservation – under European Union regulations.
But when spotted, wolves are often still shot, according to the Euronatur organisation. Farmers have complained about attacks on their sheep.
Naya, who was born in east Germany, had been joined by a male wolf, named August, who became her companion and brought food to their den.
But neither Naya nor her cubs have been seen since May, when a night-vision camera operated by ANB near the Dutch border captured images of them.
The batteries in her electronic collar later stopped working.
The male stopped taking food to the den in late May, the Nature and Forest Research Institute (INBO) said. August, believed to be one of three wild wolves left in Belgium, began acting like a solitary animal again, according to ANB.
Three private environmental groups – Bird Protection Flanders, Animal Rights and the Nature Aid Centre — initially offered €20,000 for information to help identify the suspected killers.
Bird Protection Flanders has now announced that an anonymous Belgian businessman has contributed another €10,000.
INBO said Naya was definitely dead, as the dense network of cameras would have recorded shots of her, but the organisation declined to say how she had been killed as there was no trace of the bodies.
A Flemish hunters' group called the claims "scandalous", warning it may sue two members of Belgian conservation groups because they had made "offensive accusations over several days with no proof".
Bird Protection Flanders said it had received dozens of tips on a dedicated email account that were passed to authorities but it agreed that there was no proof and therefore nobody could be charged.
"We will continue to play our role as a lawyer for the fauna and we are convinced that the awarded premium will give the boost to reinvigorate the research," it wrote on its website.
"The presence of enforcement authorities in the context of the Naya investigation has revealed numerous hunting offences (committed by hunters on hunting leave) and poaching that would otherwise remain under the radar."
Support free-thinking journalism and attend Independent events
The group claimed that understaffing at a watchdog left birds and mammals "victims of wrongdoing every day".
Join our new commenting forum
Join thought-provoking conversations, follow other Independent readers and see their replies